(Werbung aus Leidenschaft)
Tag 1 -Ausgangssperre Corona Virus Covid-19
6:55 Uhr: Ich bin die Erste beim Bäcker, bei dem die Kunden gleich Schlange stehen werden, denn hier gibt es noch Croissants die von Hand gefertigt werden.
8:30 Uhr: Die Supermärkte öffnen, die Menschen laufen mit großen Taschen und Trolleys zum einkaufen. Durch die Sicherheitsmarkierungen und begrenzte Anzahl erlaubter Kunden in den Geschäften bilden sich davor lange Schlangen. Diese Schlangen sind heute nicht mein Thema, denn ich habe vorerst alles was brauche. Nur wenn ich noch etwas Mehl ohne anstehen ergattern könnte, würde ich zuschlagen. Was das Einkaufen betrifft hat Nizza einen echten Vorteil, es gibt hier noch massenweise kleine Shops und Gemüsehändler und in einem dieser Stores bekomme ich auch Mehl ohne anstehen.
12:00 Uhr: Ab 12:00 Uhr beginnt die Ausgangssperre! Die Straßen sind leer, kaum ein Auto ist auf der Straße unterwegs, nur ab und an sieht man Jemanden, der einkaufen geht. Merkwürdige Stimmung.
13:00 Uhr: kurzer Spaziergang, denn dies ist in der nahen Umgebung erlaubt, wie auch eine sportliche Betätigung die nicht in Gruppen ausgeführt wird und das Gassi-Gehen mit dem Hund. Unser Glück, wenn wir um den Block gehen sind wir am Meer. Das tut gut und macht das "Hausarrest" einfacher. Auch wenn einige Menschen unterwegs sind, habe ich das Gefühl alle halten sich an die Vorgaben. Das ist gut so, denn ich hoffe das uns das "Frische-Luft-Schnappen" weiterhin erlaubt sein wird. Ab morgen benötigen wir für das verlassen des Hauses unser "Attestation de Déplacement Dérogatoire". Ein Formular, in dem der Grund angegeben wird, warum wir das Haus verlassen und das als Nachweis dient, das wir uns in unserer Umgebung aufhalten.
17:00 Uhr nochmal ein kleiner Spaziergang. Weiterhin ist alles sehr sehr ruhig, fast gespenstisch.
Ein komischer Tag. Hat man den Menschen morgens noch die totale Verunsicherung angemerkt scheint sich nun Jeder zu Hause eingerichtet zu haben.
Ich habe Kuchen gebacken und rumgegruschtelt. Alles sehr unkonzentriert und unfokussiert. Daran merke ich, dass ich die Situation nicht völlig entspannt hinnehme, obwohl ich mich gedanklich seit ca. 3 Wochen darauf vorbereitet habe. Mit dem Blick nach Italien und der Undiszipliniertheit der Menschen war ich sicher, dass die Ausgangssperre unumgänglich ist.
---
(Advertising out of passion)
Day 1
6:55 am: I am the first at the baker's where the customers are about to queue, because there are still croissants that are made by hand.
8:30 am: The supermarkets open, people walk with big bags and trolleys to go shopping. Because of the security markings and limited number of allowed customers in the shops, long queues form in front of them. These queues are not my topic today, because I have everything I need for the time being. Only if I could get hold of some flour without queuing would I strike. Concerning the shopping, Nizza has a real advantage, there are still masses of small shops and vegetable sellers and in one of these stores I also get some flour without queuing.
12:00 o'clock: From 12:00 o'clock, the curfew starts! The streets are empty, hardly any cars are on the road, only now and then one sees somebody going shopping. Strange atmosphere.
1:00 pm: short walk, because this is allowed in the near surroundings, as well as a sports activity that is not done in groups and walking the dog. Our luck, when we walk around the block we are at the sea. That feels good and makes "house arrest" easier. Even if there are some people on the way, I have the feeling that everyone sticks to the rules. This is good, because I hope that we will still be allowed to "get fresh air". Starting tomorrow we need our "Attestation de Déplacement Dérogatoire" for leaving the house. A form in which the reason why we are leaving the house is stated and which serves as proof that we are in our surroundings.
17:00 again a short walk. Furthermore everything is very quiet, almost spooky.
A strange day. If one still noticed the total uncertainty in the morning, now everybody seems to have settled down at home.
I have baked cakes and crept around. All very unfocused and unfocused. That's how I realize that I'm not completely relaxed about the situation, even though I've been preparing for it mentally for about 3 weeks. With the view to Italy and the indiscipline of the people I was sure that the curfew is inevitable.
Translated with www.DeepL.com/Translator (free version)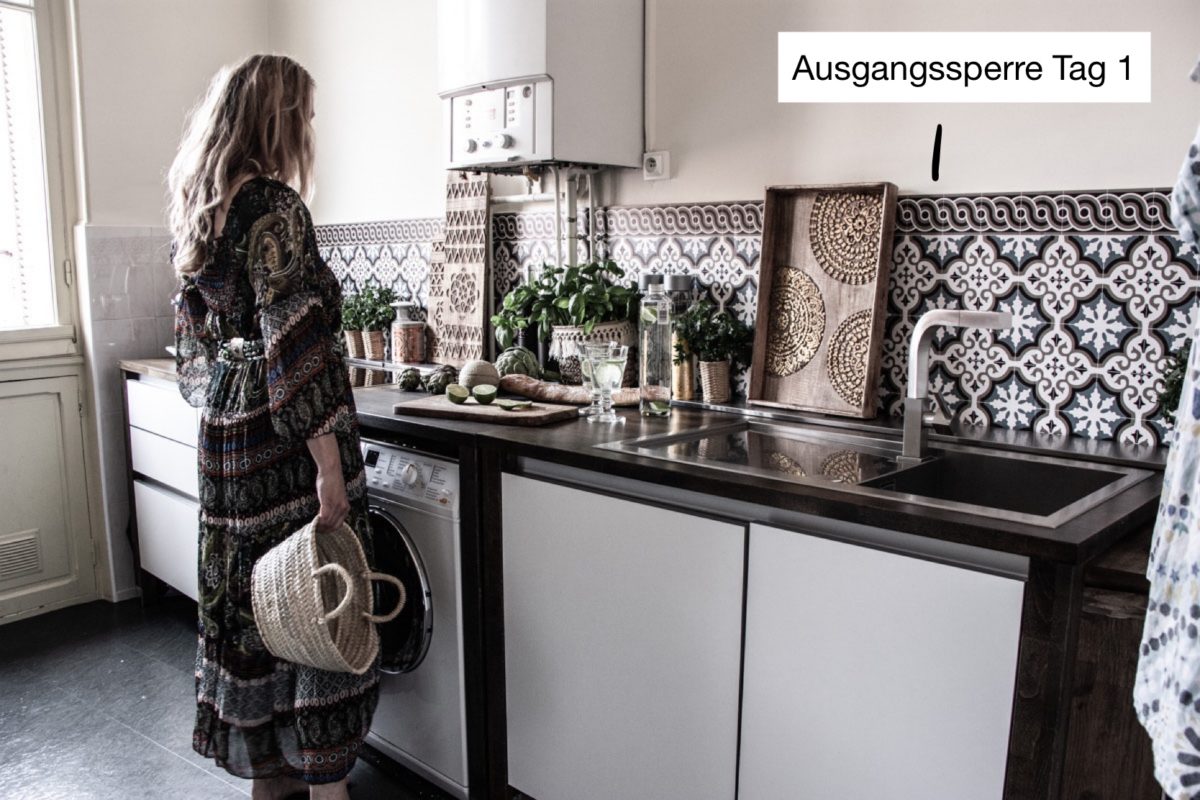 Bisous Tonja
PS.: Danke Sandra @fontainedecerier für all die Infos – miss you (Werbung aus Leidenschaft)