(Werbung aus Leidenschaft)
Tag 2 – Ausgangssperre Corona Virus Covid-19
Um der Unkonzentriertheit entgegenzuwirken habe ich gestern noch eine Liste mit Dingen erstellt, die ich unbedingt erledigen und tun möchte. Ich werde vermutlich Hausfrau des Monats….
6:55 Uhr: Tonja wieder first beim Lieblings-Bäcker:-)
Die Straßen sind leer, kein Verkehr, kaum Menschen.
10:30 Uhr ein Blick aus dem Fester: Keine Autos unterwegs, einige Menschen beim Einkaufen. Was auffällt: alle halten Abstand und sind zügig unterwegs.
10:45 Uhr: Ich bekomme die Nachricht von einer Freundin, das die WHO die Einnahme von Ibuprofen bei einer Covid-19 Infektion nicht empfiehlt. Hatte ich schon gehört. Allerdings nicht, dass der Verkauf von Paracetamol nun auf ein Paket limitiert wurde. Ein Blick in die Medi-Schublade: Drei Pakete Ibuprofen, wie sollte es auch anders sein. Ok, ich beschließe mich nirgendwo anzustellen und beim kramen in der Schublade finde ich noch ein Paket Zäpfchen auf Basis von Paracetamol.
11:00 Uhr: Ich stelle bei einer kleinen Kaffeepause die Überlegung an, ob wir auch alle Cartier Schmuck oder Adidas Sneacker kaufen gehen, wenn wir hören das schützt vor "Covid-19"? Ein bisschen Gaga sind wir schon, leider ich auch.
16:30 Uhr: Zurück von einem kleinen Spaziergang. Meinen "Ausgangsschein" in der Tasche – ist ein ungewohntes Gefühl, aber das Traumwetter macht alles Wett und läßt alles vergessen. Zu Hause habe ich ganze Arbeit geleistet. Meine Großputzaktion im Schlafzimmer hat bisher in erster Linie zu einer Totalverwüstung der restlichen Wohnung geführt. Wenn wir dort heute noch schlafen wollen muss ich JETZT anfangen aufzuräumen. Aber: Bett zerlegt, Lattenroste gereinigt, Fußleisten geschrubbt und so weiter…
20:45 Uhr Ich sitze nun auf dem Sofa und habe es geschafft, das Schlafzimmer wieder in ein Schlafzimmer zu verwandeln. In Deutschland hat Frau Merkel gesprochen. Eindringlich gewarnt zu Hause zu bleiben etc. Leider hat die deutsche Regierung es wieder verpasst eine drastische Ausgangsperre zu verhängen, die sehr viele Deutsche eigentlich verlangen. Wir diskutieren per WhatsApp und ich höre aus Fachkreisen: Mütter mit Kindern und Jugendliche die sich nach wie vor in Gruppen treffen, stellen ein erhebliches Verbreitungsrisiko da. Mensch Leute. Ich hoffe nur Deutschland hat es nicht voll verpennt den Ansteckungskreislauf zu unterbrechen.
20:00 Uhr: Die Menschen stehen auf den Balkonen und klatschen – nun auch in Nizza…
---
(Advertising with passion)
To counteract the lack of concentration, yesterday I made a list of things I really want to do and do. I'll probably be housewife of the month…
6.55 a.m.: Tonja first again at her favorite baker's
The streets are empty, no traffic, hardly any people.
10:30 a.m. a view from the window: No cars on the way, some people shopping. What's noticeable: everyone keeps their distance and is on the move quickly.
10.45 a.m.: I get the message from a friend that the WHO does not recommend taking ibuprofen for Covid-19 infection. So I've heard. But not that the sale of paracetamol has now been limited to one package. A look in the medi-drawer: three packets of ibuprofen, how could it be otherwise. Ok, I decide not to queue anywhere and while I rummage around in the drawer I find another package of suppositories based on paracetamol.
11:00 a.m.: I take a short coffee break and consider whether we should all go shopping for Cartier jewellery or Adidas sneackers, when we hear that it protects against "Covid-19"? We are a little bit gaga, unfortunately I am too.
4.30 p.m. Back from a little walk. My "exit ticket" in my pocket – is an unusual feeling, but the dream weather makes all bets off and makes you forget everything. At home I have done a great job. My big cleaning action in the bedroom has so far primarily led to a total devastation of the rest of the apartment. If we want to sleep there today I have to start cleaning up NOW. But: bed taken apart, slatted frames cleaned, skirting boards scrubbed and so on…
08.45 p.m.: I am now sitting on the sofa and have managed to turn the bedroom into a bedroom again. In Germany Mrs. Merkel has spoken. Insistently warned to stay at home etc. Unfortunately the German government has again missed to impose a drastic curfew, which many Germans actually demand. We discuss via WhatsApp and I hear from experts: Mothers with children and teenagers who still meet in groups pose a significant risk of proliferation. Dear friends! I only hope that Germany has not completely failed to interrupt the cycle of infection.
Translated with www.DeepL.com/Translator (free version)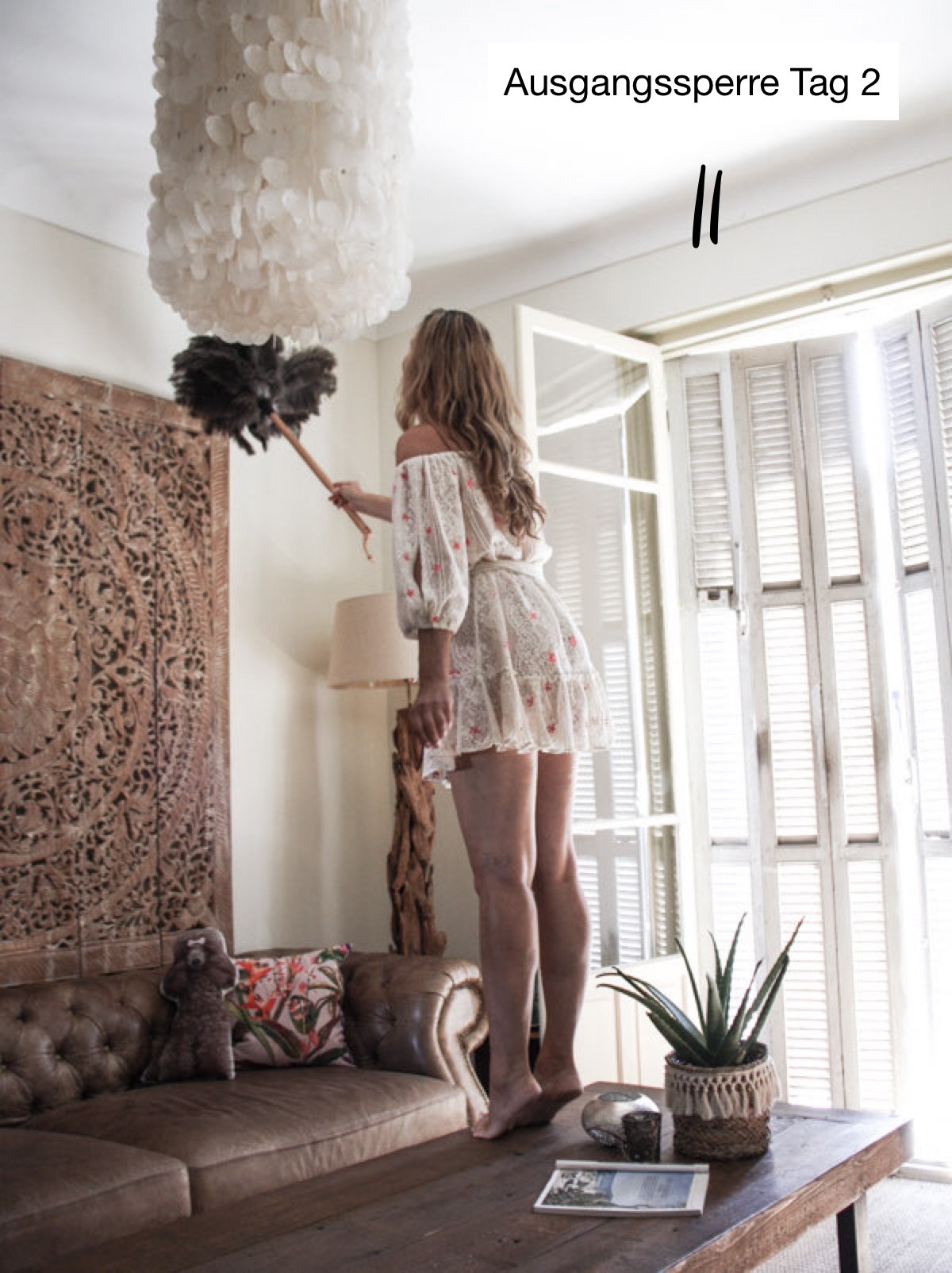 Bisous Tonja