(Werbung aus Leidenschaft)
Ich befürchte, wenn man den ganzen Tag zu Hause ist gibt es nicht besonders viel zu erzählen. Ihr dürft mir gerne von eurem Tag erzählen. Hinterlasst einfach einen Kommentar. Ich würde mich darüber freuen…
6:55 Uhr: eigentlich könnte ich etwas länger schlafen, aber ich bin wieder früh wach. Zeit für meinen Frühaufsteher-Besuch in meiner Lieblingsbäckerei. Tonja first und mit Beute und ohne anstehen wieder im Haus. Die Straßen sind vollkommen leer. Kein Mensch, kein Auto, kein Hund – nichtmal eine Möwe.
8:00 Uhr: die Hausfrau des Monats wird heute in dem klinisch reinen Schlafzimmer umdekorieren. Dem Liebsten wurde das gestern schon vorsichtig angekündigt. Er hatte so etwas aber schon befürchtet.
12:50 Uhr: Ich war einkaufen. Keine Schlange vor dem Supermarkt, kaum Menschen im Supermarkt, alle halten Abstand. Und das Beste – Regale voll, nichts was es nicht gibt. Toilettenpapier in Hülle und Fülle. Was ich nicht kontrolliert habe ist das Rotwein-Angebot. Ich wurde gefragt, ob es stimmt, dass den Franzosen der Rotwein ausgeht. Ich glaube aber es dauert noch eine ganze Weile, bis in Frankreich der Rotwein knapp wird.
13:20 Uhr: Deko im Schafzimmer – erledigt. Bilder folgen
13:50 Uhr: kleiner Spaziergang. Trotz wahnsinns Wetter sind wenig Menschen unterwegs.
15.00 Uhr: Kaffeepause auf dem Balkon in der Sonne. Uns fällt auf: Es ist still, einfach herrlich still. Kein Verkehrslärm und auch der sonstige Lärm der Großstadt fehlt. Nicht schlecht, das werde ich in den nächsten Tagen genießen. Meine Überlegung: Wenn alle Autos Elektrofahrzeuge wären, dann wäre es auf der Welt ganz schön leise. Ein schöner Gedanke.
15:55 Uhr: Von einer Freundin bekomme ich gerade einen Link zu einem Zeitungsartikel. Anscheinend sind viele Franzosen auch nicht schlauer als die Deutschen. An den Nachmittagen waren die Strände und die Promenade wohl doch überfüllt mit Menschen, die sich nicht an die Ausgangssperre gehalten haben. Viele mussten sogar 135,00 EUR Strafe zahlen. Seit 14:30 Uhr ist nun das Betreten der Strände verboten. Die Durchsetzung wird mit einer Drohne überwacht. Halten sich die Menschen weiterhin nicht an die Regeln wird auch die Promenade geschlossen. Die Ansage ist eindeutig.
20:00 Uhr: Die Menschen stehen auf den Balkonen und klatschen – nun auch in Nizza…
---
(Advertising with passion)
I'm afraid when you're at home all day, there's not much to talk about. You're welcome to tell me about your day. Just leave a comment. I would like to hear about it.
6:55 a.m.: actually I could sleep a little longer, but I am up early again. Time for my early riser visit to my favourite bakery. Tonja first and with loot and without queuing back in the house. The streets are completely empty. No human, no car, no dog – not even a seagull.
8:00 a.m.: the housewife of the month will redecorate today in the clinically clean bedroom. The dearest one was already carefully announced yesterday. But he had already feared such a thing.
12:50 a.m.: I was shopping. No queue in front of the supermarket, hardly any people in the supermarket, everyone keeps their distance. And the best thing – shelves full, nothing that doesn't exist. Toilet paper in abundance. What I did not check is the red wine offer. I was asked if it is true that the French are running out of red wine. But I think it will be a while before red wine runs out in France.
1:20 p.m.: Decoration in the bedroom – done. Pictures to follow
1:50 p.m.: short walk. Despite the crazy weather, there are not many people on the way.
03:00 p.m.: coffee break on the balcony in the sun. We notice: It's quiet, just wonderfully quiet. No traffic noise and the other noise of the big city is missing. Not bad, I will enjoy that during the next days. My consideration: If all cars were electric vehicles, the world would be very quiet. A nice thought.
03:55 p.m.: From a friend I just got a link to a newspaper article. Apparently many French people are not cleverer than the Germans either. In the afternoons the beaches and the promenade were probably crowded with people who did not respect the curfew. Many even had to pay a penalty of 135,00 EUR. Since 14:30 o'clock it is now forbidden to enter the beaches. The enforcement is controlled by a drone. If the people still do not keep to the rules, the promenade will be closed as well. The announcement is clear.
08.00 p.m.: People are standing on the balconies and applauding – now also in Nice…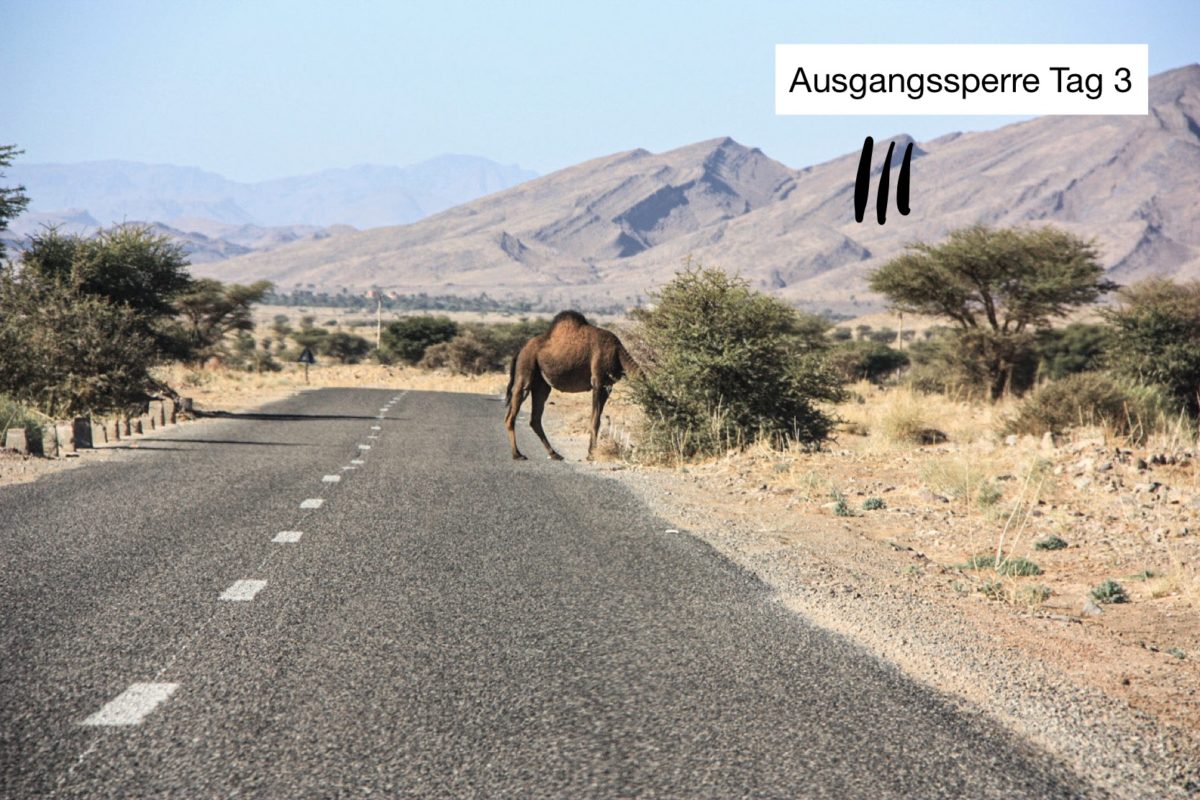 Bisous Tonja