(Werbung aus Leidenschaft)
7:30 Uhr: Und täglich grüßt das Murmeltier – Boulangerie
8:30 Uhr: In der Zeitung lese ich, dass in Nizza ein Apotheker vor Gericht steht, weil er Mundschutzmasken die für Ärzte und Pflegepersonal vom Staat bestellt wurden, für 4,50 EUR das Stück an Privatpersonen verkauft hat. Dem Pflegepersonal wurde mitgeteilt, dass keine Masken da wären, die abgeholt werden könnten. Außerdem hat der Apotheker Desinfektionsgel hergestellt und verkauft, das nicht WHO Konform war. Pro Tag für ca. 200 EUR wie der Apotheker zugegeben hat. Nun drohen ihm Gefängnis und 300.000 EUR Strafe. Und mir fehlen mal wieder die Worte.
9:00 Uhr: Im Haushalt gewirbelt.
14:00 Uhr: Ich habe mich an Marmelade aus restlichen tiefgefrorenem Obst versucht. Heute mal ohne Küchenunfall. Die Marmelade ist super geworden.
15:00 Uhr: Ich habe einige tolle Aktionen von spannenden Leuten gegen Langeweile auf Instagram entdeckt:
Mein ehemaliger Trainer gibt einige Trainings-Tipps für zu Hause. Das macht ja fast Jeder, ABER hier ist ein Profi am Werk. Und weil er weiß was wir Pappnasen zu Hause sowieso falsch machen erklärt er wichtige Dinge, die in Traingsvideos immer wieder fehlen gescheit – ein Profi eben. Ich freue mich riesig darüber, das wir ein kleines Coaching von ihm bekommen. Peter war übrigens ein echt strenger Trainer. Was habe ich manchmal für einen Muskelkater gehabt. Aber ich habe so viel von ihm gelernt und vermisse so einen Trainer manchmal.
Trainieren mit Personal Coach Peter Lange: "3p_Visualize" oder auf "lady's first" Erlangen
Und wer nach dem Training Hunger hat, der kann bei "Maurizio" vom "Modo Mio" in Erlangen vorbeischauen, denn der verrät uns seine Rezepte samt Anleitung zum nachkochen.
Der Schriftsteller "Mario Giordano" liest auf Facebook und Instagram aus der neuen "Tante Poldi" weil seine Lesungen zwangsläufig nicht stattfinden können.
Susanne vom "June Mag" Magazin gibt weiterhin ihre legendären Schminktipps in den Instagram-Stories und schaltet zusätzlich um 18.00 Uhr ein Live-Video, das eine nette Unterhaltung ist. Genial. Müsst ihr Euch echt mal anschauen.
Habt ihr auch ein paar Tipps mit tollen Aktionen von Leuten aus dem Netz?
---
(Advertising out of passion)
7:30 a.m.: And the groundhog – Boulangerie
8:30 a.m.: I read in the newspaper that a pharmacist is on trial in Nizza because he sold face masks ordered by the government for doctors and nursing staff to private persons for 4.50 EUR each. The nursing staff was informed that there were no masks available to be picked up. In addition, the pharmacist produced and sold disinfection gel that was not WHO compliant. Per day for about 200 EUR as the pharmacist admitted. Now he risks prison and a 300.000 EUR fine. And once again I am at a loss for words.
9:00 a.m.: In the household whirl.
2:00 p.m.: I tried jam made of remaining frozen fruit. Today without kitchen accident. The jam turned out great.
3:00 pm: I discovered some great actions of exciting people against boredom on Instagram:
My former coach gives some training tips for when you get home. Almost everybody does that, BUT here a professional is at work. And because he knows what we idiots do wrong at home anyway, he explains important things that are always missing in training videos in a clever way – a professional. I am very happy that we get a little coaching from him. Peter was a really strict coach by the way. What a sore muscle I sometimes had. But I learned so much from him and sometimes I miss such a coach.
Training with personal coach "3p_Visualize" or on "lady's first" Erlangen
And if you are hungry after training, you can visit "Maurizio"from "Modo Mio" in Erlangen, because he will tell us his recipes including instructions for recooking.
The writer "Mario Giordano" reads on Facebook and Instagram from the new "Aunt Poldi" because his readings inevitably can't take place.
Susanne from "June Mag" magazine continues to give her legendary make-up tips in the Instagram Stories and in addition, at 6 p.m. she will be showing a live video, which is a nice conversation. Ingenious. You really have to check it out.
Do you have any tips with great moves from people on the net?
Translated with www.DeepL.com/Translator (free version)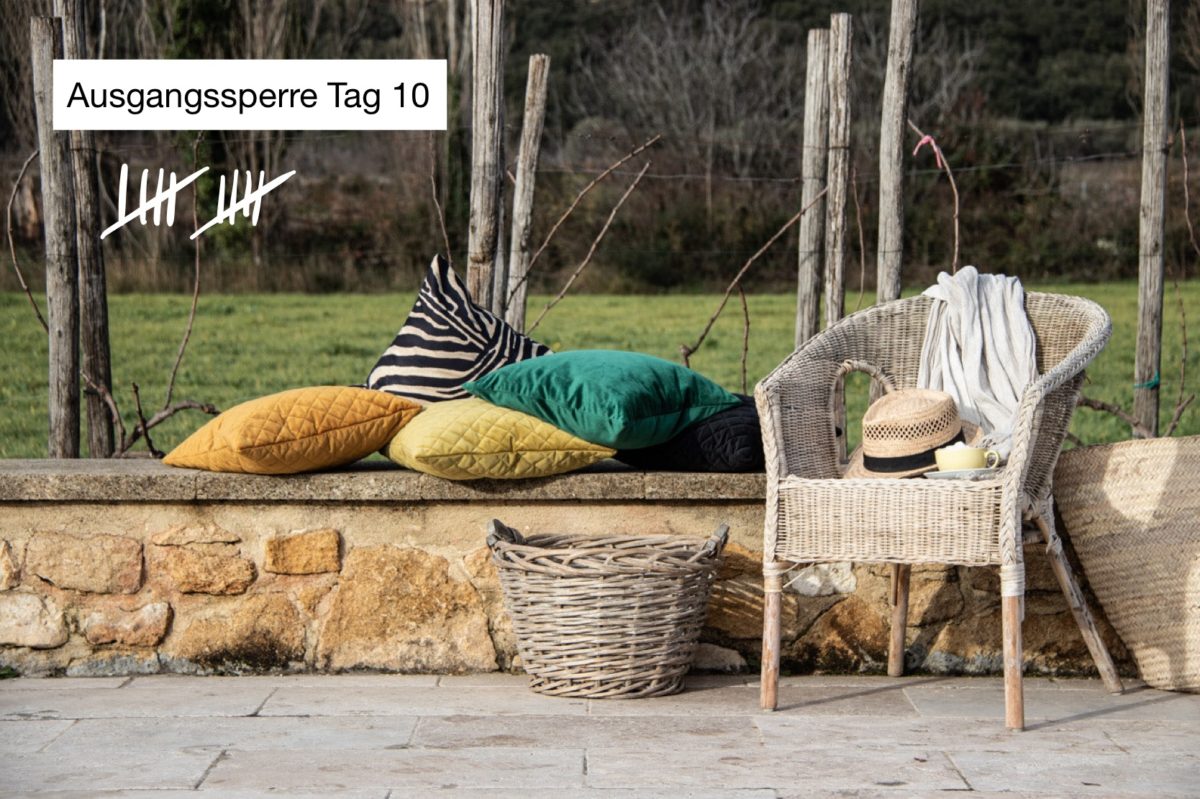 Bisous Tonja