(Werbung aus Leidenschaft & ein gekennzeichneter Affiliate Link)
7:30 Uhr: Ratet – Jep, Boulangerie.
11:00 Uhr: Das Neueste aus der Zeitung: Ein sechzehn jähriges Mädchen ohne bekannte Vorerkrankung ist hier in einem Krankenhaus an Corona gestorben. Das sollte allen jugendlichen Corona-Party-Feierwütigen zu denken geben. Weiterhin lese ich, das die Post nur noch ein paar Tage die Woche Pakete und Briefe austrägt und es wird gebeten Online-Bestellungen auf ein Minimum zu reduzieren.
12:00 Uhr: Küchendienst. Ich habe schon wieder Marmelade eingekocht. Während eine Freundin im Backwahn ist, koche ich Marmelade ein.
13:00 Uhr: Heute mal ein ganz aktueller Schnappschuss von meinem derzeitigen Büro- und Lernplatz. Hier verbringe ich mehrere Stunden am Tag. Blumen gibt es keine, denn in Frankreich haben alle Geschäfte geschlossen die keine Lebensnotwendigen Artikel führen. Manchmal gibt es Blumen im Supermarkt, aber den Supermarkt meide ich ja. Ich gehe in erster Linie zu den kleinen Händlern, weil dort deutlich weniger los ist und natürlich weil ich die kleinen Geschäfte unterstützen möchte. Ich stopfe jetzt in alle Vasen Federn und was sich so findet. Man ist ja erfinderisch.
17:30 Uhr: Auf dem Plätzchen vom Foto findet ihr mich auch gerade jetzt, wo ich das schreibe und lese das Mr.Boris Johnsen auch Covid-19 positiv getestet wurde.
Meine Pläne für den Abend sind baden und "Tante Poldi" Nummer 5 (Affiliate Link), denn das Buch ist seit heute verfügbar. Endlich.
---
(advertising with passion & affiliate link)
7:30 a.m.: Guess – Yes, Boulangerie.
11:00 a.m.: The latest news from the newspaper: A sixteen-year-old girl with no known previous illness has died of Corona in a hospital here. This should make all teenage Corona party-goers think. I also read that the post office only delivers parcels and letters a few days a week and that they please keep online orders to a minimum.
12 noon: kitchen service. I have boiled down jam again. While a girlfriend is madly in love with baking, I make jam.
01.00 p.m.: Today a very up-to-date snapshot of my current office and study place. Here I spend several hours a day. There are no flowers, because in France all shops are closed that do not carry essential articles. Sometimes there are flowers in the supermarket, but I do avoid the supermarket. I mainly go to the small shops because there is much less activity there and of course because I want to support the small shops. I put feathers in all the vases and whatever else I find. One is inventive.
5:30 p.m.: On the place of the photo you find me also just now, where I write this and read that Mr. Boris Johnsen also Covid-19 tested positive.
My plans for the evening are bathing and "Auntie Poldi" number 5 (only in german at the moment), because the book is available since today. Finally.
Translated with www.DeepL.com/Translator (free version)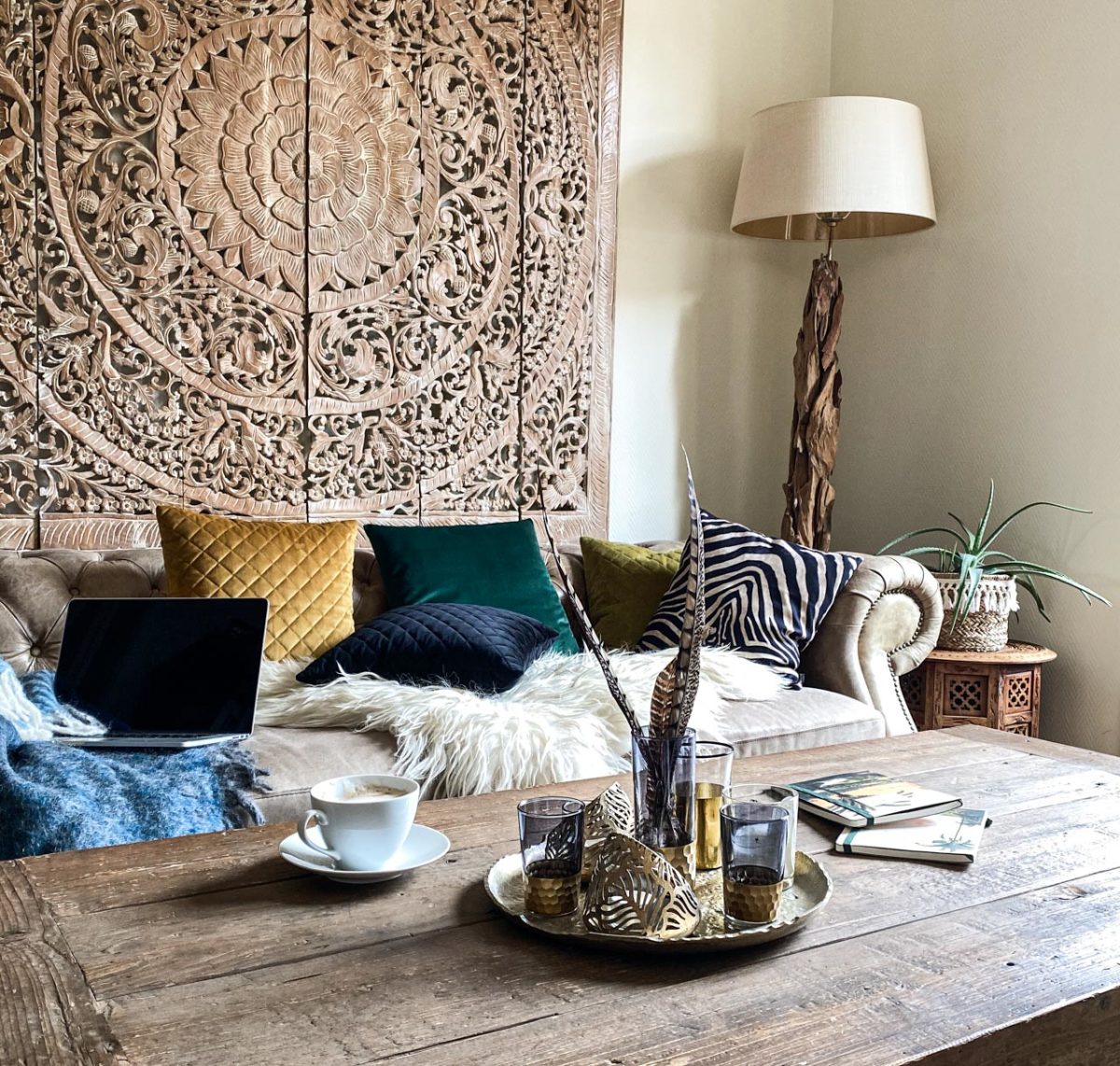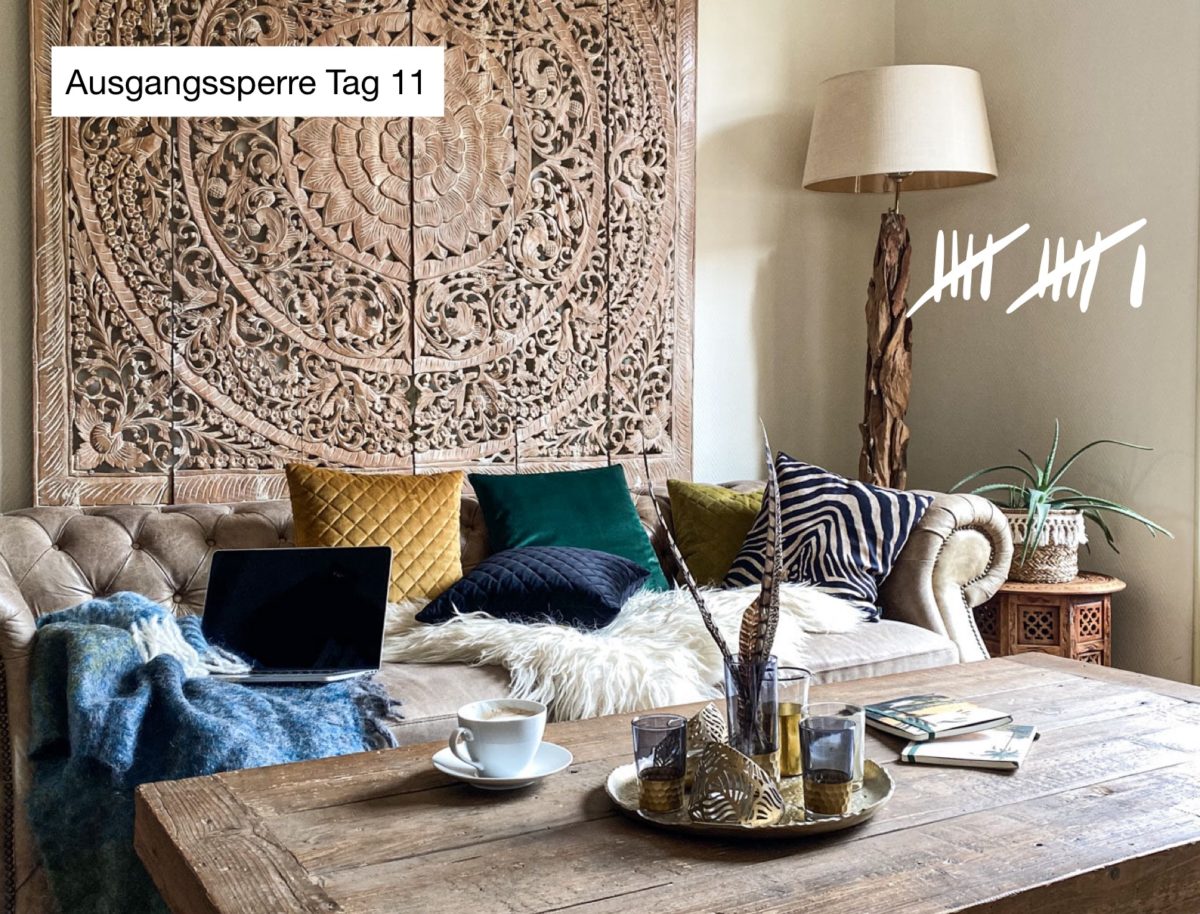 Bisous Tonja