(Werbung aus Leidenschaft)
Dieses Bild habe ich heute auf unserem kleinen Spaziergang geschossen. Leider ist es verboten über die Straße zu gehen, denn Strand und Prom sind gesperrt. Dies wird mit Drohnen überwacht.
8:10 Uhr: Schnell zur Boulangerie bevor alle kommen und sich eine kleine Schlange vor der Bäckerei bildet.
9.00 Uhr: Ein Blick aus dem Fenster, beim Bäcker wird nun angestanden. Alles richtig gemacht. Tatsächlich habe ich zwei Bäckereinen vor der Tür. Ich kaufe bei dem einen Bäcker immer die Croissants und bei dem anderen das Baguette. Das sind zwar nur kleine Beträge, aber ich möchte das beide Bäckereien überleben und so teile ich meinen Einkauf täglich auf.
09:10 Uhr: Eigentlich sollte es heute regnen, aber gestern Nachmittag hat das Wetter es sich anders überlegt und sich gedacht: morgen machen wir mal auf Fast-Sommer. Also Frühstück in der Sonne auf dem Balkon.
10:30 Uhr: Faulenzen und lesen in der Sonne
13:30 Uhr: Der Franzose sitzt nun zu Tisch und ißt, das heißt die Straßen sind Menschenleer. Das sind sie ja zur Zeit sowieso, aber in der Mittagszeit sind sie fast gespenstisch leer. Zeit für unseren Ausgang. Pro Tag darf man mit ausgefülltem "Passierschein" (Adresse, Uhrzeit etc.) maximal eine Stunde spazieren gehen oder Sport treiben. Dabei darf man sich maximal 1000 Meter von seiner Wohnung entfernen. Besser als nichts. Das heutige Titelbild habe ich Unterwegs geschossen. Kaum Verkehr – deshalb kann man jetzt das Meeresrauschen hören. Auf dem Rückweg kaufen wir kurz einem Gemüsehändler ein, weil es so schön leer ist.
14:30 Uhr: Ich backe Nussecken. Jep, ich arbeite an meinem Titel "Hausfrau des Monats" weiterhin.
15:30 Uhr: Ich fühle mich nicht so gut und lege mich vorsichtshalber hin und bleibe auch liegen.
17:00 Uhr: Endlich erreiche ich mein "Bestie". Ich habe sie seit Tagen nicht erreichen können und habe mir schon ein bisschen Sorgen gemacht, aber ihr gehts gut:-)
18:40 Uhr: Noch eine Freundin hat mir geschrieben, die ich einfach nicht bekomme. wer mir schon länger folgt weiß um wen es sich handelt. Ich freue mich über ihre Nachricht.

---
(advertising with passion)
I shot this picture today on our little walk. Unfortunately it is forbidden to cross the street, because beach and prom are closed. This is controlled with drones.
08:10 a.m.: Quickly to the Boulangerie before everyone comes and a small queue forms in front of the bakery.
09:00 a.m.: A look out of the window, at the bakery there is now a queue. Everything done right. In fact I have two bakeries in front of the door. I always buy the croissants from one baker and the baguette from the other. These are only small payments, but I want both bakeries to survive and so I divide my shopping daily.
09:10 a.m.: Actually it should rain today, but yesterday afternoon the weather changed its mind and thought: tomorrow we will go for summer. So breakfast in the sun on the balcony.
10:30 a.m.: Lounging and reading in the sun
01:30 p.m: The Frenchman now sits at the table and eats, which means the streets are deserted. That's what they are at the moment anyway, but at lunchtime they are almost ghostly empty. Time for our exit. Every day it is allowed to go for a walk or to do sports with filled in "pass" (address, time etc.) for one hour at most. You are not allowed to go further than 1000 meters from your apartment. Better than nothing. Today's cover picture I shot on the road. Hardly any traffic – that's why you can hear the sound of the sea now. On the way back, we briefly shop at a greengrocer's because it is so nice and empty.
02:30 p.m.: I bake nut bars german "Nussecken". Yes, I'm still working on my title "housewife of the month".
03:30 p.m.: I don't feel so well and as a precaution I lie down and stay lying down.
05:00 p.m.: I finally reach my "bestie". I haven't been able to reach her for days and was a little worried, but she is doing well 🙂
06:40 p.m.: Another friend has written to me, which I just don't get on the phone. Who has been following me for a longer time knows who it is. I am happy about her message.
Translated with www.DeepL.com/Translator (free version)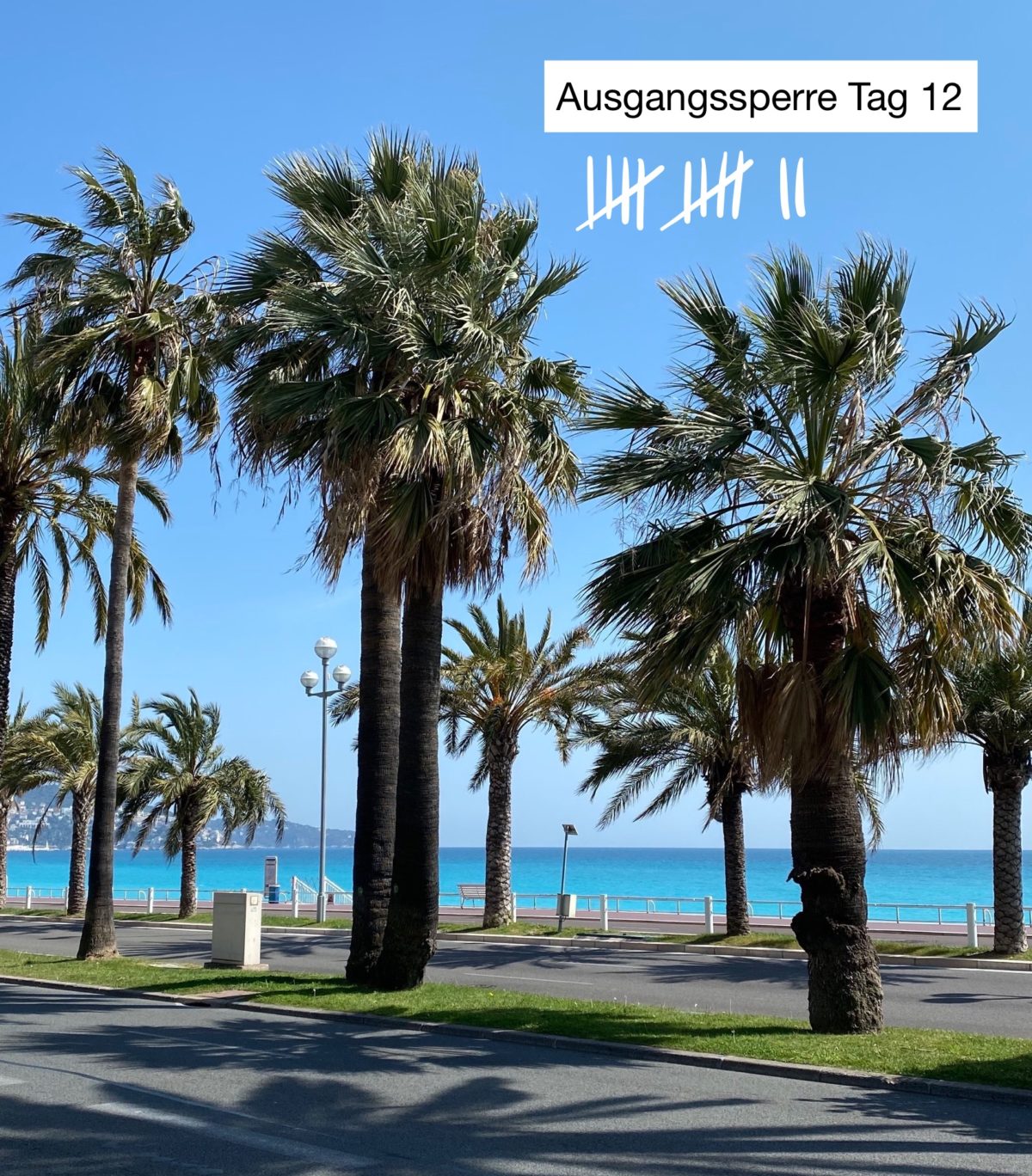 Bisous Tonja