(Werbung aus Leidenschaft)
Heute habe ich einen alten Film ausgegraben und verrate euch ein kleines Geheimnis:-)
Und sonst ist es auch "total spannend" bei mir, ich habe es mir nämlich im Bett gemütlich gemacht, weil ich immer noch nicht richtig fit bin. Schongang. Sicher ist sicher. Und ich sehe deutlich lodderiger aus als auf diesem Foto, das aus einem alten Blogpost noch vom alten Blog stammt.
09:00 Uhr: Kleiner Check – sind alle Uhren umgestellt? Mein Wecker nicht – ausgerechnet mein Funkwecker. Naja, ist allerdings auch schon ein älterer Herr, der möchte vielleicht persönlich von mir umgestellt werden.
09.30 Uhr: Boulangerie – heute habe ich die Croissants und das Baguette holen lassen.
10:30 Uhr: Frühstück auf dem Balkon in der Sonne
11:00 Uhr: Wieder im Bett. Mit der neuen "Tante Poldi" kann ich es hier sehr gut aushalten.
13:00 Uhr: Ich verzichte auf den erlaubten tausend Meter Spaziergang obwohl wir Traumwetter haben.
16:00 Uhr: In der Zeitung lese ich, das die nächsten 15 Tage noch schwieriger werden. Und ich lese weiter, dass man in Deutschland die lockeren Maßnahmen endlich lockern will. Ob das so eine gute Idee ist? Für heute schränke ich deshalb meinen Nachrichten-Konsum vorerst ein und habe einen alten Film ausgegraben. "Mein Baby gehört zu mir". Jep, "Dirty Dancing" – oh mein Gott ist das lange her und trotzdem schaue ich solche Filme besser allein. Da rollt bei mir immer ein Tränchen. Ich wäre eine perfekte Hollywood-Herzschmerz-Film Testerin. Aber auch dieses Mal ist wieder alles gut gegangen bei Baby & Jonny.:-) Wie ist das bei euch so? Lassen euch solche Filme kalt oder heult ihr auch schon bei "Merci" Werbung?
18.00 Uhr: Die Zeit im Bett hat mir ganz gut getan und ich fühle mich deutlich besser und deshalb passiert hier heute auch nichts anderes mehr.
---
(advertising with passion)
Today I found) an old movie and I'll tell you a little secret 🙂
And otherwise it is also "totally exciting" with me, I made myself comfortable in bed, because I am still not really fit again. Gently. Better safe than sorry. And I look much more floddery than on this photo, which was taken from an old blog post from the old blog.
09:00 a.m.: A little check – are all the clocks adjusted? Not my alarm clock – of all things my wireless alarm clock. Well, he's an older man, too, who might want me to change it personally.
09:30 a.m.: Boulangerie – today I had the croissants and the baguette brought.
10:30 a.m.: Breakfast on the balcony in the sun
11:00 a.m.: Back in bed. With the new "Auntie Poldi" I can stand it here very well.
01:00 p.m.: I give up the permitted thousand meter walk although we have dream weather.
04:00 p.m.: I read in the newspaper that the next 15 days will be even more difficult. And I read further that in Germany they finally want to relax the loose measures. Is that such a good idea? So for today I limit my news consumption for the time being and have dug up an old film. "My baby belongs to me". Yep, "Dirty Dancing" – oh my God, that was a long time ago and still I watch such movies better alone. I always have a teardrop in my eye. I would make a perfect Hollywood heartbreak movie tester. But also this time everything went well at Baby & Jonny 🙂 What's it like there? Do such movies leave you cold or do you already cry at "Merci" commercials?
06:00 p.m.: The time in bed did me quite well and I feel much better and therefore nothing else happens here today.
Translated with www.DeepL.com/Translator (free version)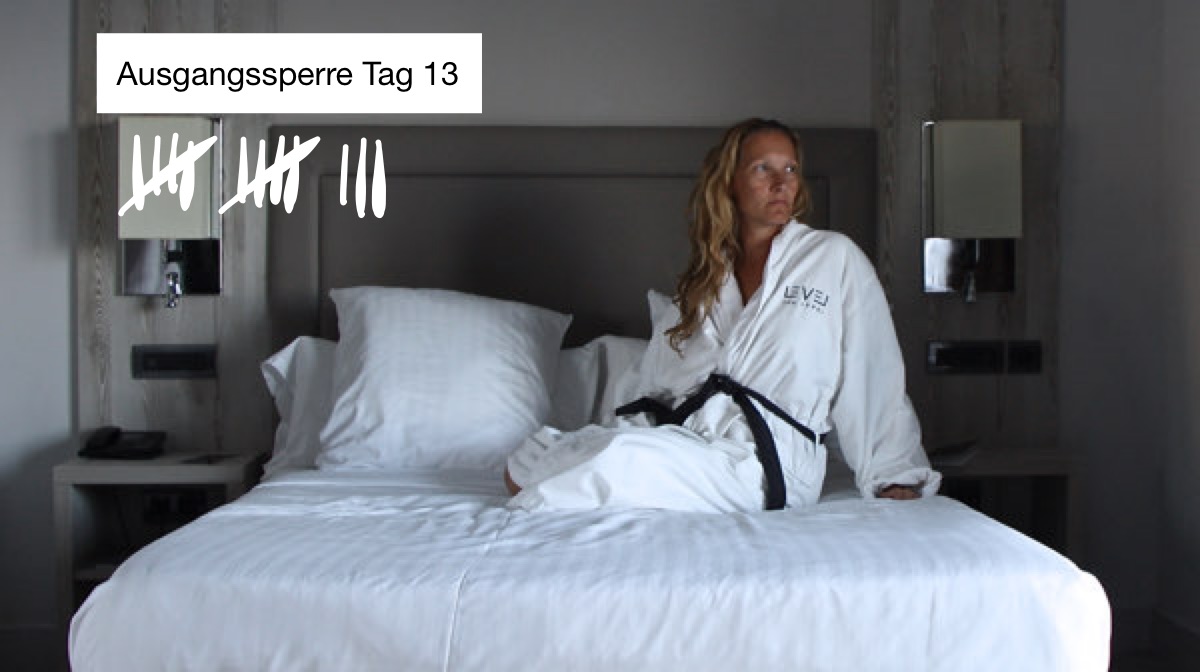 Bisous & take care Tonja