(Werbung aus Leidenschaft)
8:30 Uhr: Schnell zum Lieblingsbäcker. Ich bin spät dran, aber ich musste erst noch neue "Attestations" (Passierscheine) ausdrucken und ausfüllen. Wird man ohne "Attestation" erwischt kann es teuer werden. Ich hoffe ich bekomme noch zwei von den handgemachten Croissants. Die sind gerne mal ausverkauft. Vorher checke ich aber noch aus dem Fenster, ob auch nicht angestanden wird. Die Luft ist rein und ich flitze los. Mit Gummihandschuhen bewaffnet und Tuch vor dem Mund zum Bäcker, hätte mir das Jemand letzten Sommer erzählt – ich hätte ich ausgelacht.
8:45 Uhr: Happy Girl – es gab noch handgemachte Croissants. Gummihandschuhe in den Müll (leider). Schuhe werden in Frankreich nun auf Empfehlung der Regierung im Hausflur stehen gelassen. NIE hätte zuvor ein Franzose seine Schuhe im Hausflur stehen lassen. Ich bin nicht sicher ob das wegen der Diebstahlgefahr oder wegen "macht man nicht" normalement ein französisches No-Go ist. Die Jacke und das Tuch fliegen auf den Balkon. Macht man jetzt auch so – auf Empfehlung der Regierung.
9:20 Uhr: Puhhh, nach ordentlichem Händewaschen gibts nun endlich Frühstück.
10:00 Uhr: Mir geht es viel besser, aber zwischendurch lege ich mich wieder hin. Mir graut es schon davor, aber es muss heute sein: ich muss in den Supermarkt.
13:00 Uhr: Kein Spaziergang – Ich bin noch nicht fit genug. Dafür aber einkaufen.
13:10 Uhr: Alles wieder von vorne: Gummihandschuhe an, Tuch vor den Mund, Jacke vom Balkon, Schuhe auf dem Flur an. Auf der Straße sehe ich Leute, die sich per Handschlag begrüßen und nebeneinander stehen, ohne Abstand wohlgemerkt und sich unterhalten. Ähnliche Situationen sehe ich mehrfach. So nun wissen wir woher die Zahlen der Neuinfektionen kommen. Der Supermarkt ist nicht besonders voll, aber trotzdem ist es schwierig zwischen den engen Gängen Abstand zu halten. Ich mache schnell und Gott sei dank steht niemand an der Kasse an. Schnell weg hier. tatsächlich fühle ich mich im Supermarkt nicht besonders wohl. Auf dem Rückweg halte ich beim Gemüsehändler. Hier fühle ich mich deutlich wohler. Alles ist etwas weitläufiger und die Mitarbeiter haben sich hinter einer Folie verbarrikadiert. Für ein kleines Vermögen bekomme sogar Spargel. Toll.
14:00 Uhr: Nach der empfohlenen Auskleide-Prozedur mache ich erstmal eine lange Pause und gönne mir etwas Ruhe.
14:30 Uhr: In der Zeitung lese ich, das reiche Russen Beatmungsgeräte hamstern und sich kleine Krankenstationen samt Fachpersonal zu Hause einrichten. Beides ist zur Zeit nicht nur in Russland Mangelware. Dabei hätte man meinen sollen, das ein russischer Oligarchen-Panic Room ohnehin wie ein Lazaret ausgestattet ist, so von wegen Mafia unter sich und so. Nun ja, menschliche Abgründe. Ich, ich, ich könnte man auch sagen. Ich, schüttle mal wieder den Kopf. (PS: Vielleicht sieht so ein Luxus-Lazarett ja wie die Poollandschaft auf dem Bild aus, eben nur mit den gehamsterten Beatmungsgeräten)
15:30 Uhr: Habe ich schon erzählt, dass meine Geschirrspülmaschine wieder strahlend sauberes Geschirr produziert? Herrlich.
16:00 Uhr: Ich bin noch ein bisschen mit der "Tante Poldi" in Sizilien unterwegs und werde etwas wehmütig, wenn ich daran denke, dass dies vorerst die letzte "Tante Poldi" ist. Deshalb teile ich mir das Buch ein. Normalerweise lese ich so ein Buch rasend schnell durch. Diesmal genieße ich es.
---
(Advertising out of passion)
8:30 a.m.: Off to my favorite bakery. I' m late, but first I had to print out and fill out new "Attestations" (certificates). If you get caught without "Attestation" it can be expensive. I hope I get two more of the handmade croissants. They are sold out sometimes. But before I leave, I check out of the window if there is no queue. The coast is clear and I am off. Armed with rubber gloves and a scarf in front of my mouth to the baker, if someone had told me this last summer – I would have laughed.
8:45 a.m.: Happy Girl – there were still handmade croissants. Rubber gloves in the trash (unfortunately). In France shoes are now left in the hallway on the recommendation of the government. A Frenchman would NEVER have left his shoes in the hallway before. I am not sure if this is a French no-go because of the danger of theft or because of "don't do it" normalement. The jacket and the scarf fly on the balcony. Also on the recommendation of the government.
9:20 a.m.: Puhhh, after washing your hands properly we finally have breakfast.
10:00 a.m.: I feel much better, but in between I lie down again. I am already dreading it, but it has to be today: I have to go to the supermarket.
1:00 p.m.: No walk – I am not fit enough yet. But I have to go shopping.
1:10 p.m.: Everything again from the beginning: rubber gloves on, scarf in front of the mouth, jacket from the balcony, shoes on the corridor. On the street I see people greeting each other with a handshake and standing next to each other, without distance, talking. I see similar situations several times. So now we know where the numbers of new infections come from. The supermarket is not very full, but it is still difficult to keep a distance between the narrow aisles. I make fast and thanks god there is nobody queuing at the checkout. I hurry out of here. In fact I don't feel very well in the supermarket. On the way back I stop at the greengrocer. Here I feel much more comfortable. Everything is a bit more spacious and the employees have barricaded themselves behind a foil. For a small fortune I even get asparagus. Great.
2:00 p.m.: After the recommended undressing procedure I take a long break and allow myself some rest.
2:30 p.m.: I read in the newspaper that rich Russians are hoarding respirators and setting up small medical stations at home completed with specialist staff. Both are in short supply at the moment, not only in Russia. One would have thought that a Russian oligarchic panic room is equipped like a lazarette anyway, so much about the mafia among themselves and so on. Well, human abysses. Me, I, I can one say also. I shake my head again. (PS: Maybe such a luxury hospital looks like the pool landscape on the picture, just with the hoarded respirators)
3:30 p.m.: Did I already tell you that my dishwasher produces clean dishes again? Wonderful.
4:00 p.m.: I'm still a little bit on the road with "Auntie Poldi" in Sicily and I get a little sentimental when I think that this is the last "Auntie Poldi" for the time being. That's why I'm assigning myself the book. Normally I read through such a book very fast. This time I enjoy it.
Translated with www.DeepL.com/Translator (free version)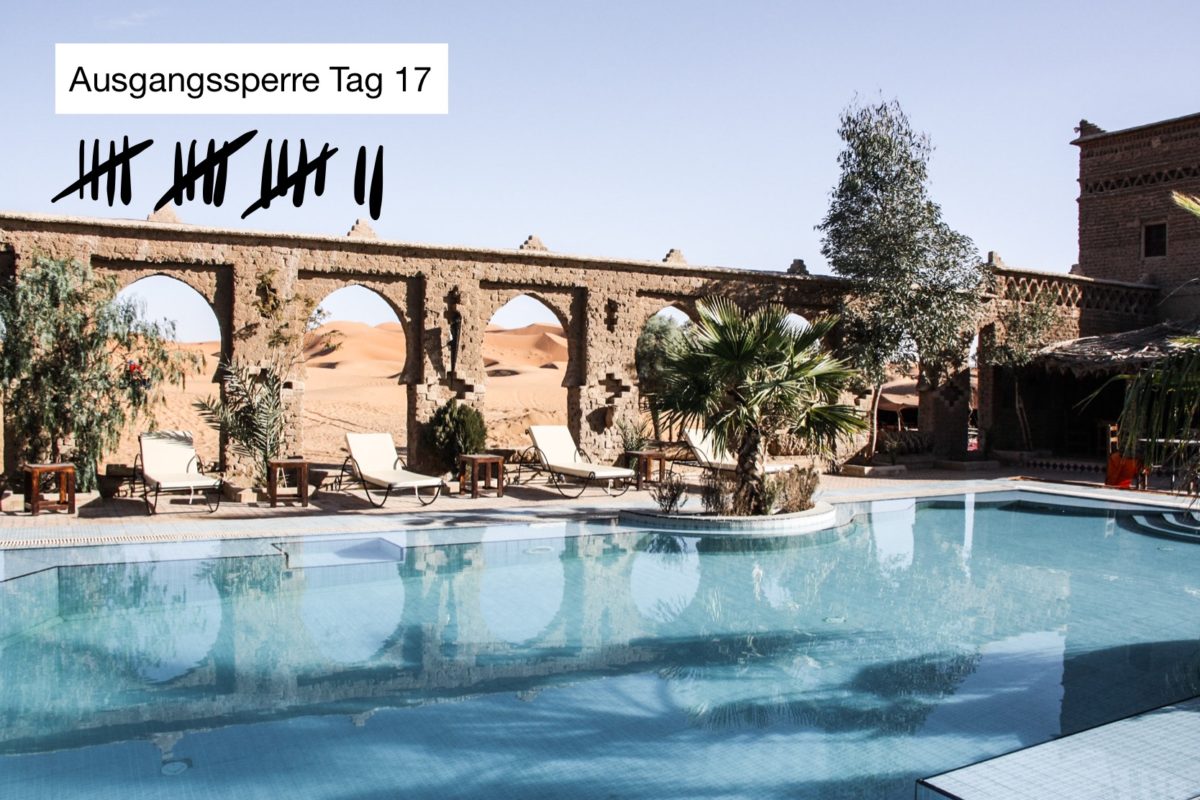 Bisous Tonja