(Werbung aus Leidenschaft)
8.00 Uhr: Alles wie immer. Boulangerie und auch keine Experimente beim Einkauf.
9:00 Uhr: Ich stelle meinen "Douglas – Beauty Geschenke zu Ostern" Post online und freue mich, weil ich die Fotos so schön finde.
Außerdem finde ich, dass die Geschenkideen ganz schön Pinterest-like geworden sind, obwohl ich dafür wirklich nichts kaufen musste und alles dafür im Haus hatte. Ich bin gespannt was ihr dazu sagt. Das sind übrigens die Fotos, die ich mit den "ersten Bildern" verglichen habe, die ich je gepostet habe.
9.30 Uhr: Die Provence (@fontainedecerier) schreibt mir, das in unserer Nähe ein Auto in eine Tankstelle gefahren ist. Ich lese in der Zeitung, dass dieses Fahrzeug allerdings "nur" in Flammen aufging. Alles konnte wohl sehr schnell gelöscht werden und Niemand ist zu Schaden gekommen. Gott sei Dank nicht auch noch ein irres Attentat.
9:40 Uhr: Ich lese weiter in der Zeitung, dass Frankreich noch nicht auf dem Höhepunkt der Infektionen ist. Eine Lockerung der Ausgangssperre ist somit auch nicht zu erwarten. Ganz im Gegenteil: die Maßnahmen werden weiterhin sehr streng kontrolliert werden.
10:00 Uhr: Bürokram
12:00 Uhr: Mittagspause in der Sonne auf dem Balkon. Leider ist es zu spät für einen Spaziergang. Wir dürfen ja nur bis zwölf Uhr zur "körperlichen Ertüchtigung" raus und dann erst wieder ab achtzehn Uhr. Aber dann ist es mir draußen zu voll.
14:00 Uhr: Ich wusel weiter herum. Ich weiß gar nicht was ich immer so wusel – mit einem Mal ist der Tag ist um und gefühlt habe ich nichts geschafft. Ist das bei euch auch so?
16:00 Uhr: Es klingelt. Etwa ein Paket? Jep, mein vergoldetes Druckerpapier, dass doch erst in 11 Tagen kommen sollte. Super.
16:20 Uhr: In der Zeitung lese ich, dass der Online-Gigant, der gerade noch mein vergoldetes Druckerpapier geliefert hat, bestreikt werden soll. Kein ausreichender Schutz für die Mitarbeiter. Das ist ja auch nicht richtig.
16:30 Uhr: Weiterhin lese ich in der Zeitung: Die Maskenpflicht in unserer Region wird kommen. Von der Stadt Nizza wurden 800.000 waschbare Masken von drei verschieden französischen Firmen bestellt. Die Masken sind für die Einwohner bestimmt. Sofern sie geliefert wurden und geklärt ist, wie die Verteilung ablaufen wird, ist das Tragen Pflicht. Ich gestehe, ich habe gestern keine Mundschutzmaske mehr genäht – vielleicht heute.
Ich habe ein bisschen bedenken, dass man sich die Masken irgendwo abholen muss und dann Stundenlang irgendwo ansteht. Mit lauter hustenden und schniefenden Menschen. Nein – das will ich nicht, da nähe ich lieber von Hand.
16:45 Uhr: Und tatsächlich lese ich, dass mehrere Geschäfte bestraft wurden, die sich nicht an die an die Einhaltung der Maßnahmen gehalten haben. Darunter auch eine Bar, die weiterhin Gäste empfangen hat. Wie auch immer die das bei der Polizei Präsenz geschafft haben. Es wird sogar angedroht die Stromzähler zu überprüfen, auch die von Ferienwohnungen.
---
(Advertising out of passion)
8:00 a.m.: Business as usual. Boulangerie and also no experiments at shopping.
9:00 a.m.: I put my "Douglas – Beauty Gifts for Easter" post online and I' m happy because I find the photos so beautiful.
I also think that the gift ideas have become quite Pinterest-like, although I really didn't have to buy anything for it and had everything in the house for it. I am curious what you say to it. By the way, these are the photos I compared with the "first pictures" I ever posted.
9.30 a.m.: The Provence (@fontainedecerier) writes me that a car drove into a gas station near us. I read in the newspaper that this car "only" went up in flames. Everything could probably be extinguished very quickly and nobody was hurt. Thank God not a crazy assassination.
9:40 a.m.: I continue to read in the newspaper that France is not yet at the height of the infections. A relaxation of the curfew is therefore not to be expected. On the contrary: the measures will continue to be very strictly controlled.
10:00 a.m.: Office work
12:00 noon: Lunch break in the sun on the balcony. Unfortunately it is too late for a walk. We are only allowed to go out until twelve o'clock for "physical exercise" and then again from eighteen o'clock on. But then it's too crowded outside.
2:00 p.m.: I keep scurrying about. I don't know what I'm always scurrying about – suddenly the day is over and I didn't feel that I'd made it. Is it the same with you?
4:00 p.m.: The doorbell rings. Is it a package? Yep, my gilded printer paper that was supposed to come in 11 days. Great.
4:20 p.m.: I read in the newspaper that the online giant that just delivered my gilded printer paper is on strike. Not enough protection for the employees. That's not right either.
4:30 p.m.: I also read in the newspaper: The compulsory use of masks in our region will come. The city of Nice has ordered 800,000 washable masks from three different French companies. The masks are intended for the inhabitants. As long as they have been delivered and it has been clarified how the distribution will take place, wearing them is compulsory. I confess, I did not sew a face mask yesterday – maybe today.
I have a bit of a thought that you have to pick up the masks somewhere and then queue up for hours somewhere. With people coughing and snivelling. No – I don't want that, I prefer to sew by hand.
4:45 p.m.: And indeed, I read that several businesses were punished for not adhering to the measures. Among them a bar which continued to receive guests. However, however they managed to do this with the police presence. They even threatened to check the electricity meters, including those of holiday homes.
Translated with www.DeepL.com/Translator (free version)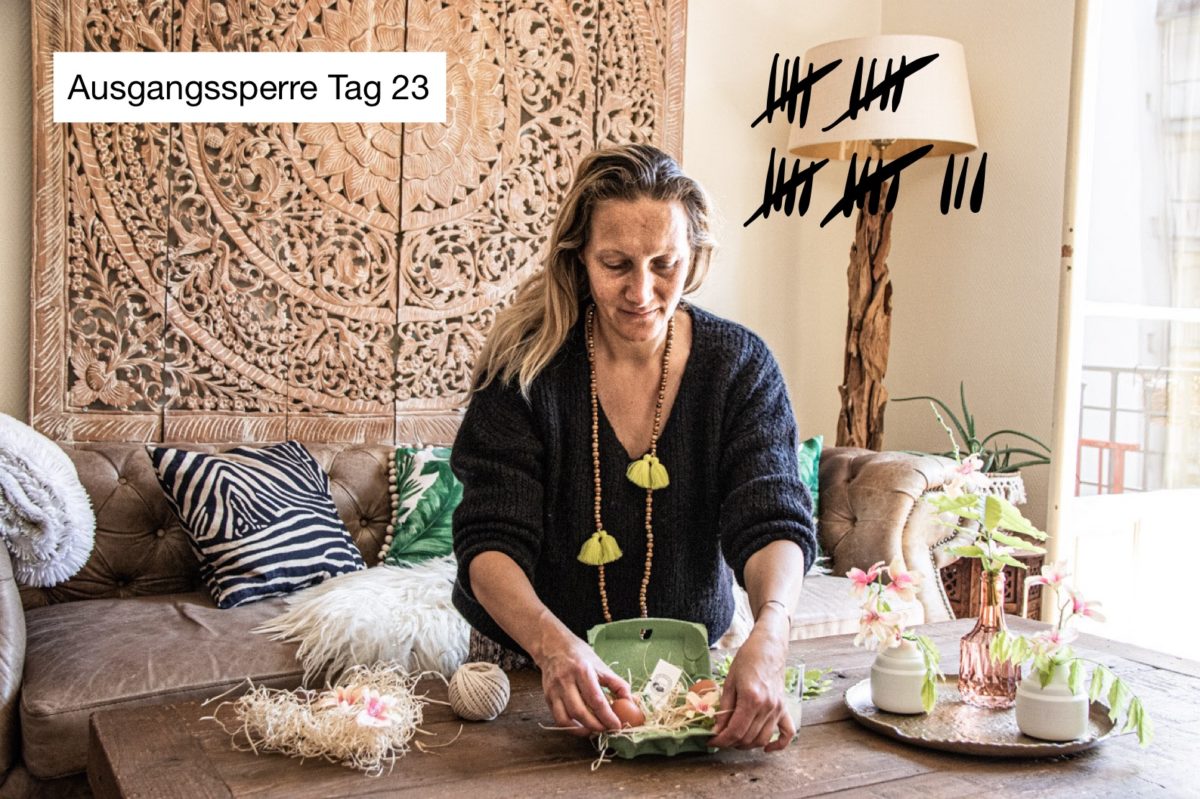 Bisous Tonja