(Werbung aus Leidenschaft)
8:00 Uhr: Boulangerie. Jep, hier hat an Karfreitag Alles geöffnet, was geöffnet sein darf. Heute kaufe ich auch ein paar Croissants zum einfrieren. Wer braucht schon Mehl, wenn er auch fertige Croissants kaufen kann.
9:00 Uhr: Frühstück auf dem Balkon in der Sonne.
10:00 Uhr: Wir haben unseren Spaziergang vorverlegt, weil wir befürchten, dass später viele Menschen Unterwegs sein könnten.
11.00 Uhr: "La Poste" bringt ein Päckchen. Juhuuu, ein lang ersehntes Päckchen mit Olivenöl-Seife aus Grasse. Die zeige ich euch die Tage mal. Im Herbst hat ein Besucher von uns als Erntehelfer via "Woofer" auf einer kleinen Bio-Olivenfarm gearbeitet. Wir haben ihn dort besucht und auch gleich ein bisschen eingekauft. Jetzt haben wir Nachschub.
11:30 Uhr: Noch ein Paket. Gott sei dank, die Paketdienste arbeiten wieder. Manche Dinge muss man zur Zeit einfach bestellen, weil man sie nicht so einfach im Laden kaufen kann.
12:30 Uhr: Midi und Pause in der Sonne. Ich habe zwar nicht das Gefühl eine Pause zu brauchen – wovon auch – aber in der Sonne sitzen ist super.
14:30 Uhr: Ich lese in der Zeitung, dass am Strand von Menton ein Hai gefilmt wurde. Das Video ist zwar nicht sehr scharf, aber der Hai sieht riesig aus. Schaut mal.
14:40 Uhr: Außerdem lese ich in der Zeitung, dass die Franzosen ihr Kaufverhalten in den letzten Tagen völlig verändert haben. Heißt: auch der Franzose hamstert jetzt ein bisschen. Es heißt: Der Absatz von Mehl sei um 140 Prozent gestiegen, der von Pasta um 99 Prozent und der von Wein um 65 Prozent. Hallo @marceljeanpelzer falls Du das liest: Ich habe Dein Bild auf Instagram schon gesehen:-). Ihr seid perfekt integriert würde ich sagen.
15:00 Uhr: Ich krame mein Nähzeug zusammen um mich endlich mal an die Mundschutzmasken zu machen. Der erste Versuch ist zugeschnitten, gebügelt und gesteckt. Nach fünf Minuten nähen (von Hand) überlege ich vielleicht doch eine Nähmaschine zu bestellen. Das ist echt eine Arbeit für Doofe. Aber ich komme ganz gut voran. Ich stelle fest: nähen ist wie Fahrrad fahren, das verlernt man nicht. Ich würde sicher keine eins für meine Naht bekommen und auch kein Fleißbienchen, weil ich nämlich schon eine Nähpause eingelegt habe.
16:30 Uhr: In der Zeitung sieht man auch Bilder vom verwaisten Flugplatz in Nizza. Aktuell fliegen ab Nizza statt 35.000 Menschen nur dreihundert und selbst dies sind keine ganz normalen Fluggäste. Bis das wieder etwas normaler wird? Ich vermisse meine Freunde ein wenig und hatte mich schon auf den einen oder anderen Besuch gefreut.
17:00 Uhr: In der Zeitung steht ein Bericht einer Krankenschwester aus Nizza, die sich freiwillig nach Paris begeben hat um in einem Krankenhaus zu helfen. Das medizinische Personal ist maßlos überlastet und mittlerweile müssen sie tatsächlich entscheiden wen sie behandeln und wen nicht. Sie schreibt von Alpträumen und das kann ich ich nur zu gut verstehen.
Habe ich gerade über das Nähen von Hand gejammert? Ich nähe mal brav weiter und halte meine Klappe.
In diesem Sinne: #stayhome und take care.
---
(advertising with passion)
8:00 a.m.: Boulangerie. Yep, everything here is open on Good Friday that's allowed to be open. Today I also buy some croissants to freeze. Who needs flour when you can buy ready-made croissants?
9:00 am: Breakfast on the balcony in the sun.
10:00 a.m.: We have brought our walk forward because we are afraid that later many people might be on the way.
11:00 a.m.: "La Poste" brings a parcel. Juhuuu, a long awaited parcel with olive oil soap from Grasse. I will show you the days. In autumn a visitor of ours worked as a harvest helper via "Woofer" on a small organic olive farm. We visited him there and did some shopping. Now we have supplies.
11:30 a.m.: Another package. Thank God, the parcel services are working again. Some things you just have to order at the moment, because you can't buy them so easily in the shop.
12:30 p.m.: Midi and break in the sun. I don't feel like I need a break – from whatever – but sitting in the sun is great.
2:30 p.m.: I read in the newspaper that a shark was filmed at the beach of Menton. The video is not very sharp, but the shark looks huge. Have a look
2:40 p.m: I also read in the newspaper that the French have completely changed their buying behaviour in the last few days. Meaning: the French are now also hoarding a little. They say: the sales of flour have increased by 140 percent, pasta by 99 percent and wine by 65 percent. Hello @marceljeanpelzer if you are reading this: I have already seen your picture on Instagram.) You are perfectly integrated I would say.
3:00 p.m.: I scrape my sewing kit together to finally get to the masks. The first try is cut, ironed and put on. After five minutes of sewing (by hand) I consider ordering a sewing machine. This is real work for dumb people. But I am making good progress. I realize: sewing is like riding a bicycle, you don't forget that. I wouldn't get one for my sewing and I wouldn't get a "Fleißbichen" (a little diligent), because I already took a break from sewing.
4:30 p.m.: In the newspaper one sees also pictures of the orphaned airfield in Nice. Currently, instead of 35,000 people only three hundred fly from Nice and even these are not quite normal passengers. Until this becomes more normal again? I miss my friends a little bit and was already looking forward to one or the other visit.
5:00 p.m.: In the newspaper is a report of a nurse from Nice, who voluntarily went to Paris to help in a hospital. The medical staff is extremely overworked and in the meantime they have to decide who to treat and who not. She writes about nightmares and I can understand that only too well.
Did I just whine about sewing by hand? I'll just keep sewing and keep my mouth shut.
Translated with www.DeepL.com/Translator (free version)
On that note, #stayhome and take care.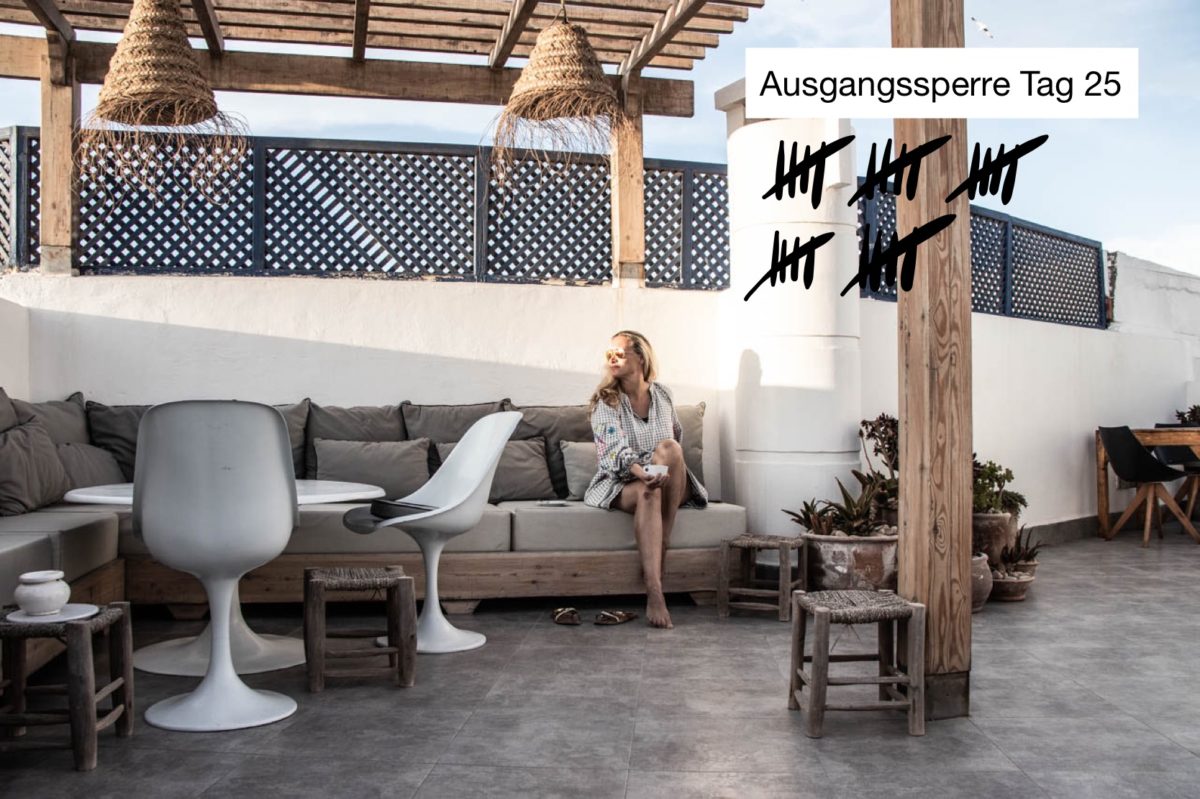 Bisous Tonja