Das Bild hat Sandra @fontainedecerier von mir mit ihrer süßen Hunde-Dame Night vor meinem (unserem) Lieblings-Kaffee-Laden in Nizza geschossen. Den Laden zeige ich Euch morgen mal genauer…
(Werbung aus Leidenschaft)
8:00 Uhr: Kein Besuch beim Bäcker. Obstsalat mit Granola für alle.
8:30 Uhr: Heute ist der zweite Regentag, der angesagt war. Die Bauern wird es freuen. Wenn das nicht der perfekte Tag ist, um mit meinem treuen Freund dem Staub zu spielen. Mehr muss ich dazu ja nicht sagen.
11:00 Uhr: Endlich Frühstück. Ich sag nur "Calls". Übrigens nicht Telefonte sagen, das ist uncool. Wenn Frauen ein Call haben sind das dann Callgirls? Ganz dünnes Eis.
11:30 Uhr: Kein Spaziergang wegen Regen.
11:50 Uhr: Ein Paket. Jippi. Der Kaffee aus meinem Lieblings-Kaffee-Shop in Nizza ist gekommen. Ich bin begeistert. Ich fasse die Tüten an und merke alles gemahlener Kaffee. Ohh nein, was hab ich den da bestellt, ich brauche Bohnen. Toll. Ich schaue in dem Onlineshop nach, was ich falsch gemacht haben könnte. So nach dem Motto: finde den Fehler. Ich begreife es allerdings nicht. Bin wohl zu blöd. Merde. Zurücksenden geht auch nicht, weil die Post nicht richtig arbeitet. Ich schreibe eine Mail an den Laden was ich wohl falsch gemacht haben könnte, aber ich bin mir sicher, dass der Fehler bei mir liegt. Dummerweise hatte ich auch noch ein bisschen gehamstert.
14:00 Uhr: Midi. Weil Mittags hatten wir ja Frühstück.
14:30 Uhr: Die Dame aus dem Kaffee-Shop ruft mich an. Super nett. Sie weiß auch nicht warum ich zu doof bin, aber nächste Woche darf ich einen Teil im Laden in Nizza umtauschen. Im Laden??? Ja, sie machen bald wieder auf. Ich frage dreimal nach, ob ich richtig gehört habe und freue mich wie ein Schneekönig. Das klingt nach leichten Lockerungen beziehungsweise als, ob das Besorgen mancher Dinge bald wieder einfacher würde. Ohh mein Gott wie ich mich freue. Vielleicht wird es etwas lockerer, wenn alle ihren Mundschutz haben? Ich bin gespannt, gelesen habe ich jedenfalls noch nichts darüber. Gut der Laden verkauft ja auch verderblich Ware. Ach was solls, ich kann spekulieren so viel ich will, ich werde es heute sowieso nicht erfahren.
Für morgen habe ich mir jedenfalls vorgenommen mal am Markt vorbeizuschleichen.
16:00 Uhr: Weiteres wüten im Haushalt und der Tag ist um.
---
The picture was taken by Sandra (@fontainedecerier) of me with her cute dog lady Night in front of my (our) favourite coffee shop in Nice. Tomorrow I will show you the shop in detail…
(Advertising out of passion)
8:00 a.m.: No visiting the bakery. Fruit salad with granola for everyone.
8:30 a.m.: Today is the second rainy day that was announced. The farmers will be happy. If this is not the perfect day to play with my faithful friend the dust. That's all I have to say.
11:00 a.m.: Finally breakfast. I'll just say "calls." By the way, don't say "calls." That's not cool. If women have calls, are they call girls? It's a slippery slope.
11:30 a.m.: No walk in the rain.
11:50 a.m.: A parcel. Yippee. Coffee from my favorite coffee shop in Nice has arrived. I am thrilled. I touch the bags and notice all the coffee is ground. Ohh no, I ordered that one, I need beans. Great. I'll check the online shop, see what I might have done wrong. It's like, find the mistake. I don't get it, though. I think I'm too stupid. Merde. You can't send it back because the post office isn't working properly. I write a mail to the shop what I might have done wrong, but I am sure that the mistake is mine. Unfortunately, I also hoarded a bit.
2:00 p.m.: Midi. Because at noon we had breakfast.
2:30 p.m.: The lady from the coffee shop calls me. So nice. She also doesn't know why I'm too stupid, but next week I'm allowed to exchange a part in the shop in Nice. In the store??? Yes, they'll open again soon. I ask three times if I heard right and I'm happy. That sounds like a slight relaxation, or as if getting some things will soon be easier again. Ohh my god how I am happy. Maybe it will be a little easier when everyone has their mouth guard? I am curious, I haven't read anything about it yet. Well the shop sells perishable goods. Oh well, I can speculate all I want, I won't find out today anyway.
For tomorrow I have planned to sneak past the market.
4:00 p.m.: Further raging in the household and the day is over.
Translated with www.DeepL.com/Translator (free version)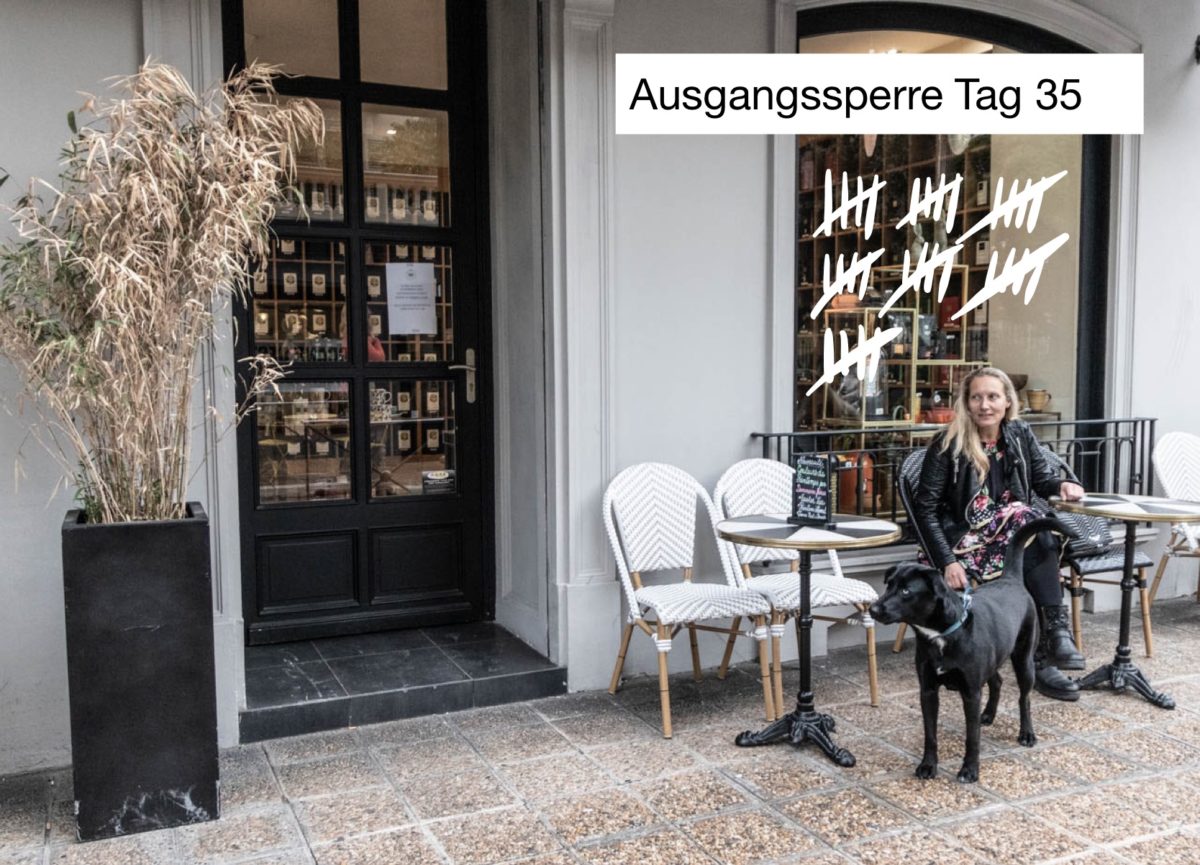 Bisous Tonja