Es ist also offiziell. Laut der Zeitung gehört der Golf von Saint Tropez in die Region der erlaubten 100 Kilometer. Wir werden uns bald wiedersehen.
(Werbung aus Leidenschaft)
7:30 Uhr: Kaffee ans Bett. Wie ich das liebe…
8:30 Uhr: Frühstück. Obstsalat mit Granola. Allerdings noch indoor.
9:00 Uhr: Kramen im Haushalt und zack ist es 10:50 Uhr.
11:00 Uhr: Spaziergang bei schönstem Sonnenschein. Es ist einiges los. Das schöne Wetter lockt die Leute vor die Tür. Was hier momentan schwer angesagt ist, sind übrigens Springseile. Manche Fitness Junkies können es richtig gut, andere brauchen noch ein Weilchen, bis sie an Kindertage anknüpfen werden. Bei dem Anblick mancher Springseile bin ich mir aber nicht sicher, ob es das bringt, die sind glaube aus nem Kaugummiautomaten. Na ja, besser als nichts, denn "Beschaffung" ist hier ja derzeit generell ein Problem und ganz sicher gilt das auch für Springseile.
12:00 Uhr: Stopp beim Gemüsemann. Heute mal Bio-Eier von unter der Laden-Theke. Also kaufen. Das ist wie mit Mehl: Wenn da dann kaufen.
13:00 Uhr: Midi
14:00 Uhr: Ich muss zum Supermarkt. Nach wie vor nicht meine Lieblingsbeschäftigung. Ich rödele mich also mit dem vollen Programm wie mit Gummihandschuhen und Mundschutzmaske auf. Der "Passierschein" muss auch ordnungsgemäß ausgefüllt werden und dann kann es endlich losgehen. Im Supermarkt ist es richtig schön leer und es gibt alles Palettenweise. Mehl, Backpulver, Hefe, Pasta und sogar Druckerpapier. Na toll. Das brauche ich jetzt auch nicht mehr. Ich will meine Lieblingsbutter aus dem Regal nehmen und zucke mit der Hand zurück. Steht da auf dem Preisschild etwa 3,48 EUR. Ich glaub es hakt. Für Gold-Butter fehlt mir heute der Humor. Ich nehme eine andere. Das Gleiche beim normalen Prosecco. Da nehme ich lieber einen Crémant. Und was soll ich euch sagen: Beim Toilettenpapier the same. Wie schon beim letzten Mal 7 Euro irgendwas. Das nehme ich allerdings, weil Toilettenpapier ist in Frankreich ein Thema für sich. Die meisten Sorten sind hauchdünn und so samtig wie Schmirgelpapier. Da kenne ich keine Alternative. Ich habe schon das Gefühl, das hier einige Preise etwas überzogen werden. Kein Wunder, das die Stadt Nizza mittlerweile Lebensmittelpakete an ältere Menschen mit kleinen Renten verteilt, weil sie nicht genügend zu essen haben. Ich bin mal gespannt wie es ist, wenn in zwei Wochen die Märkte wieder öffnen. Ob dann alle draufschlagen oder ob die goldenen Zeiten der Supermärkte dann wieder vorbei sind.
15:00 Uhr: Ich schaue mir meine Französischstunde an, die ich gleich habe. Schon wieder eine Grammatikstunde. Ohh nein im wahrsten Sinne des Wortes. Die Verneinung ist dran.
16:00 Uhr: Unterricht mit einer super Lehrerin. Sie schwitzt übrigens bei über dreißig Grad in Indien. Das nur mal am Rande zum Thema Online-Unterricht.
17:10 Uhr: Ein Amazon Fahrer ruft an, um zu sagen, das er ein Paket bringt. Ok, ich bin zu Hause und das sage ich ihm auch. Er labert und labert und ihr ahnt es schon, ich verstehe maximal ein Viertel von dem was er erzählt. Macht er übrigens immer und weil ich das schon weiß schaue ich aus dem Fenster, wo, richtig, sein Auto vor der Tür steht. Amazon Fahrzeuge sind meistens weiß, gell und bei Franzosen sind sie auch noch mit Paketen zugemüllt. Sein Problem ist anscheinend, dass er nicht so gerne aus dem Auto aussteigt. Das muss man aber, wenn man ein Paket ausliefern muss. Mir reicht es jetzt und ich sage ihm etwas deutlicher das schließlich Ausgangssperre ist, ich zu Hause bin und zur Bekräftigung rufe ich auch nochmal aus dem Fenster nach ihm. Mist jetzt muss er doch echt aussteigen und das Paket ausliefern. Er meckert noch ein bisschen rum und legt es dann in den Fahrstuhl. Na geht doch.
17.30 Uhr: Kaffeepause auf dem Balkon…
---
So it's official. According to the newspaper, the Gulf of Saint Tropez is within the permitted 100-kilometer range. We will meet again soon.
(advertising wit passion)
7:30 a.m.: coffee in bed. I love it…
8:30 a.m.: breakfast. Fruit salad with granola. But still indoor.
9:00 a.m.: Digging around in the household and bang it is 10:50 am.
11:00 a.m.: Walk in the sunshine. There is a lot going on. The nice weather attracts people to the door. By the way, what's very popular here at the moment are skipping ropes. Some fitness junkies are really good at it, others need a little more time before they can get back to childhood. But I'm not sure if some skipping ropes will do the trick, I think they're from a chewing gum machine. Well, it's better than nothing, because "procurement" is a general problem here at the moment, and it certainly applies to skipping ropes as well.
12:00 noon: Stop at the vegetable man. Today organic eggs from under the counter. So buy. It's like with flour: When you buy it.
1:00 p.m.: Midi
2:00 p.m.: I have to go to the grocery store. Still not my favourite pastime. So, I'm going to be dressed in rubber gloves and a face mask with the full range of products. The "pass" has to be filled out properly and then I can finally start. In the supermarket it is really nice and empty and there is everything on pallets. Flour, baking powder, yeast, pasta and even printer paper. Great. I don't need that anymore. I want to take my favorite butter off the shelf and flinch back with my hand. Does the price tag say about 3.48 EUR. I think it's stuck. I don't have a sense of humor for gold-butter today. I'll take another one. Same with the regular prosecco. I'll have a cremant instead. And what can I tell you: the same with toilet paper. Like last time, 7 euros something. I'll have that though, because toilet paper is a subject in France. Most types are wafer-thin and as velvety as sandpaper. There is no alternative. I already have the feeling that some prices here are a bit exaggerated. No wonder that the city of Nice distributes food packages to elderly people with small pensions, because they don't have enough to eat. I am curious to see what it will be like when the markets open again in two weeks. Whether then everyone will be hitting them or whether the golden times of the supermarkets will be over again.
3:00 p.m.: I'm watching my French lesson, which I'm about to have. Again a grammar lesson. Ohh no in the truest sense of the word. The negation is on.
4:00 p.m.: Class with a great teacher. By the way, she's sweating over thirty degrees in India. That's just a side note on the subject of online learning.
5:10 pm: An Amazon driver calls to say he is bringing a package. Okay, I'm at home and I'll tell him that too. He babbles and babbles and you already suspect it, I understand a quarter of what he says at most. By the way, he always does and because I already know that I look out of the window where, right, his car is parked in front of the door. Amazon cars are mostly white, shrill and French cars are even packed with packages. Apparently his problem is that he does not like to get out of the car. But you have to if you have to deliver a parcel. I've had enough and I tell him more clearly that there is a curfew, I'm at home and to confirm this I call out of the window. Shit now he really has to get out and deliver the package. He grumbles a bit more and then puts it into the elevator. There you go.
5:30 p.m.: coffee break on the balcony…
translated with DeepL (free version)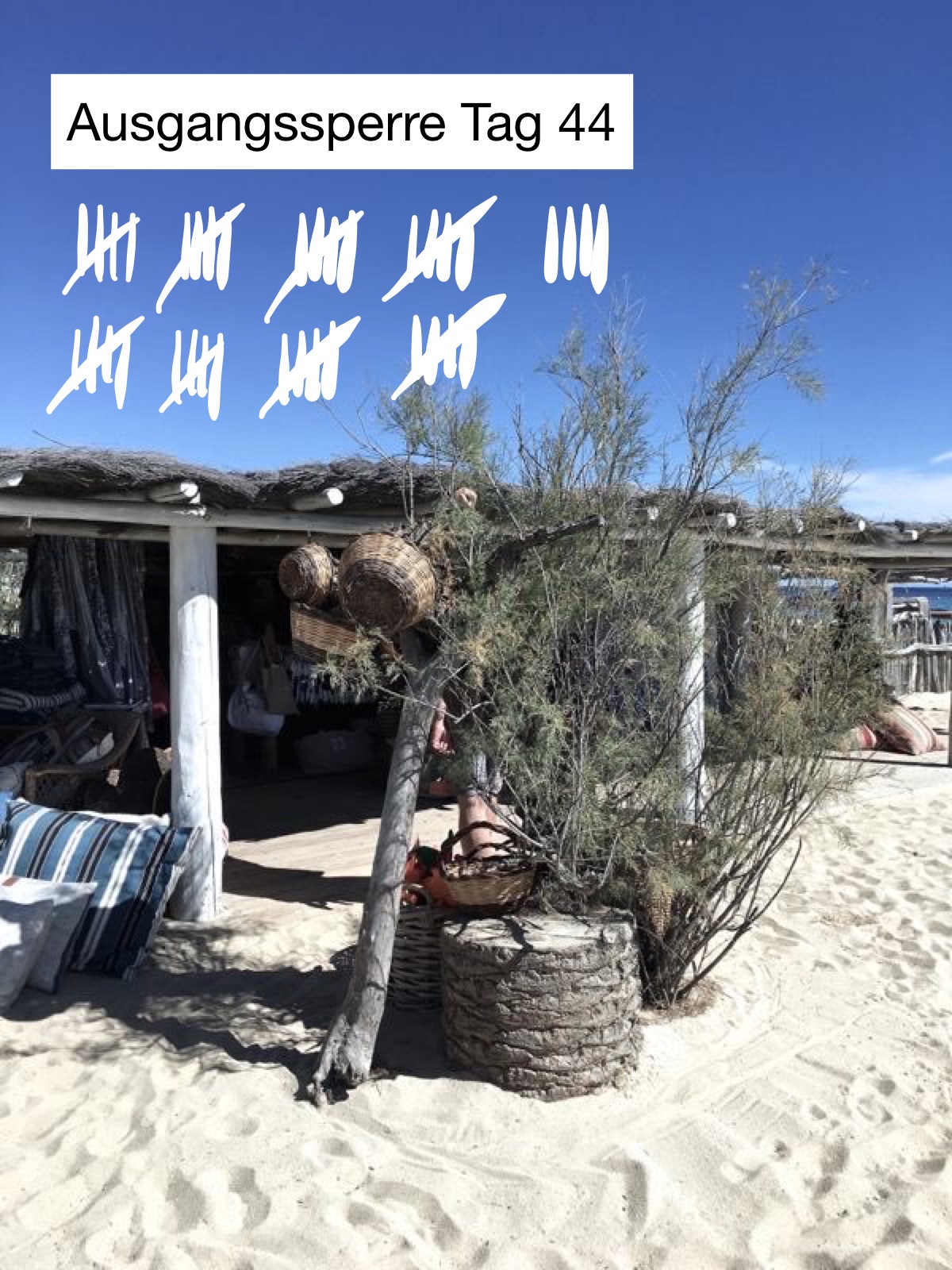 Bisous Tonja