(Werbung aus Leidenschaft)
Der lang ersehnte Donnerstag ist nun da. Heute um 17:00 Uhr hat die französische Regierung, wie angekündigt, die neuen Lockerungen bekannt gegeben, die ab dem 2. Juni gelten werden. Es gibt zwar noch einige Unterschiede in Gebieten die als Grün und denen die als Gelb gekennzeichnet sind, aber allgemein kann man sagen:
Wie erhofft wird die 100 Kilometer Regelung aufgehoben. Endlich, ich kann es kaum erwarten mal in der Provence nach dem Rechten zu sehen. Auch Sandra darf ihre traumhaften zwei Zimmer nun wieder vermieten. Alle Deutschen und Schweizer müssen sich noch ein wenig gedulden, denn fürs Erste bleiben die Grenzen bis zum 15. Juni weiterhin geschlossen. Es klingt allerdings ganz gut für danach und vielleicht bekomme ich doch noch ein bisschen Besuch in diesem Sommer…
Ab 2. Juni werden auch Restaurants, Bars und Cafés wieder öffnen und worauf ich mich besonders freue, auch die Beachclubs. Ich liebe es am Abend noch auf einen Sundowner zum Strand zu gehen. Einige Beachclubs in Nizza wechseln den Betreiber, da bin ich mal gespannt, ob auch mal ein paar richtig "Schöne" dabei sind.
Auch Schwimmbäder, Sporthallen und Fitnessstudios dürfen wieder öffnen und ab 22. Juni auch die Kinos.
Versammlung sind auf 10 Personen beschränkt, vieles ist ähnlich wie in Deutschland.
Mal schauen, wie sich das alles in der nächsten Woche anfühlt.
---
(Advertising out of passion)
The long awaited Thursday has arrived. Today at 5:00 p.m., the French government announced, as announced, the new relaxations that will apply from June 2. There are still some differences between areas marked as green and those marked as yellow, but in general one can say
As we had hoped, the 100-kilometer rule will be lifted. Finally, I can't wait to go to Provence to see how things are going. Also Sandra is now allowed to rent out her wonderful two rooms again. All Germans and Swiss will have to be patient a little longer, because for the time being the borders will remain closed until June 15th. But it sounds quite good for afterwards and maybe I will get some visitors this summer after all…
Restaurants, bars and cafés will also reopen on 2 June and I am especially looking forward to the beach clubs. I love going to the beach for a sundowner in the evening. Some beach clubs in Nice change their operator, so I'm curious if there will be some really "nice" ones.
Also swimming pools, gyms and fitness studios are allowed to open again and from June 22nd also the cinemas.
Meetings are limited to 10 people, many things are similar to Germany.
Let's see how it all feels during the next week.
translated with DeepL (free version)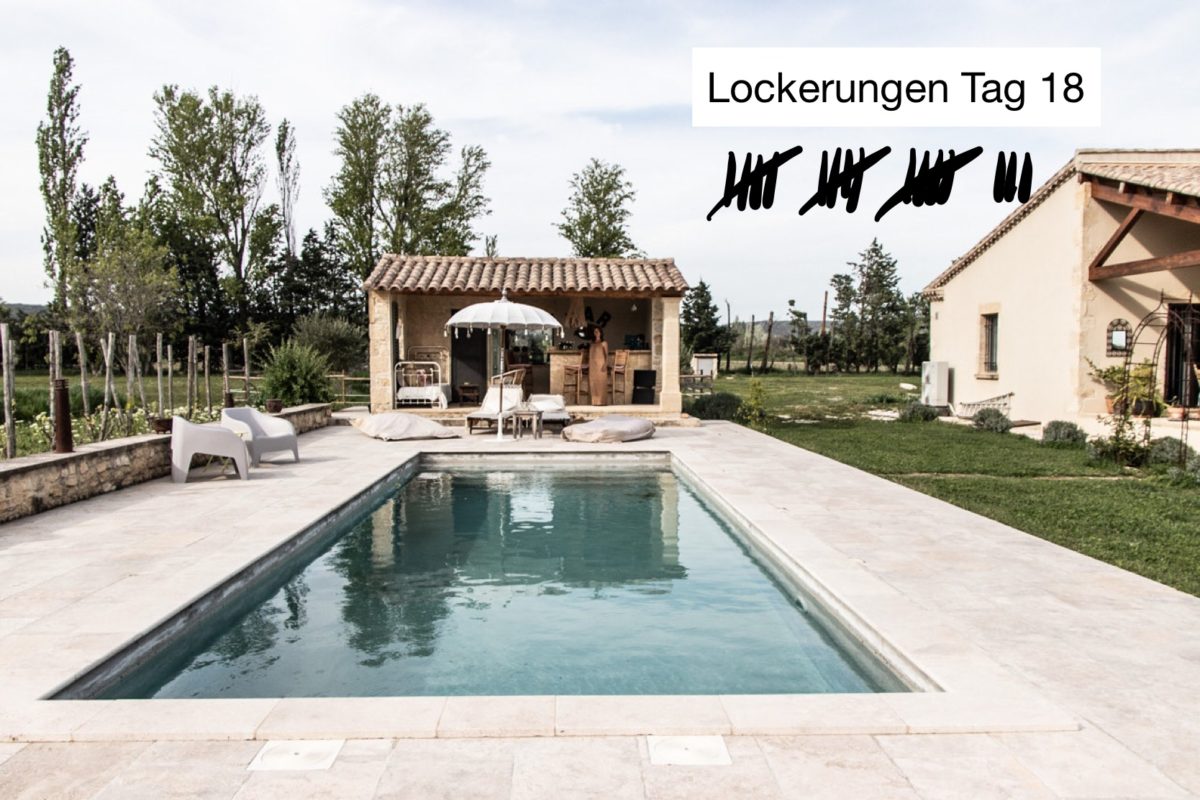 Bisous Tonja