& eine Baustelle
(Werbung)
Es ist noch gar nicht lange her, dass ich einen Post über kleine Veränderungen in unserem Flur veröffentlicht habe und bald wird er noch schöner. Vorher muss ich aber noch eine kleine Baustelle über mich ergehen lassen. (Den Post über meine neuen Bilder im Flur könnt ihr hier nachlesen)
8:00 Uhr: Ich bekomme wie angekündigt eine SMS, mit der die Handwerker kurz bestätigen, dass sie um 8:30 Uhr kommen. Zu diesem Zeitpunkt habe ich mich noch über die Bauarbeiten gefreut.😂🙈
8:30 Uhr: Die Handwerker sind da und legen los. In den Wänden unseres Flurs klaffen Löcher, die endlich geschlossen werden.
Wir hatten vor einer Weile eine neue Gasleitung bekommen und wenn uns das Corona-Virus nicht dazwischen gekommen wäre, hätten wir alles längst fertig. Außerdem bekomme ich endlich im Flur meine wunderschönen marokkanischen Leuchten aufgehängt. Ich freue mich schon so auf das Ergebnis, auf den Dreck den es geben wird allerdings weniger.
9:00 Uhr: Ab jetzt habe ich einen langweiligen Tag. Irgendwie bin ich überall im Weg. Es wird in der Küche gearbeitet, im Badezimmer, im Flur und sogar im Abstellraum. In unserem Esszimmer & Arbeitszimmer telefoniert sich jemand zu Tode, da bin ich auch nur im Weg. Ich verkrümel mich also ins Wohnzimmer, in dem es aber auch nicht besonders gemütlich ist, weil dort die ganzen Dinge aus der Abstellkammer stehen. Das war das einzige Zimmer, vor dem keine Leiter mit einem Handwerker drauf stand, als ich den Abstellraum leer geräumt habe. Wenn die Leitern später umgestellt werden müssen die Sachen hier raus.
17:00 Uhr: Alle Handwerker sind weg und ich mache noch ein bisschen sauber. Ich weiß, dass das vergebens ist, weil es morgen früh direkt weiter geht. Aber ein bisschen muss ich noch sauber machen, den ganzen Abend kleine Krümel unterm Fuß, das halte ich nicht aus.
17.05 Uhr: Wie ich beim leichten Putzen erkennen kann, beginnt für mich die Arbeit, wenn alles fertig ist. Nicht nur, weil ich ein bisschen rumdekorieren kann, sondern weil alles mit einem zarten Staubfilm überzogen ist. Na ja, ich wusste es ja vorher und alles kann man ja auch nicht abdecken.
17:05 Uhr: Was ein Profi so an einem Tag schafft… und es wird schön.
---
(advertising)
It is not so long ago that I published a post about small changes in our corridor and soon it will be even more beautiful. But before that I still have to endure a small construction site. (You can read the post about my new pictures in the hall here)
8:00 a.m.: As announced, I receive an SMS with which the craftsmen briefly confirm that they will be coming at 8:30 a.m. At this time I was still happy about the construction work.😂🙈
8:30 a.m.: The workmen are there and get going. There are holes in the walls of our hallway that are finally being closed.
We had got a new gas pipe a while ago and if the corona virus hadn't gotten in the way we would have everything ready long ago. Besides, I finally get to hang my beautiful Moroccan lamps in the hallway. I'm so looking forward to the result, but not so much to the dirt that will be there.
9:00 a.m.: From now on I have a boring day. Somehow I am everywhere in the way. People are working in the kitchen, the bathroom, the hallway and even in the storage room. In our dining room & study somebody is talking on the phone to death, I'm just in the way. So I go to the living room, which is not very comfortable either, because all the things from the storage room are there. This was the only room without a ladder with a craftsman in front of it when I cleared the storage room. When the ladders are moved later, the things have to get out of here.
5:00 p.m.: All the workmen are gone and I clean up a little bit. I know that's in vain, because we're leaving first thing in the morning. But I still have to clean up a bit, I can't stand small crumbs under my feet all evening.
5.05 pm: As I can see from the light cleaning, for me the work starts when everything is ready. Not only because I can decorate a bit, but because everything is covered with a delicate film of dust. Well, I knew it before and you can't cover everything up.
5:05 p.m.: What a professional does in one day… and it'll be beautiful.
(translated with DeepL (free version)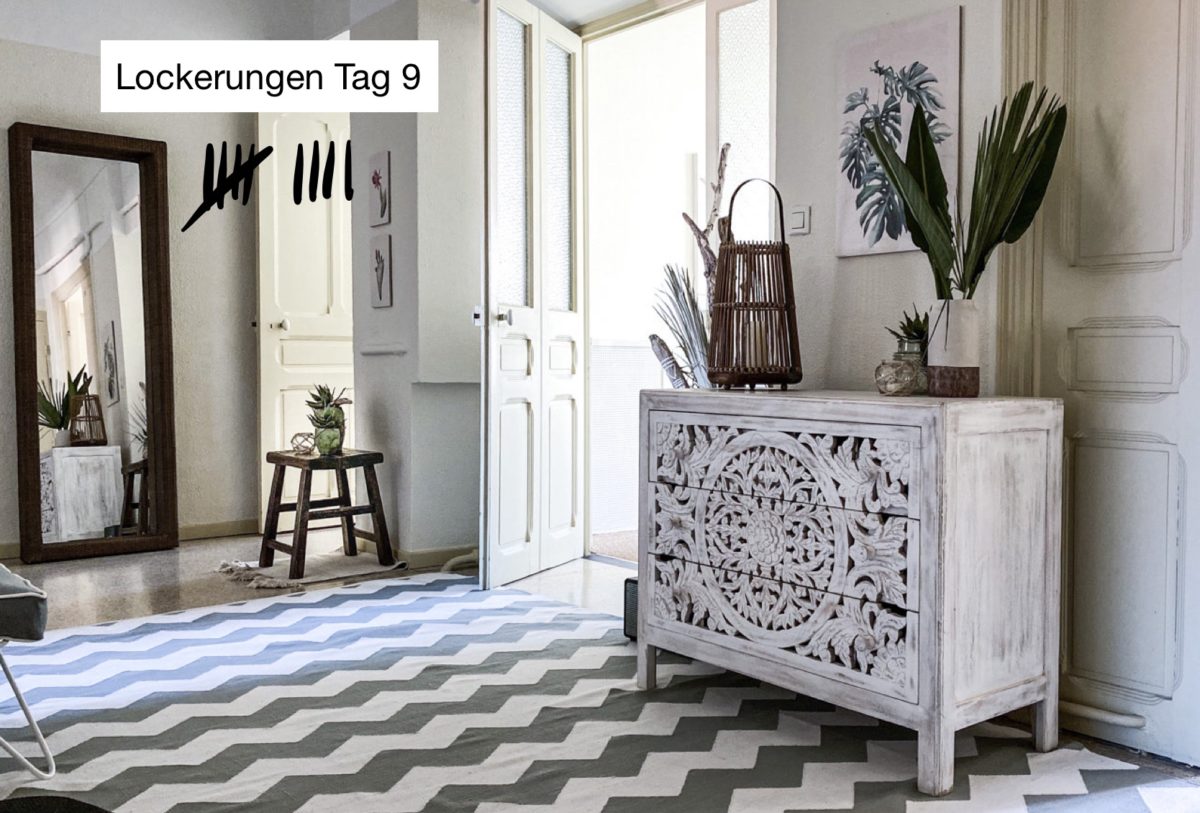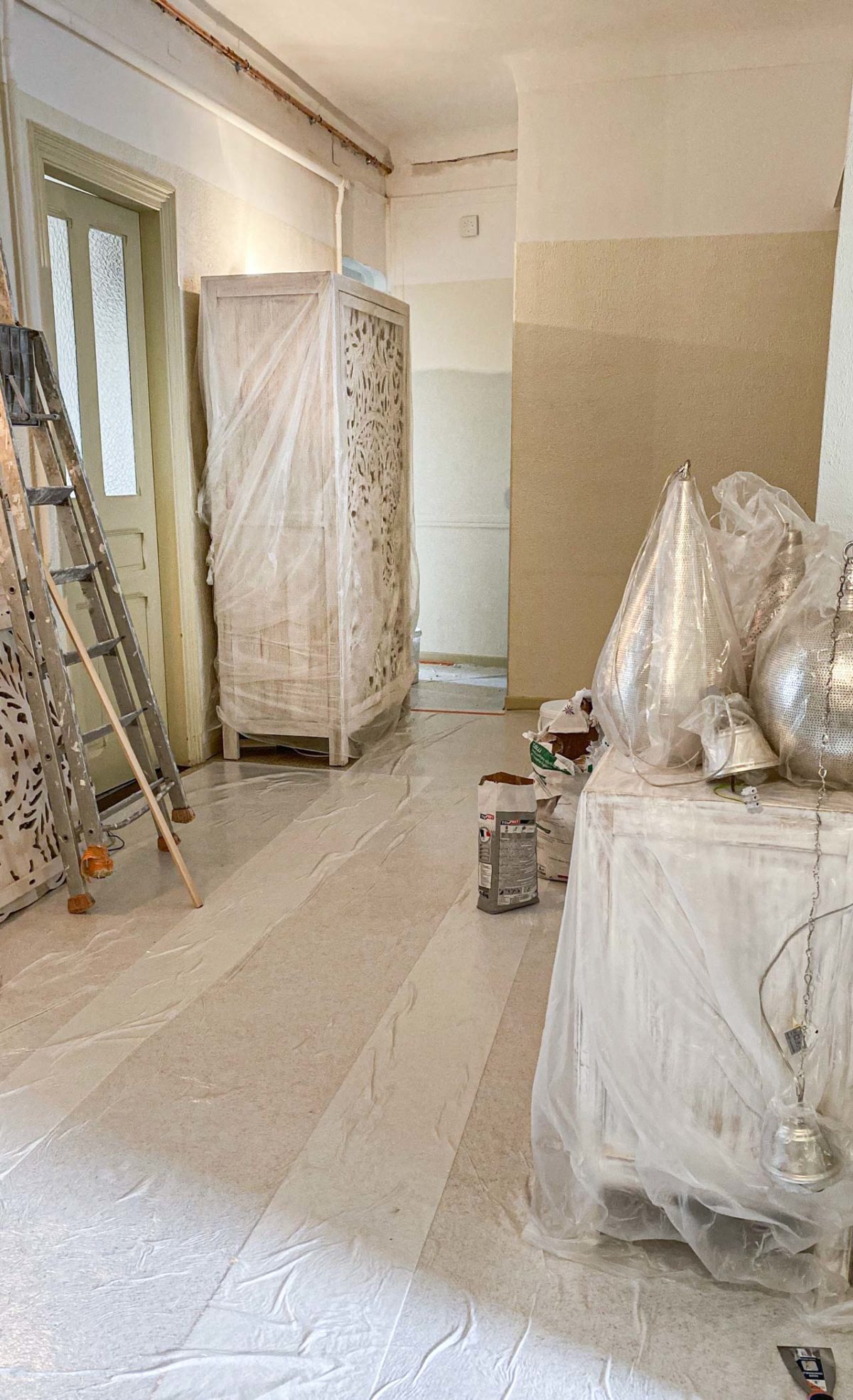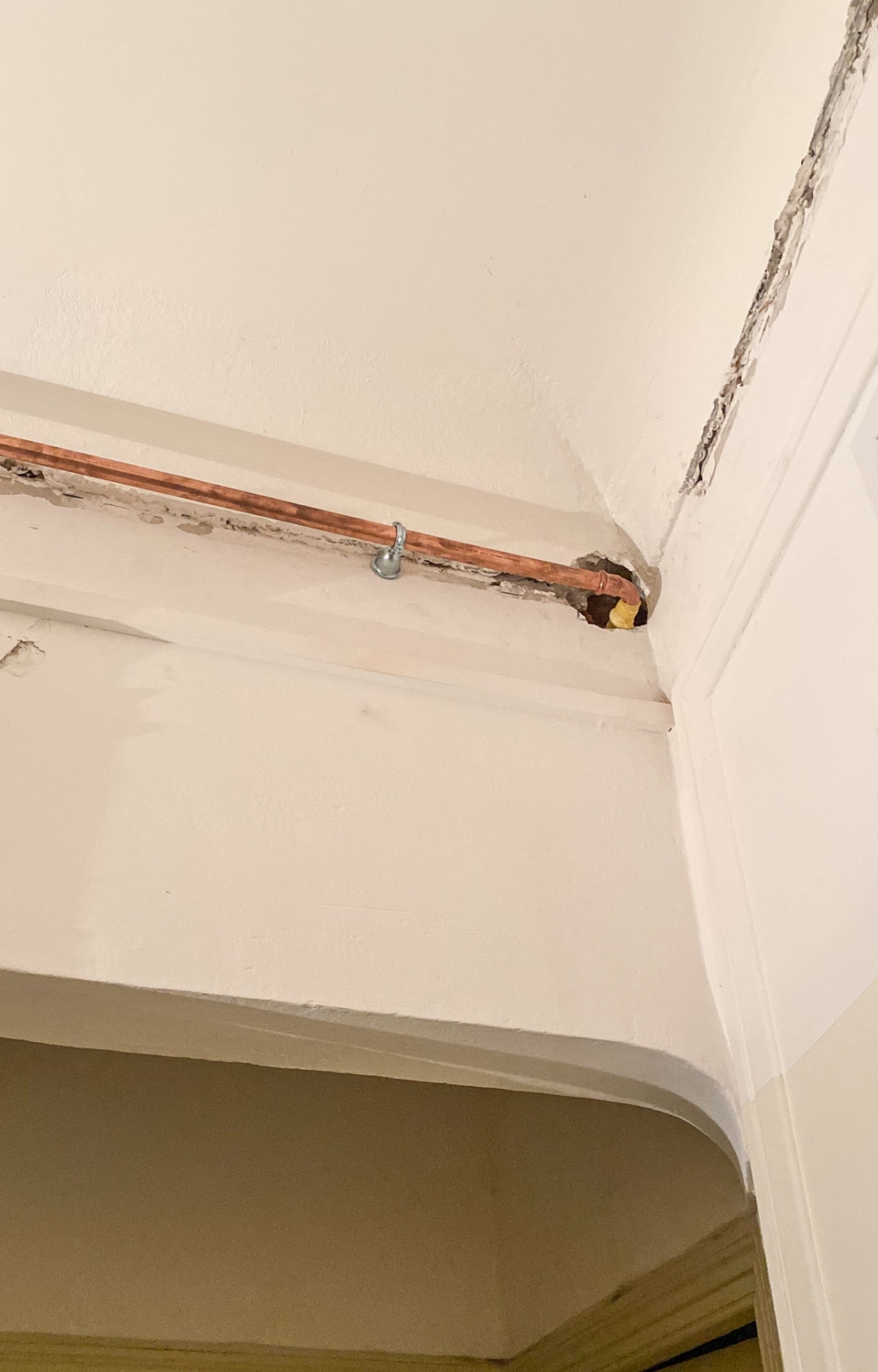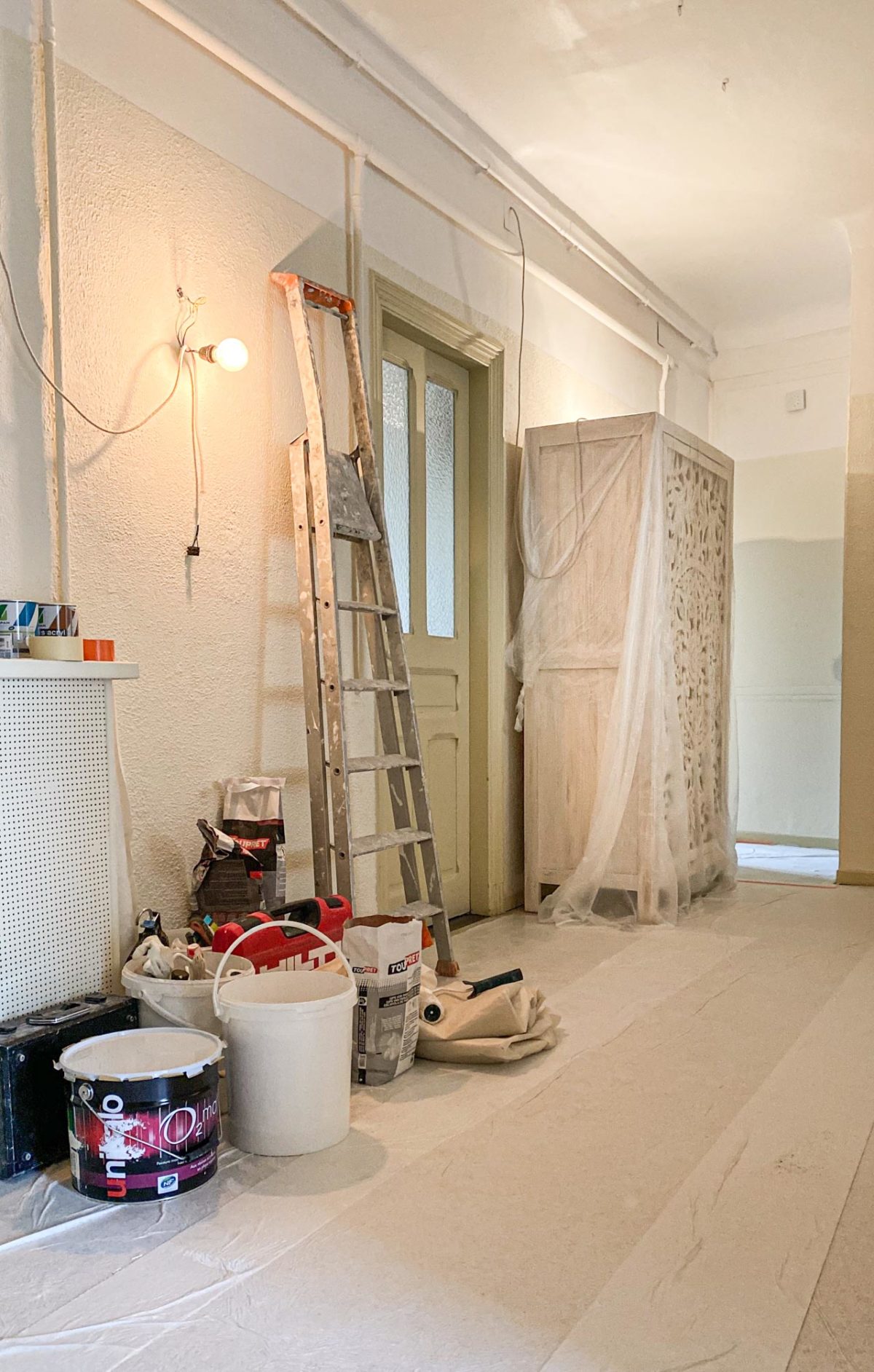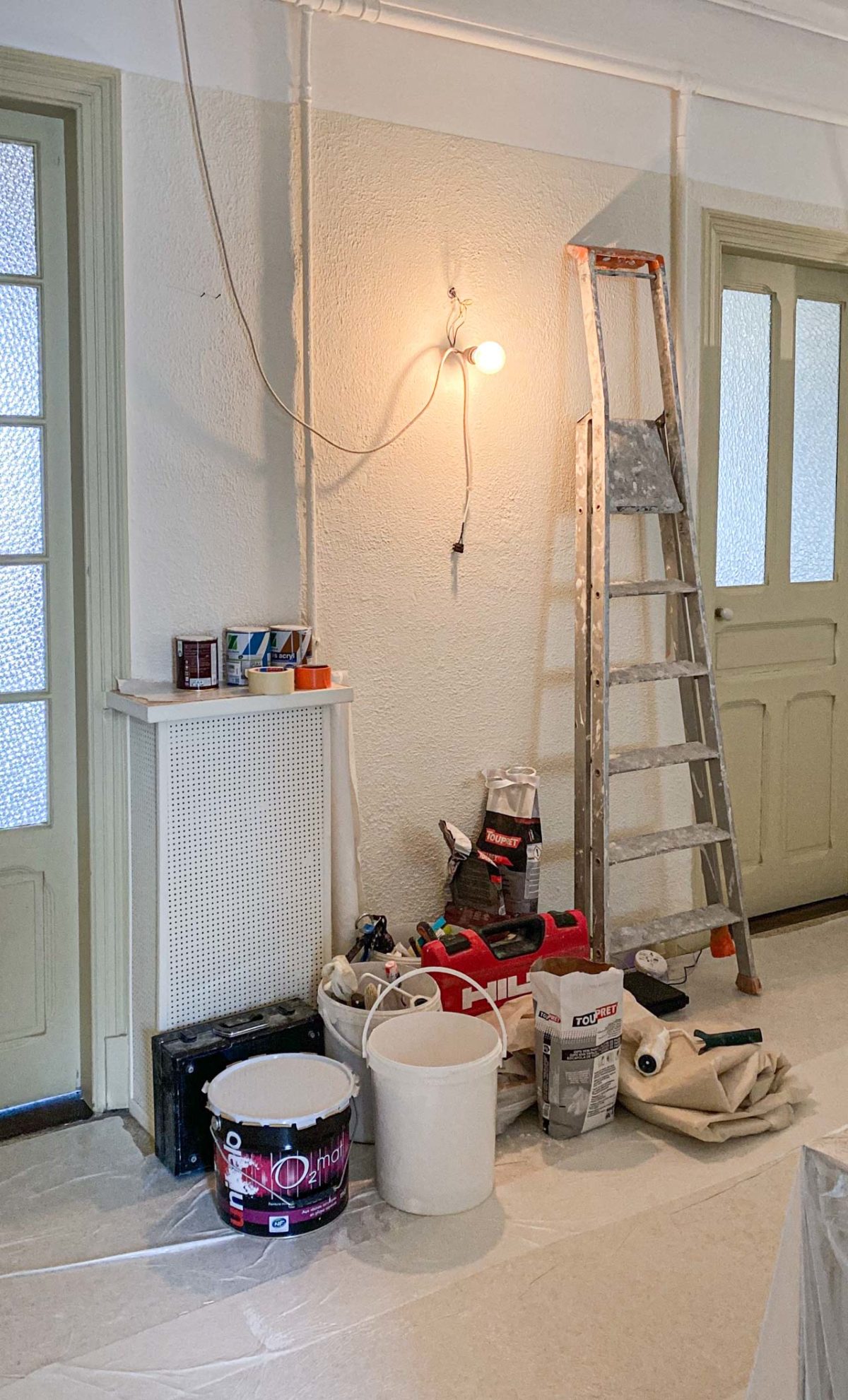 Bisous Tonja