(Werbung aus Leidenschaft)
Einige Leser und Bekannte haben mich schon häufig gefragt, ob sie mich ein bisschen unterstützen könnten. Das finde ich mega toll, denn so ein Blog macht tatsächlich eine Menge Arbeit.
Auch wenn ich das eine oder andere Produkt, das vor meiner Linse landet, behalten darf, lehne ich sehr viele Sponsoren-Anfragen ab. Ich möchte auf meinem Blog tatsächlich ausschließlich Dinge empfehlen, für die ich brenne, die ich selbst benutze oder die ich gerne hätte.
Ich bin auch auf einigen Plattformen angemeldet, bei denen sich Blogger und Influencer um Kampagnen bewerben können, allerdings muss ich gestehen, dass ich dort selten Produkte entdecke, die ich euch empfehlen würde. So passiert es dann wohl auch, das plötzlich ganze Heerscharen von Influencern Werbung für eingepackte Lebensmittel und solchen Kram machen. Ich will nicht richten, denn all diese Dinge habe ich in meiner Jugend auch gekauft, schon allein weil ich es nicht sonderlich Dicke hatte. Aber ich bin aus diesem Alter mittlerweile raus. Ich versuche mich natürlich zu ernähren, Plastik zu vermeiden und auch sonst umweltfreundlich zu handeln, was mir natürlich nicht immer gelingt, aber ich arbeite daran!
Zurück zum Thema Wertschätzung und Unterstützung: Ich habe nun eine Shop-Seite eingerichtet, die ich mit meinen Lieblingsprodukten füllen werde. Manche Links sind Affiliate Links, die alle extra gekennzeichnet sind. Wer über einen solchen Link ein von mir empfohlenes Produkt kauft, unterstützt mich, weil ich dann eine kleine Provision erhalte. Andere Links führen zu Shops, die ich gerne unterstützen möchte, beispielsweise von Freunden oder Bekannten oder einfach nur, weil ich die Produkte toll finde.
Eine Geben-und-Bekommen-Seite sozusagen. So was liebe ich, denn da stimmt der Ausgleich.
Hier findet ihr die Shop Seite und natürlich auch rechts oben im Menu.
---
(advertising with passion)
Some readers and friends have often asked me if they could support me a little bit. I think that's great, because a blog like this is really a lot of work.
Even though I am allowed to keep the one or other product that ends up in front of my lens, I refuse many sponsor requests. I only want to recommend things on my blog that I'm passionate about, that I use myself or that I would like to have.
I am also registered on some platforms where bloggers and influencers can apply for campaigns, but I have to admit that I rarely find products I would recommend there. That's probably how it happens, that suddenly whole armies of influencers advertise wrapped food and stuff like that. I don't want to judge, because I bought all these things too in my youth, because I didn't had much money. But I am out of that age now. I try to eat a natural food, I try to avoid plastic and I try to be eco-friendly, which I don't always manage, but I'm working on it!
Back to the topic of appreciation and support:I have now set up a store page that I will fill with my favorite products. Some of these links are affiliate links, which are all specially marked. Whoever buys a product recommended by me through such a link supports me, because then I get a small commission. Other links lead to stores that I would like to support, for example from friends or people I know or simply because I like the products.
A give-and-get page so to speak. That's what I love, because it's the right balance.
Here you can find the shop page and of course also in the menu on the top right.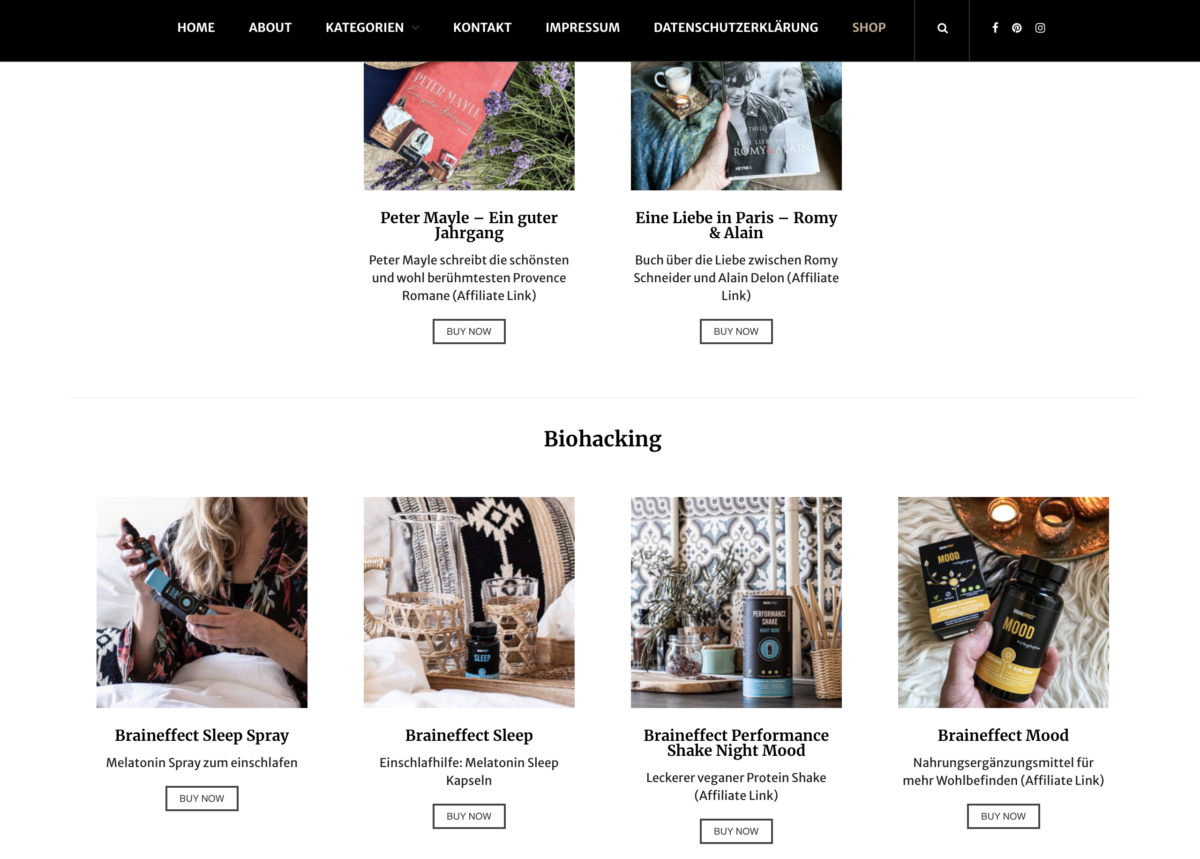 Bisous Tonja