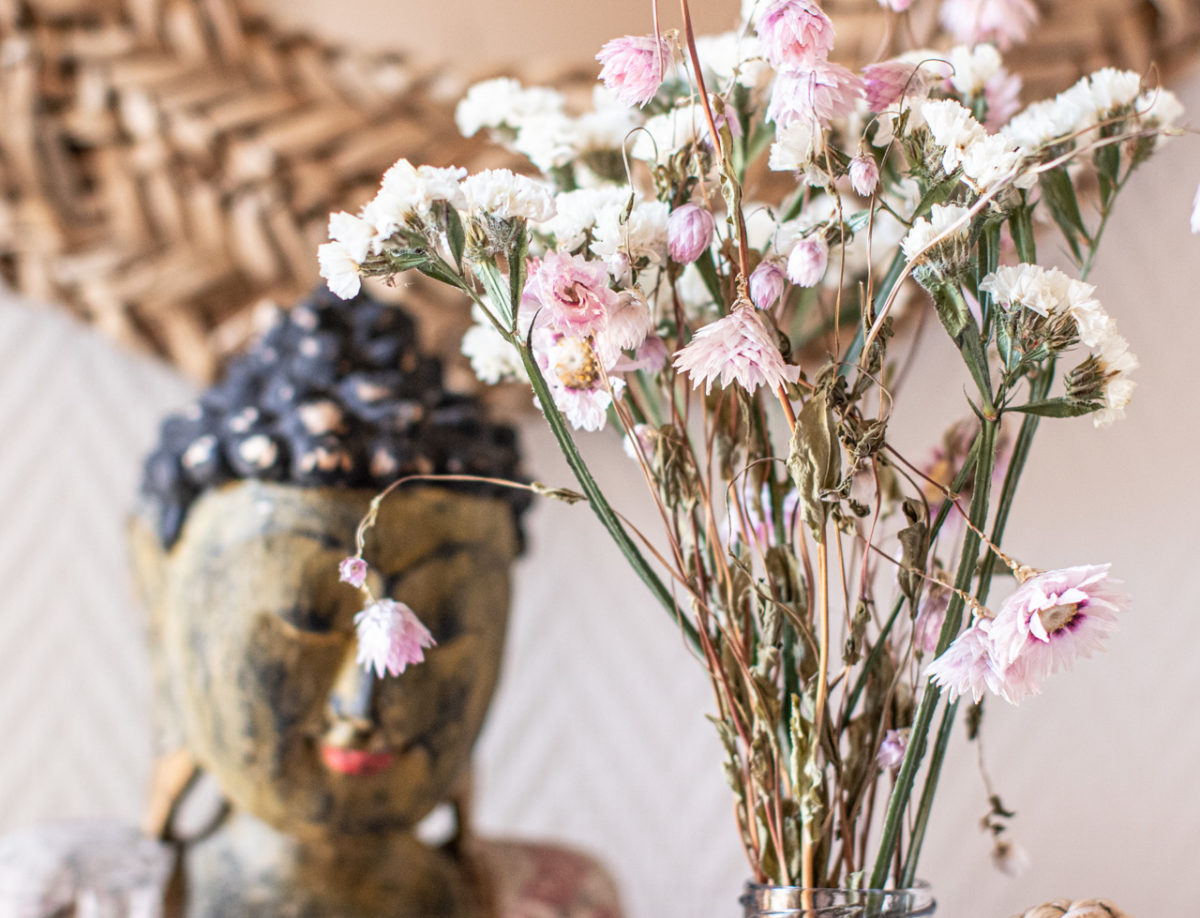 (Werbung aus Leidenschaft)
Wir bekommen tatsächlich unseren ersten Besuch. Ich kann mich gar nicht mehr daran erinnern, wann die letzten Freunde da waren. Leider bleibt unser Besuch auch nur kurz, aber ich freue mich trotzdem.
Beim Vorbereiten des Gästezimmers, ich musste einen Großputz machen, habe ich auch meinen kleinen Lieblingsbuddha abgestaubt. Er ist schon seit 22 Jahren bei mir und ich musste ihn mir hart erkämpfen.
Ich habe ihn vor 22 Jahren von Bali mitgebracht und der Verkäufer wollte einfach nicht aufhören zu feilschen. Ihm hat es einen Riesenspaß gemacht und ich war das Gefeilsche kein Stück gewohnt. Aber ich wollte diesen wunderschönen Buddha unbedingt haben. Er ist geschnitzt und mit einem traditionellen Balistoff beklebt und natürlich auch noch bemalt. Ich habe mich auf den ersten Blick in ihn verliebt. Ganz viele Freunde haben schon versucht, ihn mir abzuluchsen, aber bei diesem Freund bleibe ich hart.
Der Verkäufer wollte damals eine utopische Summe dafür haben und ich habe ihn ausgelacht und dann begann eine lange Diskussion. Er hat mir einen Bären von seinen vierzehn Kindern aufgebunden und ich habe ihm von meinen zehn Kindern erzählt. Er hat sich schlapp gelacht … Aber irgendwann hatten wir es geschafft und uns auf einen Preis geeinigt. Mein Gott ich kann das bis heute nicht leiden.
Am Flugplatz ging das Theater wieder los. Ich hatte ein bisschen zu viel eingekauft, wie alle anderen auch und mein Gepäck hatte etwas Übergewicht. Damals wurde das längst nicht so streng gehandhabt wie heute. Dass ich mein Übergepäck zahlen sollte, hatte sich bei allen Reisenden hinter mir in zwei Sekunden rumgesprochen und die Schlange hinter mir war sofort leer.
Ich hatte mich dann an die Seite gestellt und begonnen ein paar meiner Schätze auszupacken, als ein Stewart der Airline kam und mich gefragt was ich mache. Er meinte, dass bisschen Übergepäck, nahm mich mit zum Business-Class Check-in und hat mich durchgewunken. Das werde ich nie vergessen.
Das Gepäck ging dann noch unterwegs verloren und ein Teil kam niemals an, aber mein Buddha war da …
Nun erwartet er meine Gäste und wurde noch mit hippen Strohblumen geschmückt. Habt ihr auch solche Lieblings-Stücke?
---
(Advertising with passion)
We are actually getting our first visitors. I can't even remember when the last friends were here. Unfortunately, our visitors will only stay for a short time, but I'm still looking forward to it.
While preparing the guest room, I had to do a big cleaning, I also dusted my little favourite Buddha. It has been with me for 22 years and I had to fight hard for it.
I brought it from Bali 22 years ago and the salesman just wouldn't stop haggling. He enjoyed it very much and I was not accustomed to haggling. But I really wanted to have this beautiful Buddha. It is carved and covered with a traditional balistoff and of course painted. I fell in love with him at first sight. Many friends have tried to get him away from me, but with this friend I remain firm.
The salesman wanted a utopian sum for it at that time and I laughed at him and then a long discussion began. He gave me a bear of his fourteen children and I told him about my ten children. He laughed himself limp … But at one point we finally agreed on a price. My God, I still can't stand it to this day.
At the airport the theatre started again. I had bought a bit too much like everyone else and my luggage was a bit overweight. At that time they were not as strict as today. That I should pay for my excess baggage was known to all travellers behind me in two seconds and the queue behind me was immediately empty.
I had then stood on the side and started to unpack some of my treasures when an airline steward came and asked me what I was doing. He said that a bit of overweight baggage, took me to business class check-in and waved me through. I will never forget that.
The luggage got lost on the way and some of it never arrived, but my Buddha was there …
Now he expects my guests and was decorated with hip straw flowers. Do you also have such favorite pieces?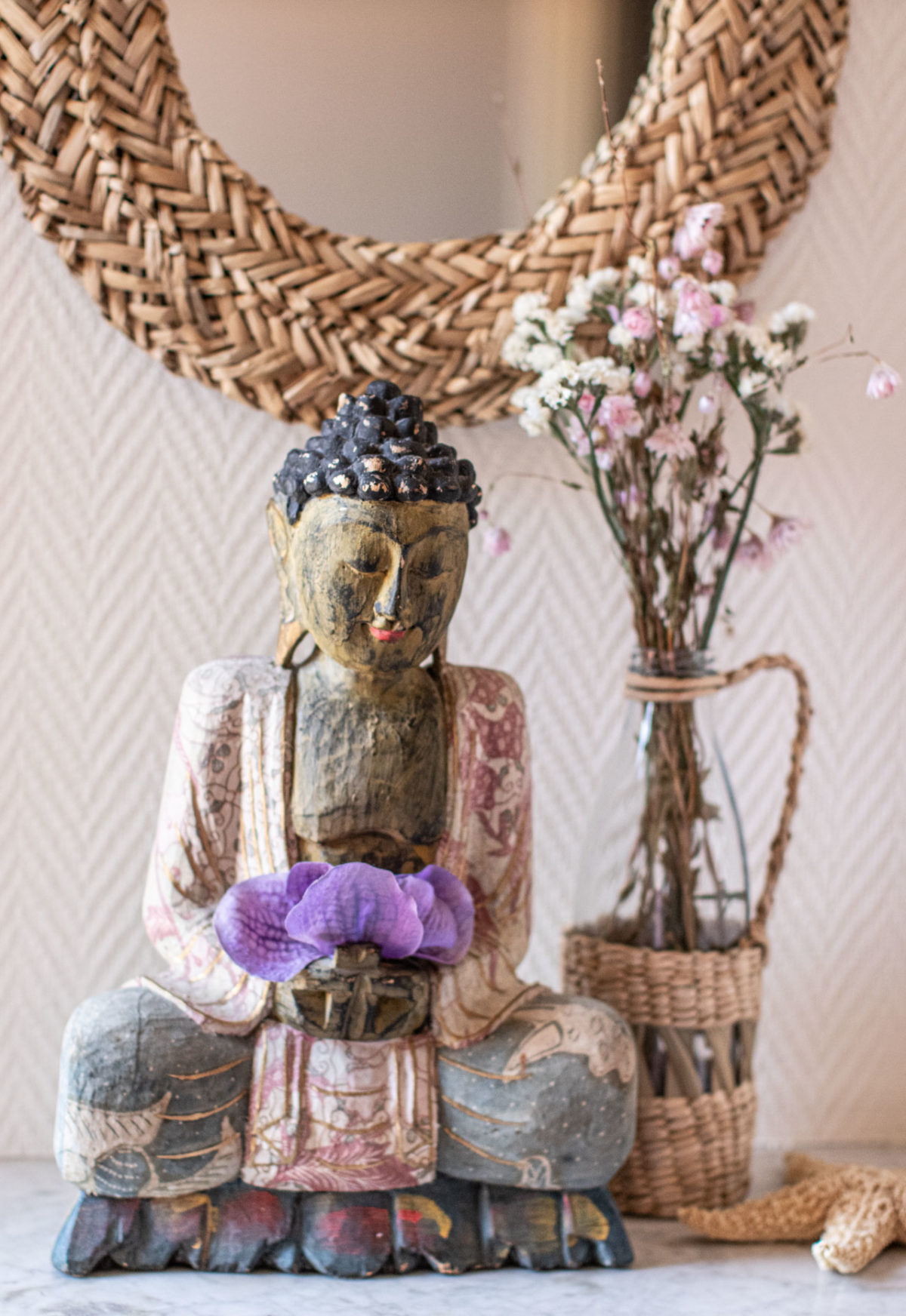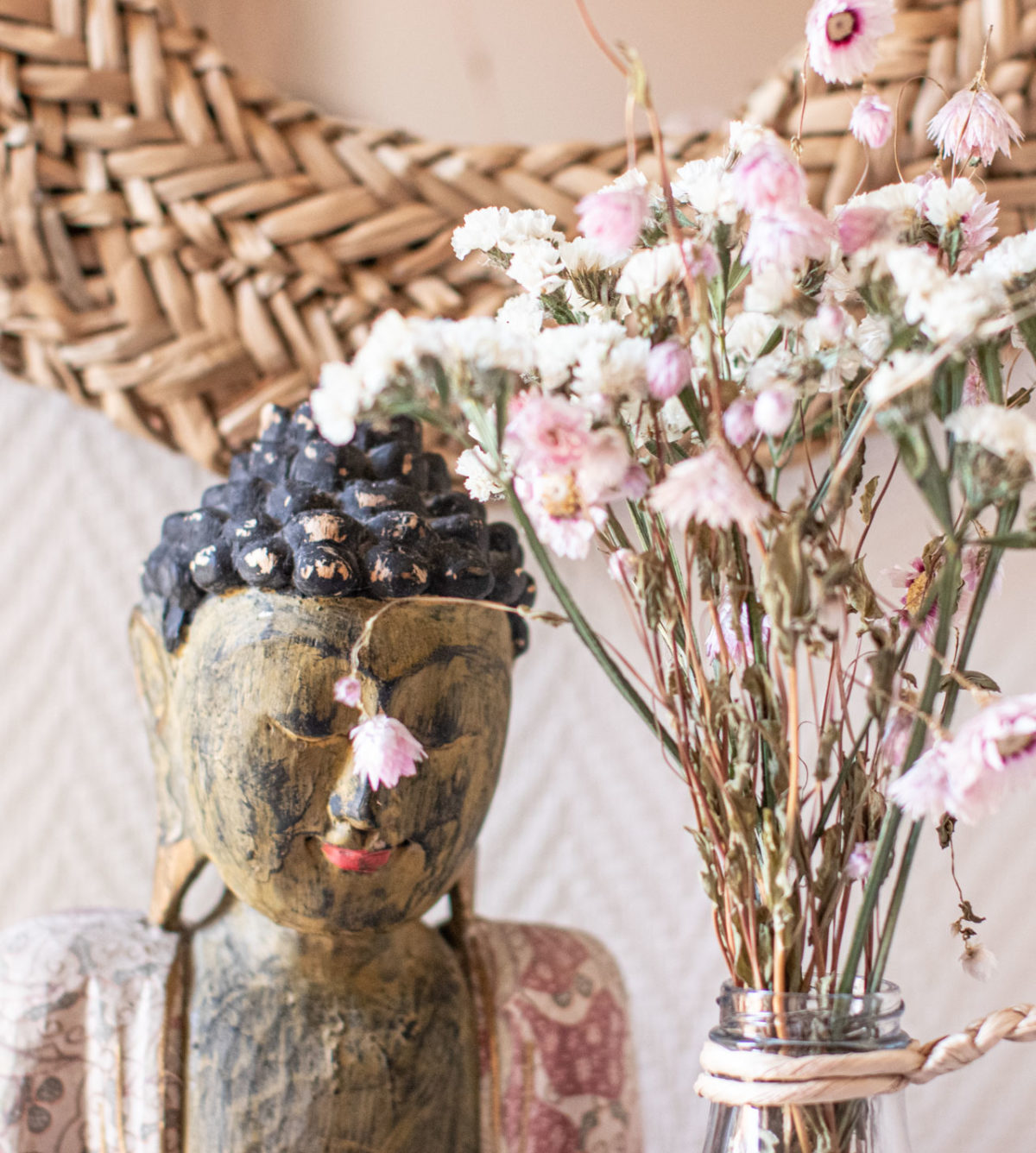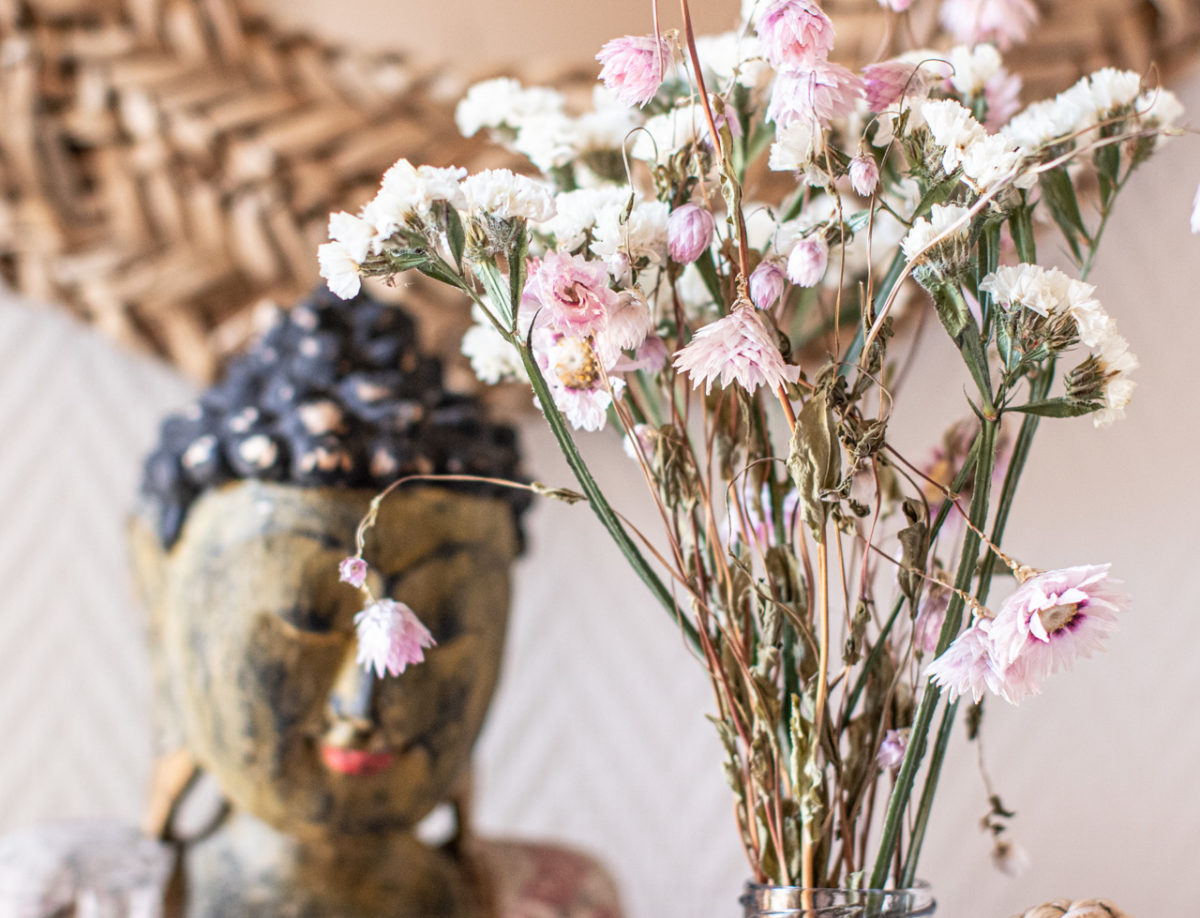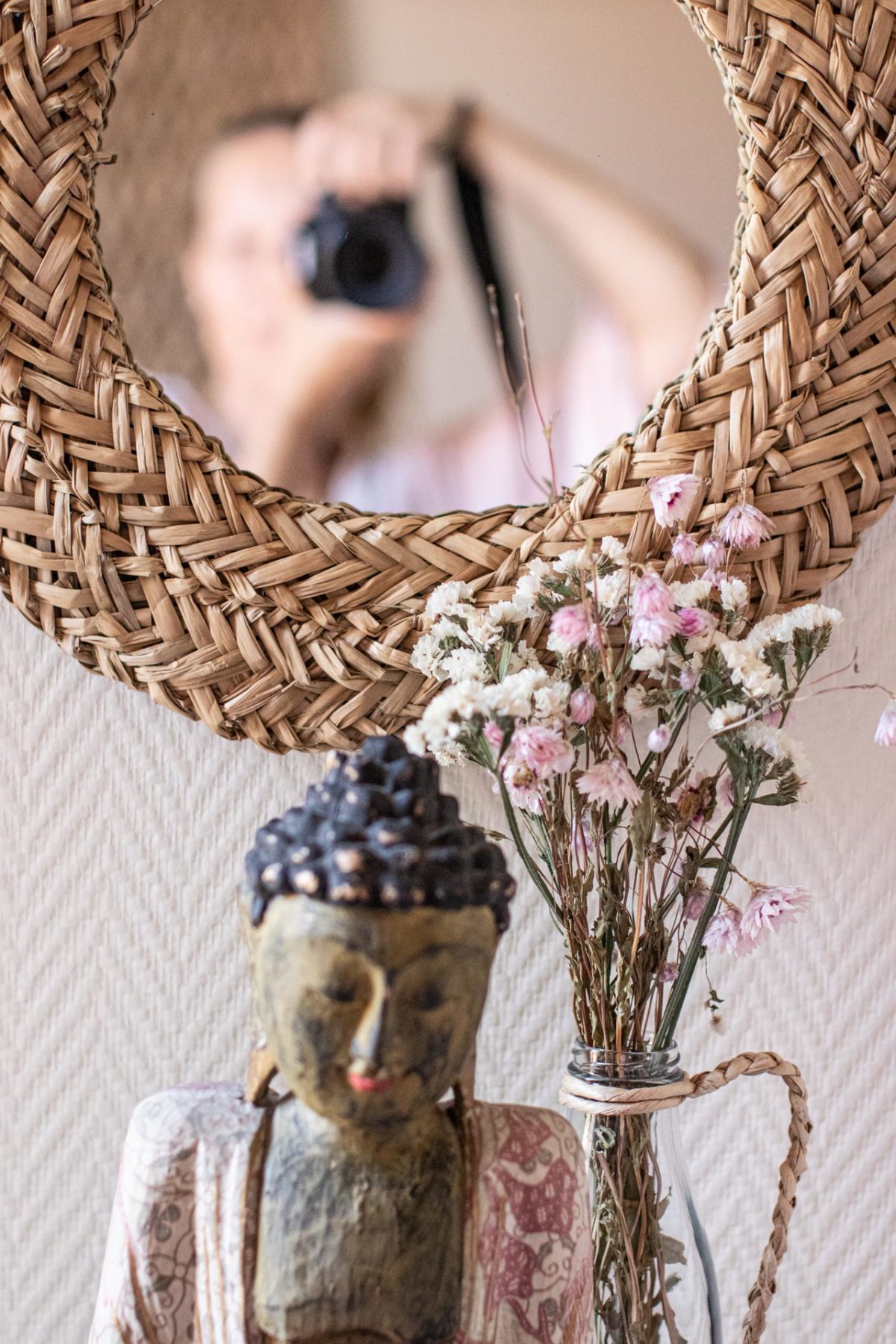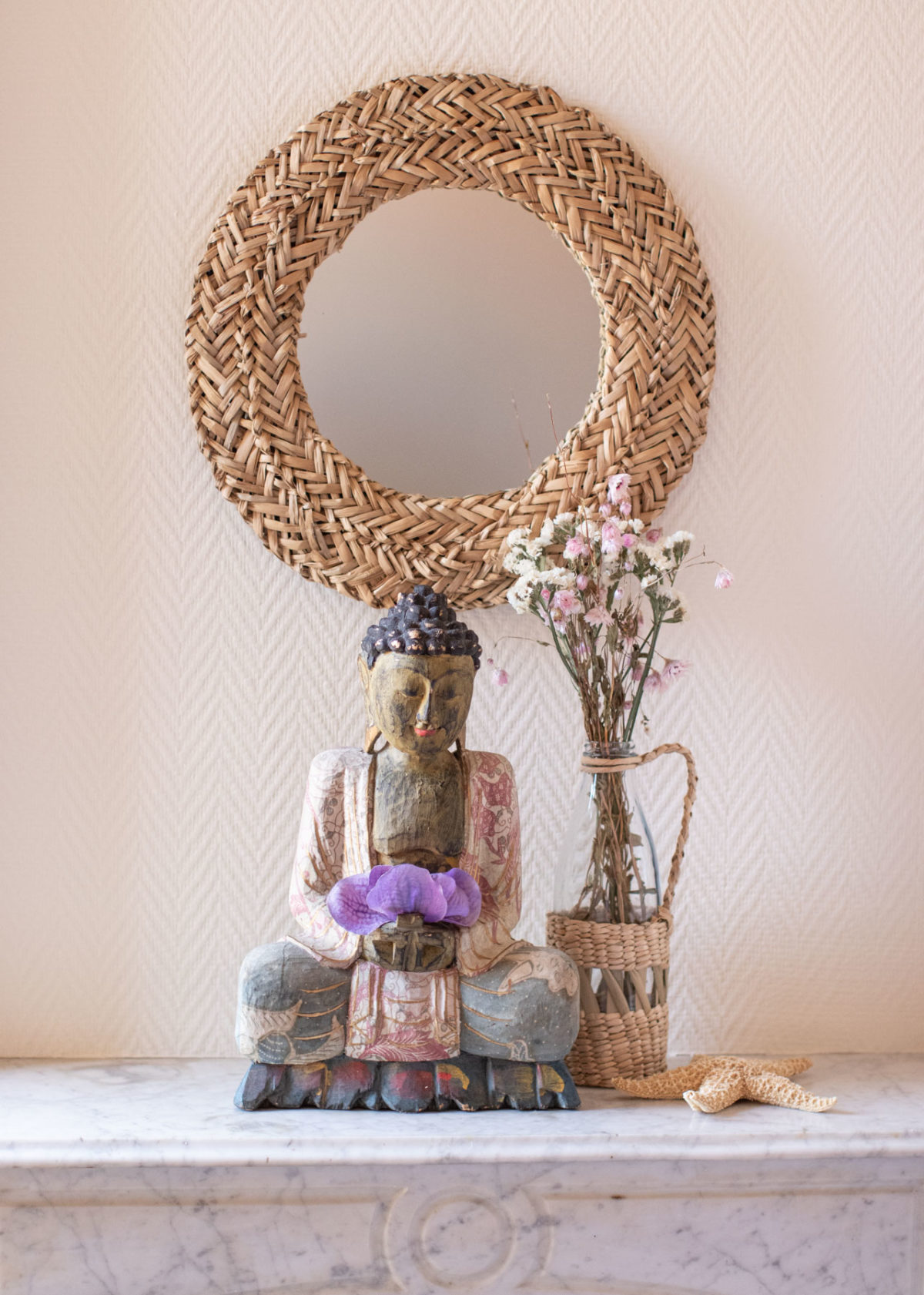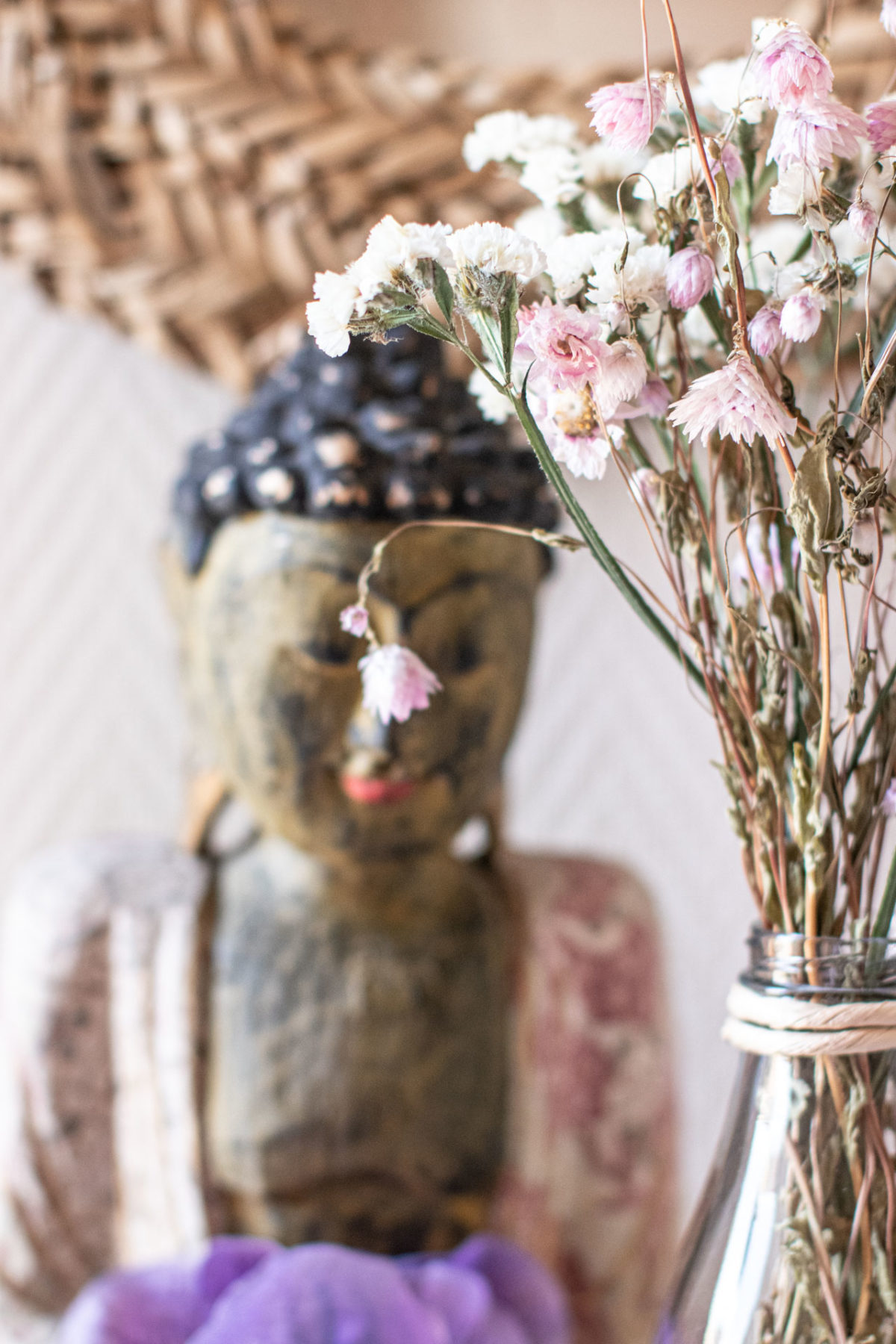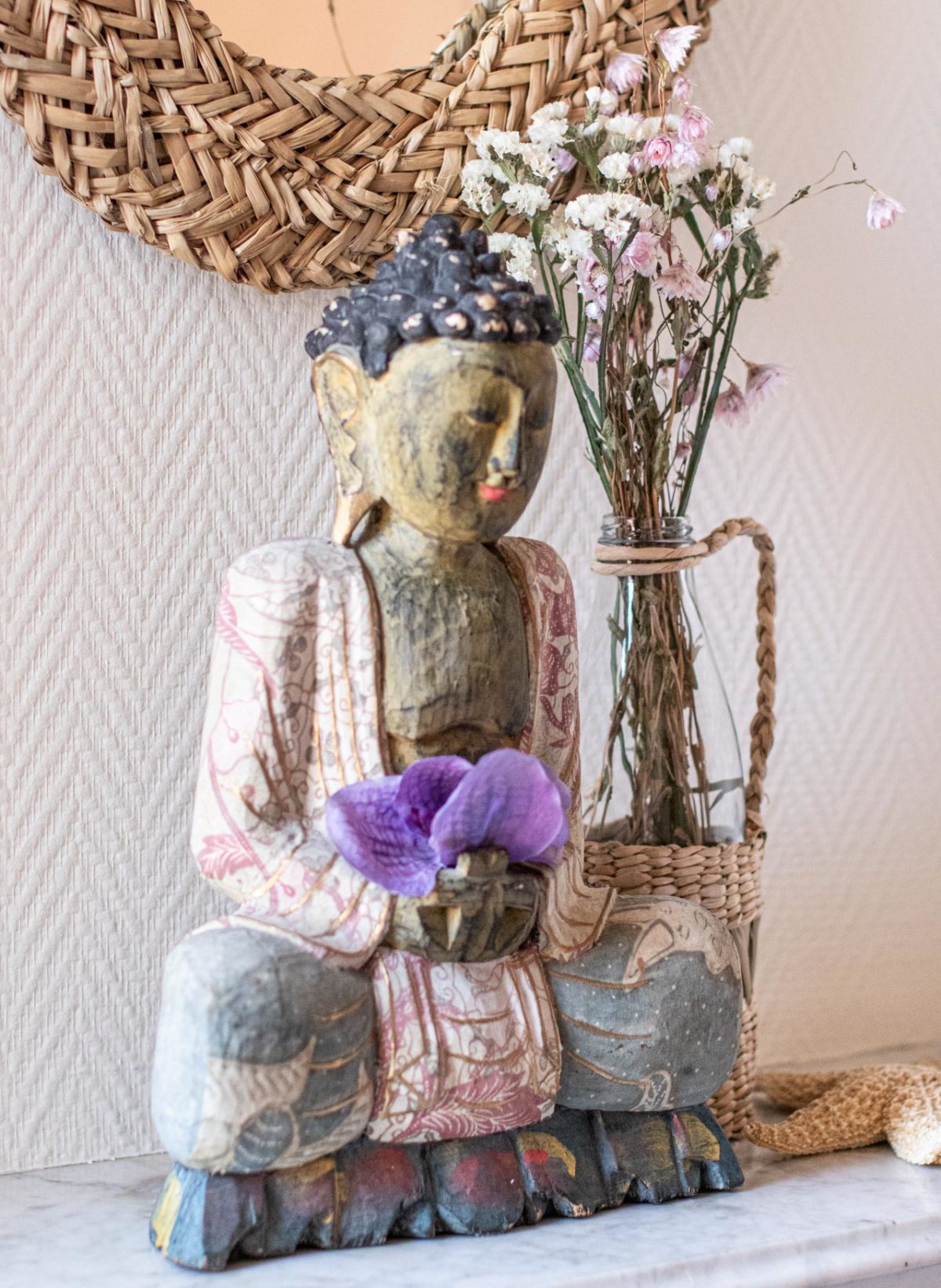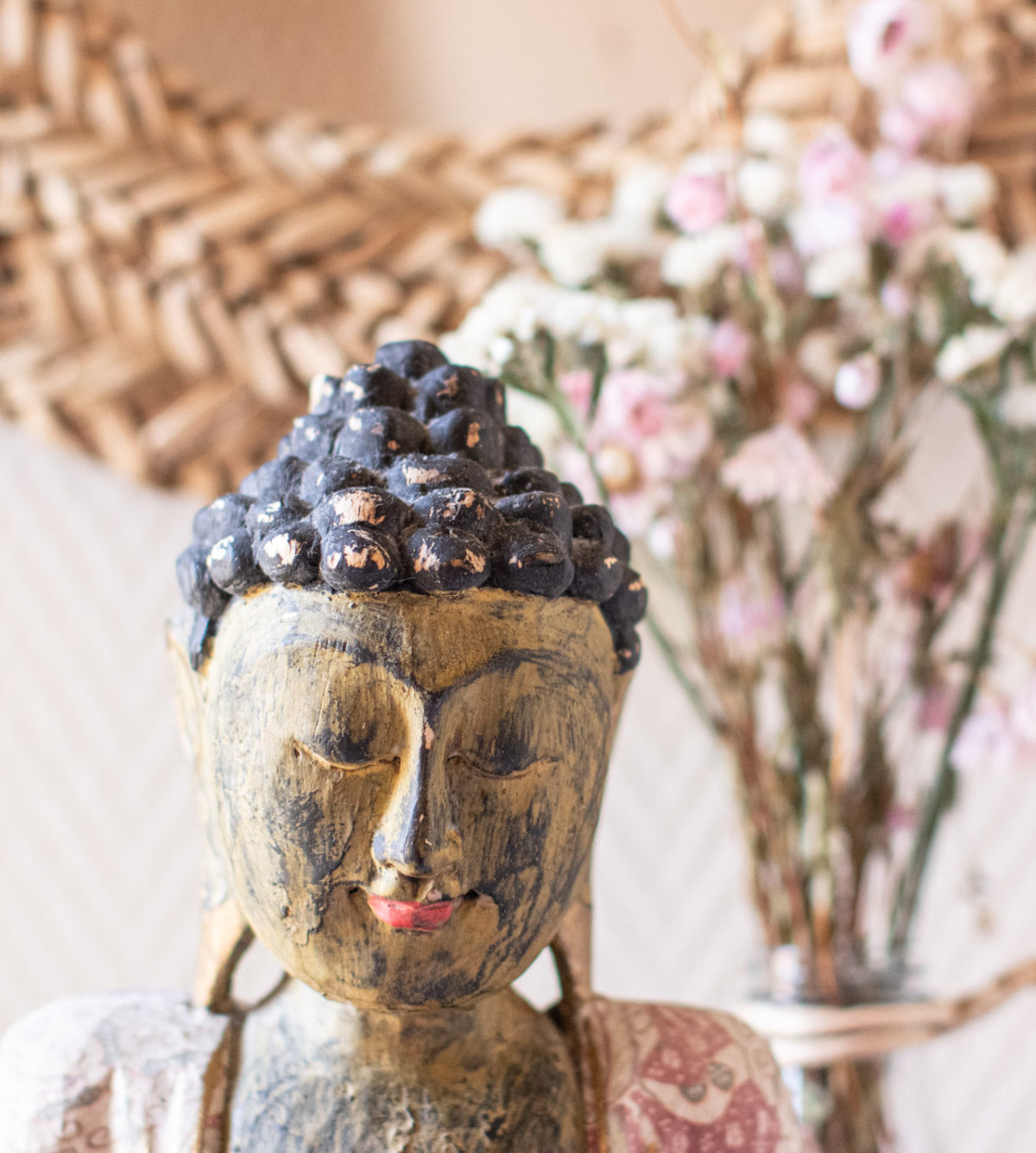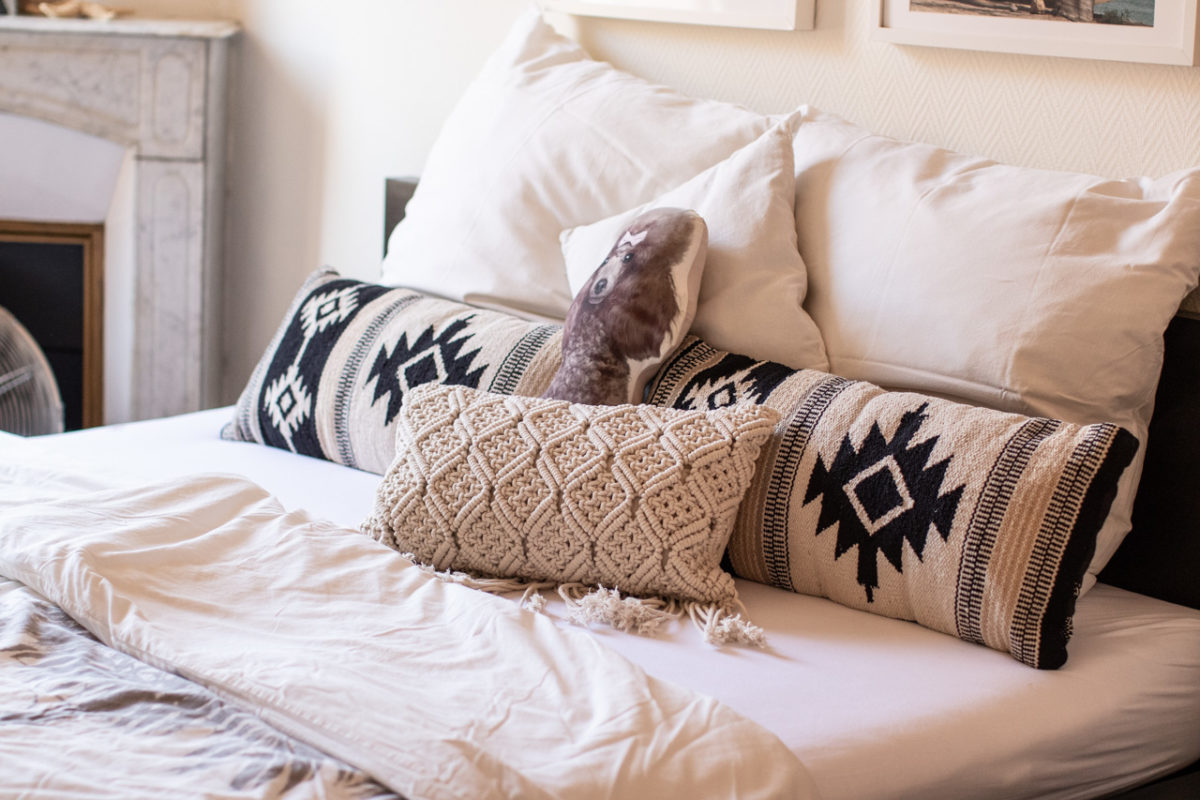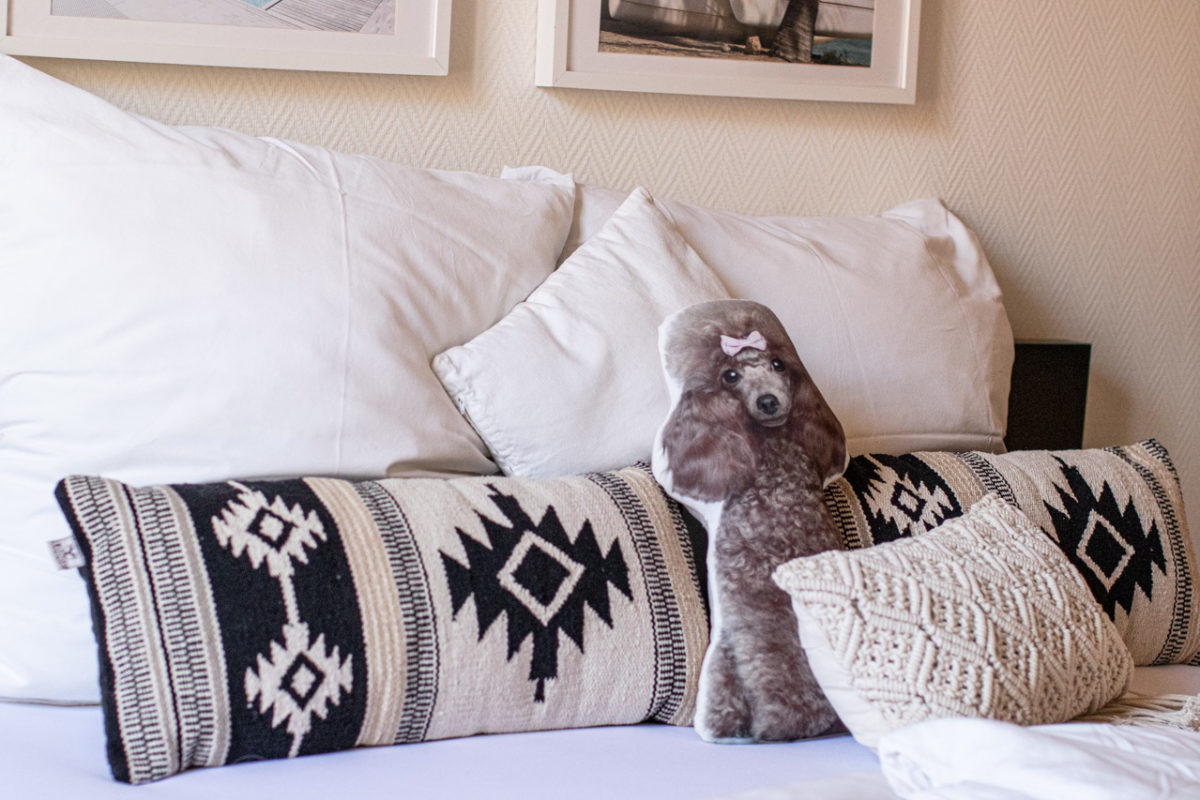 Bisous Tonja