(Werbung aus Leidenschaft)
Von Marrakesch aus sind wir in ein Wüstencamp in die Agafay Wüste gefahren.
Dies ist eine Steinwüste, die nur eine gute Stunde Autofahrt von Marrakesch entfernt ist, was sie zu einem beliebten Touristen-Hotspot und auch Ausflugsziel für Einheimische macht. Ich gestehe, ich hätte nicht gedacht, dass die Agafay Wüste so schön ist. Bisher waren wir immer in der Sahara, was ich total liebe, aber ab einem gewissen Punkt ist man als Tourist in der Sahara ohne Führer einfach aufgeschmissen. Man kann halt nicht einfach unvorbereitet mit einem Auto auch nicht mit einem 4×4 in die Wüste fahren.
In der Agafay Wüste sieht das allerdings ganz anders aus. Mit dem richtigen Auto kann man die Gegend super selbst erkunden. Man sollte allerdings im Großen und Ganzen auf den Pisten bleiben, zum einen um den Menschen, die dort wohnen, nicht alles vollzustauben und aus Umweltgründen natürlich auch.
Von den Luxus Camps gibt es in der Agafay Wüste einige. Wir haben in der White Camel Lodge gewohnt, die uns ziemlich gut gefallen hat. Es war ein so lässig unperfekter Spot. Die Anlage war superschön gemacht und zum Sundown war am Pool auch immer einiges los. Mir ist aufgefallen, dass viele Gäste, die sich tagsüber am Pool aufgehalten haben, nicht über Nacht geblieben sind. Es sah für mich so aus, als wenn insbesondere junge Leute einfach einen Tag dort verbringen, quasi so, als wenn man einen Tag in einem Beach-Club verbringt. Am Pool herrschte immer ein bisschen Party-Stimmung. Jetzt bekommt keine Angst, es war weder zu voll, noch war die Party-Stimmung zu ausgelassen, auch Familien mit Kindern haben sich wohlgefühlt.
Ich fand es schön, dass man den atemberaubenden Sonnenuntergang auch bei einem Glas Wein genießen konnte, das ist in Marokko nicht überall möglich, denn die Lizenz für den Alkohol-Ausschank scheint in Marokko ziemlich teuer zu sein.
PS: Der Sonnenuntergang war übrigens so unglaublich schön, dass ich die 10.000 Bilder nur in einem eigenen Post unter bekomme.
---
(advertising with passion)
From Marrakech, we drove to a desert camp in the Agafay Desert.
This is a stone desert just over an hour's drive from Marrakech, making it a popular tourist hotspot and also excursion destination for locals. I confess, I didn't think the Agafay Desert would be so beautiful. So far, we've always been in the Sahara, which I totally love, but at a certain point, as a tourist in the Sahara, you're just screwed without a guide. You just can't go into the desert unprepared with a car even with a 4×4.
In the Agafay desert, however, it is quite different. With the right car you can explore the area yourself. However, you should stay on the roads, on the one hand, to the people who live there, not everything vollzustauben and for environmental reasons, of course, too.
There are several luxury camps in the Agafay Desert. We stayed at the White Camel Lodge, which we liked quite a bit. It was such a casually imperfect spot. The grounds were super nicely done and there was always a lot going on at the pool for sundown. I noticed that a lot of guests who stayed at the pool during the day didn't stay overnight. It looked to me like young people in particular were just spending a day there, kind of like spending a day at a beach club. There was always a bit of a party atmosphere at the pool. Now don't get scared, it was neither too crowded nor was the party atmosphere too boisterous, families with children also enjoyed themselves.
I thought it was nice that you could enjoy the breathtaking sunset with a glass of wine, which is not possible everywhere in Morocco, because the license for serving alcohol seems to be quite expensive in Morocco.
By the way, the sunset was so incredibly beautiful that I get the 10,000 pictures only in a separate post under.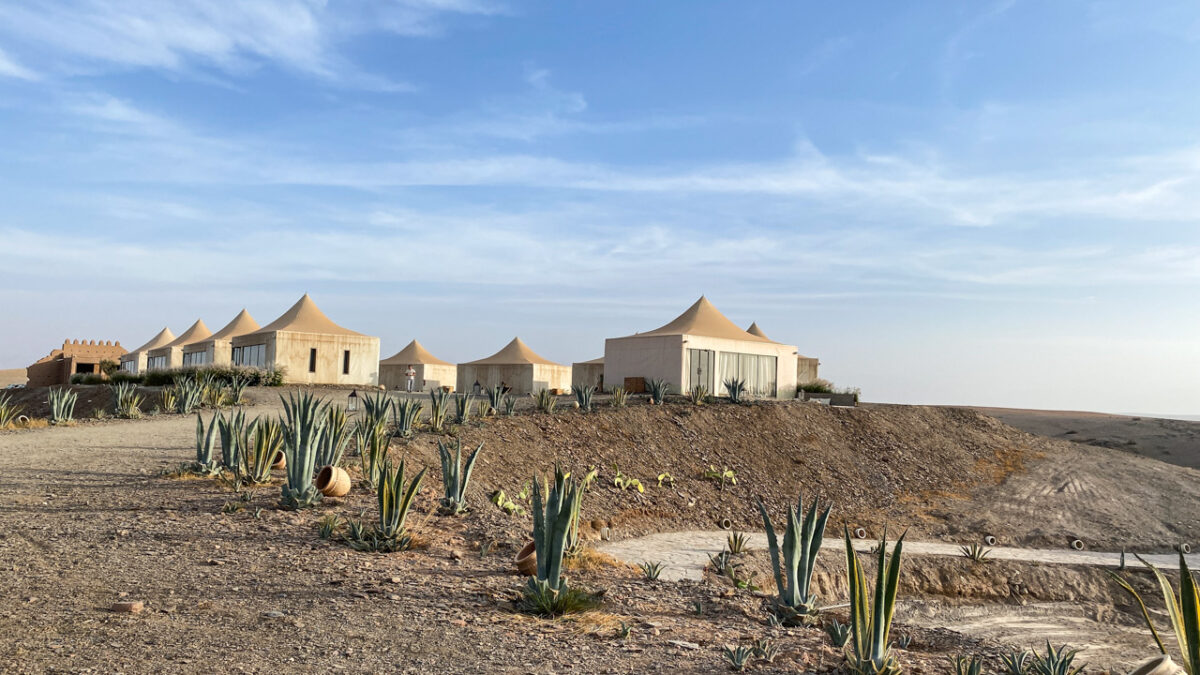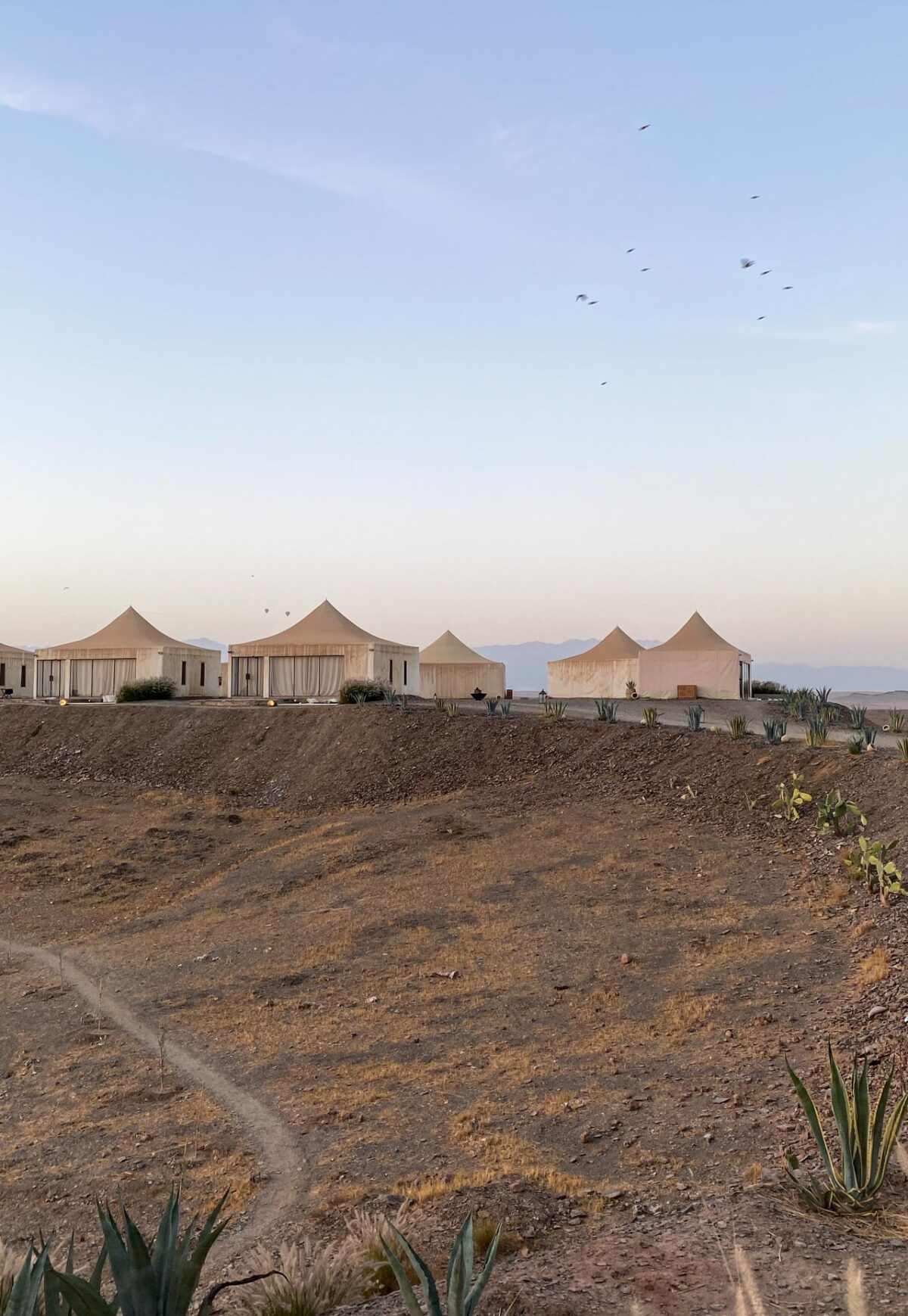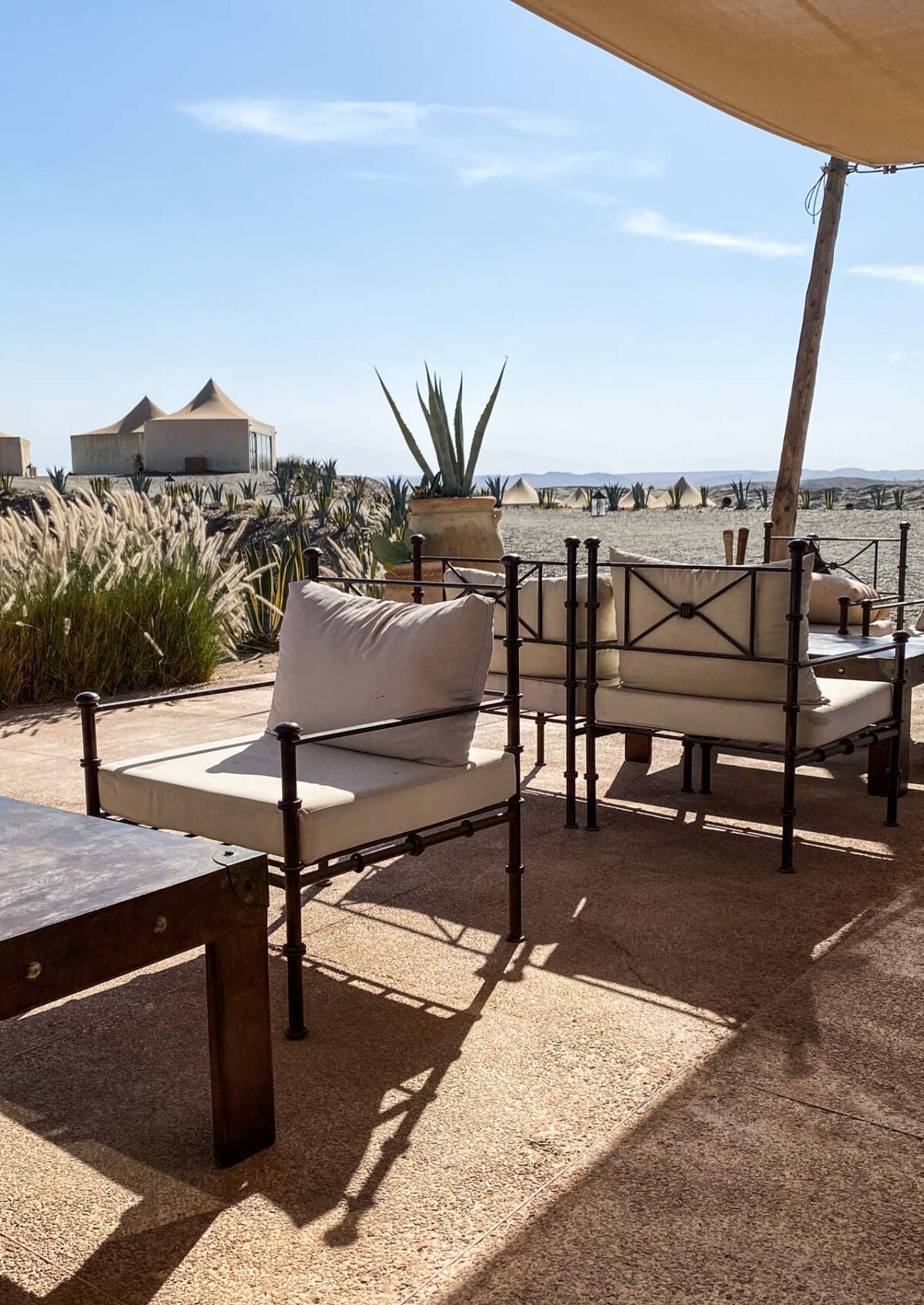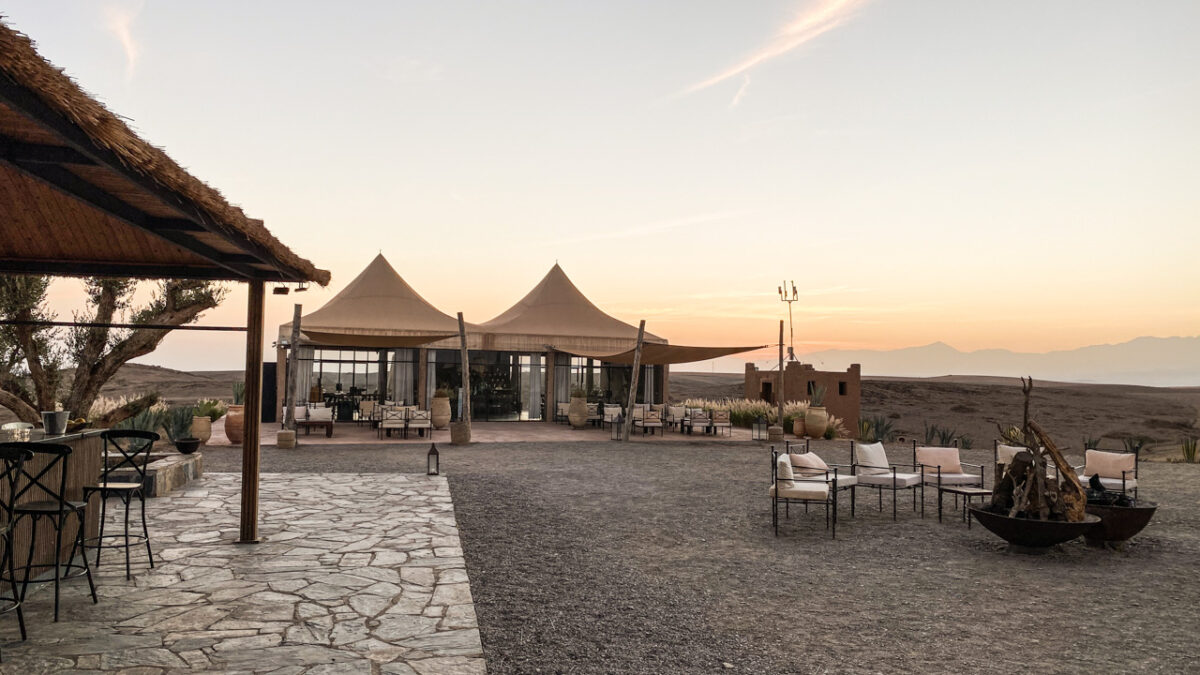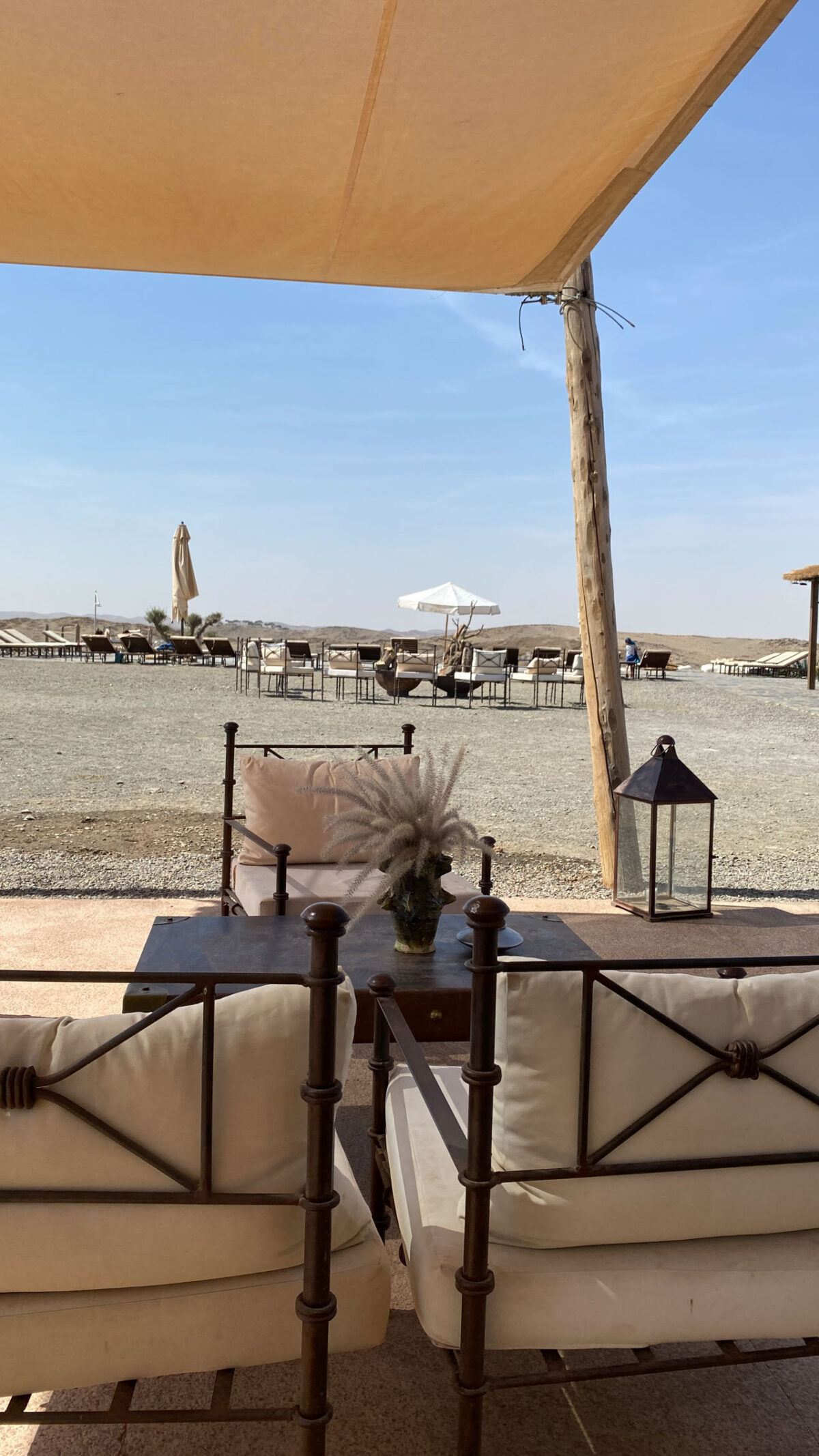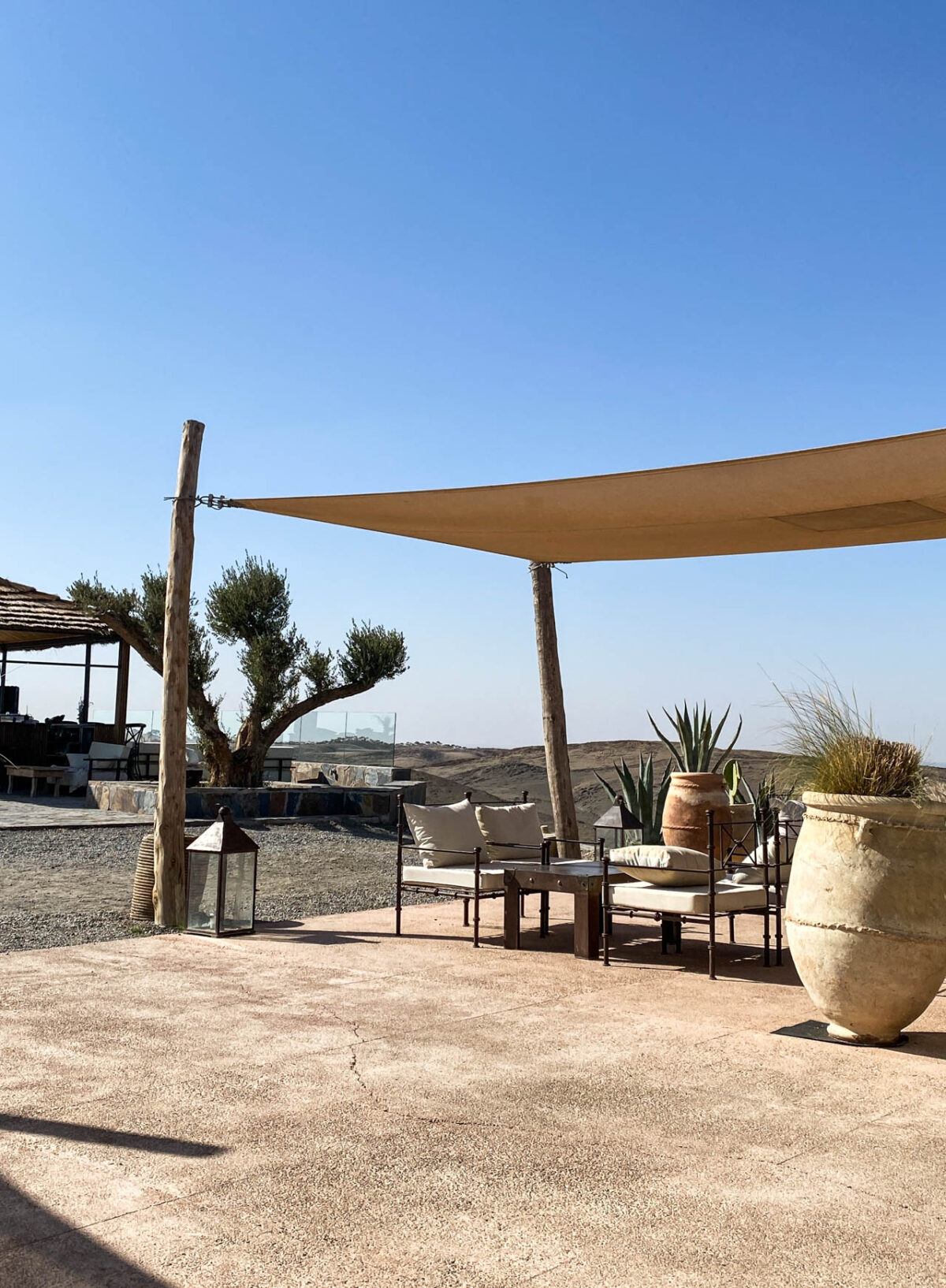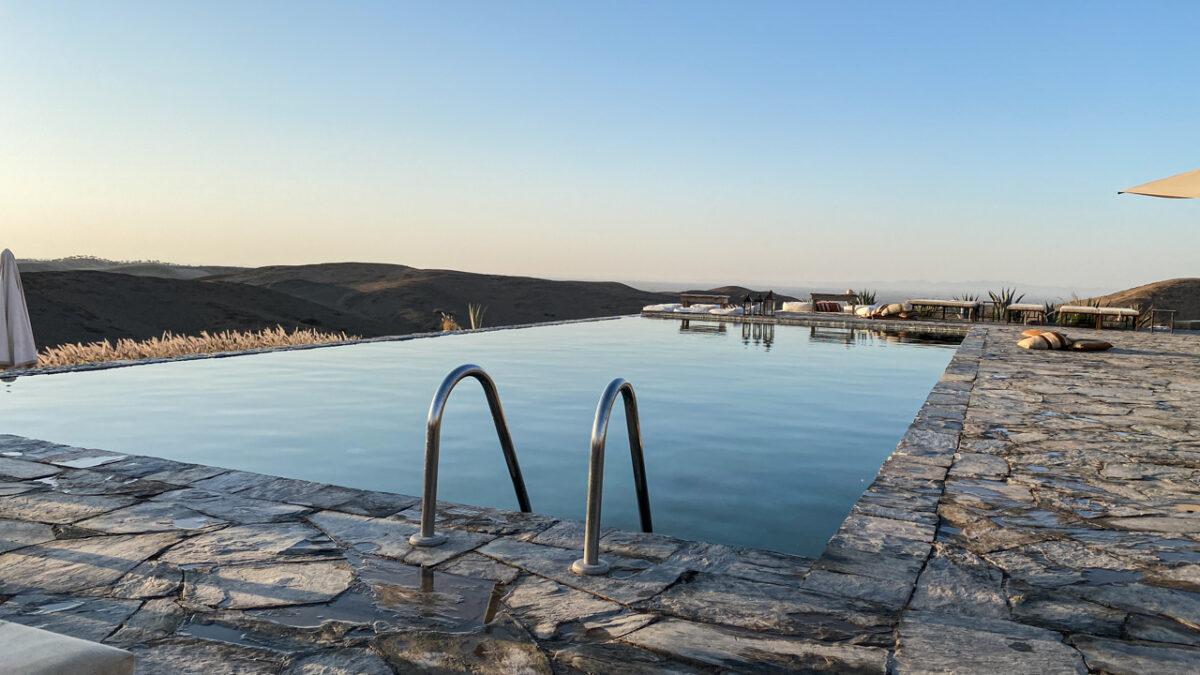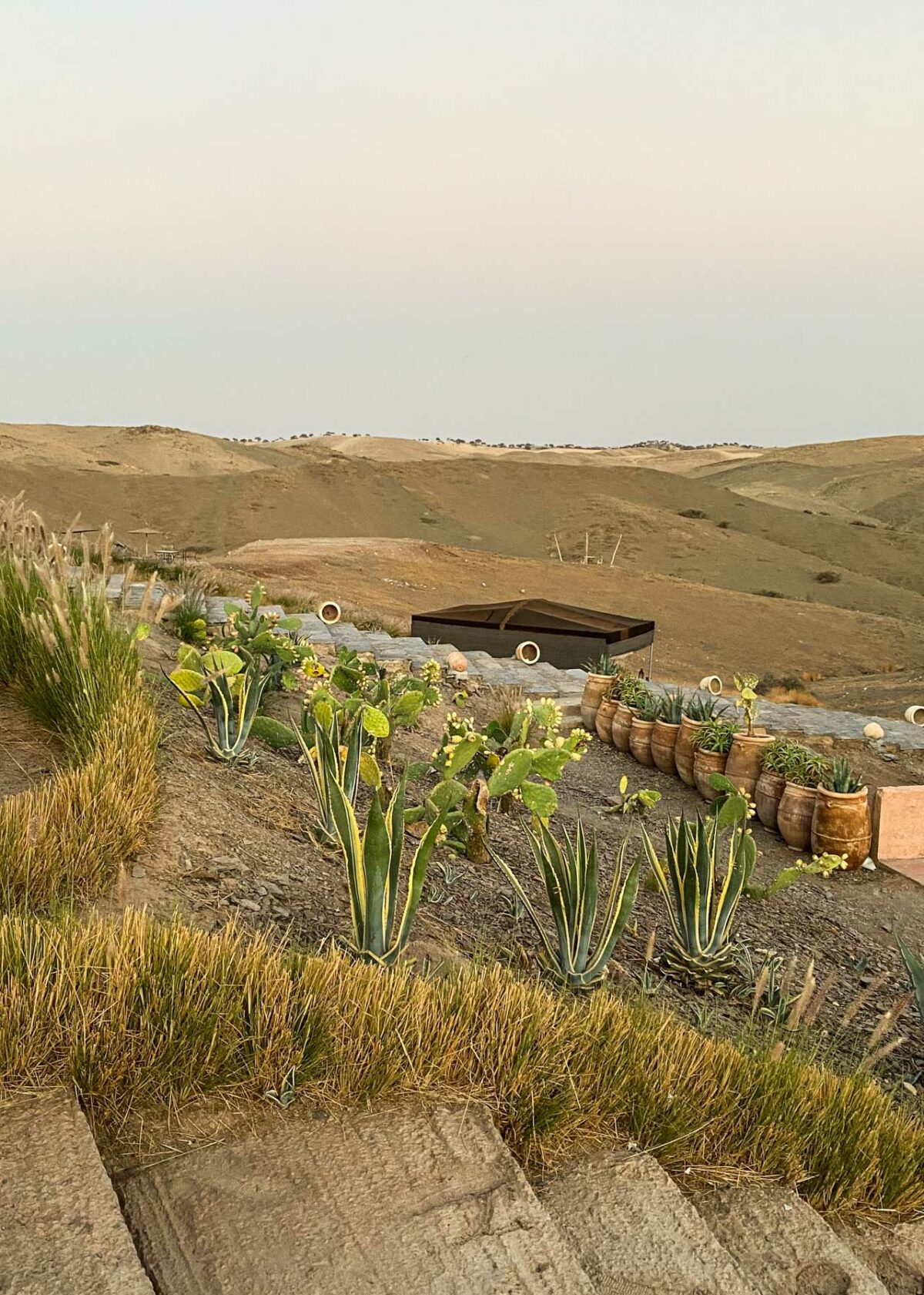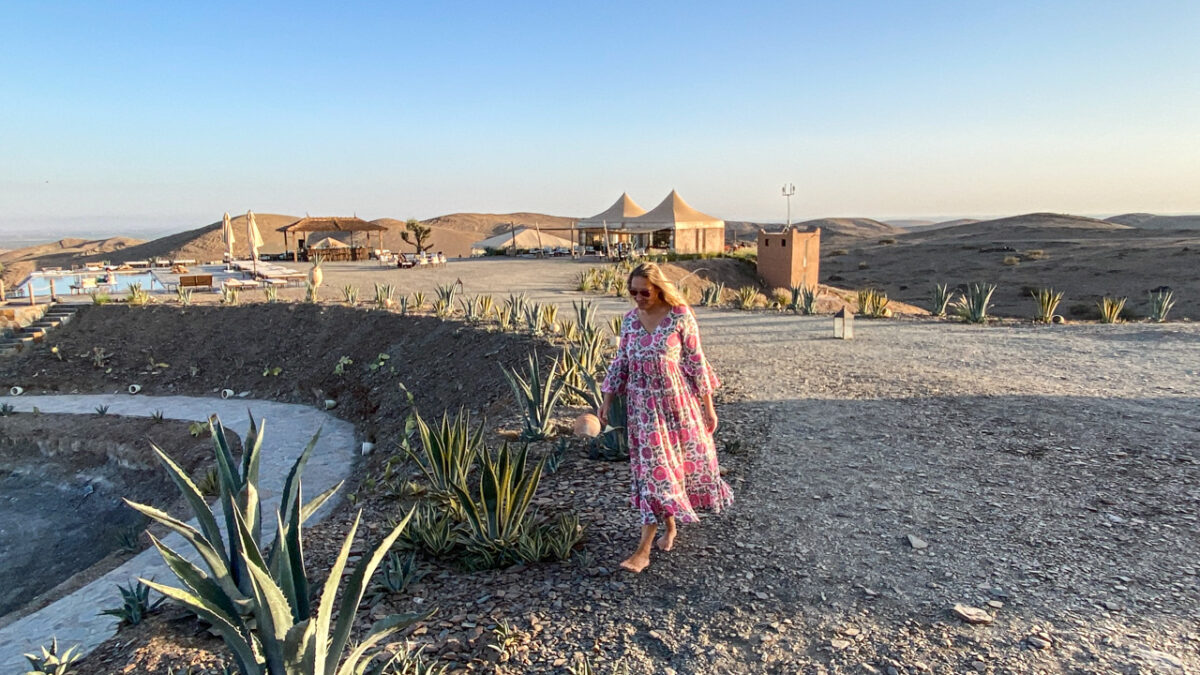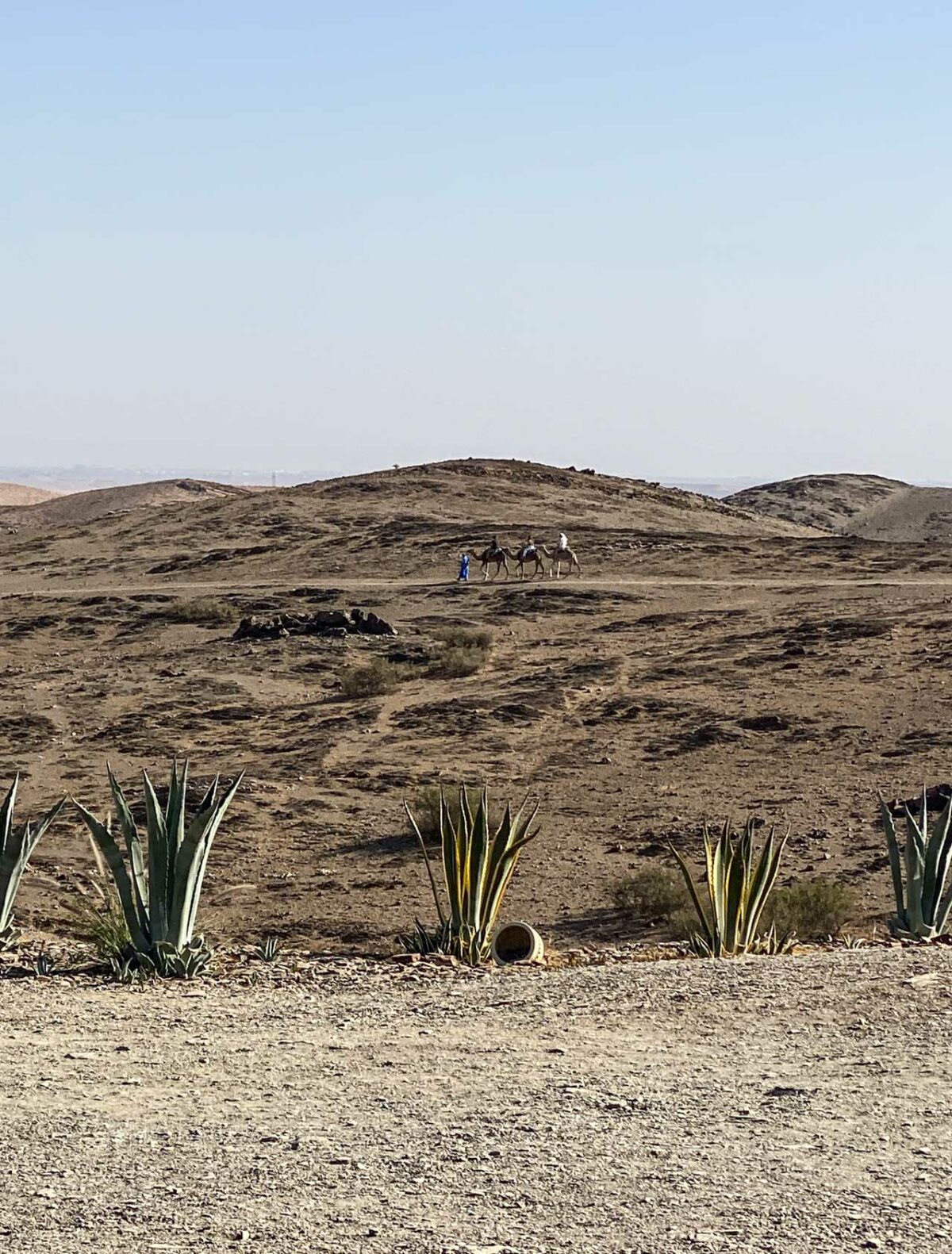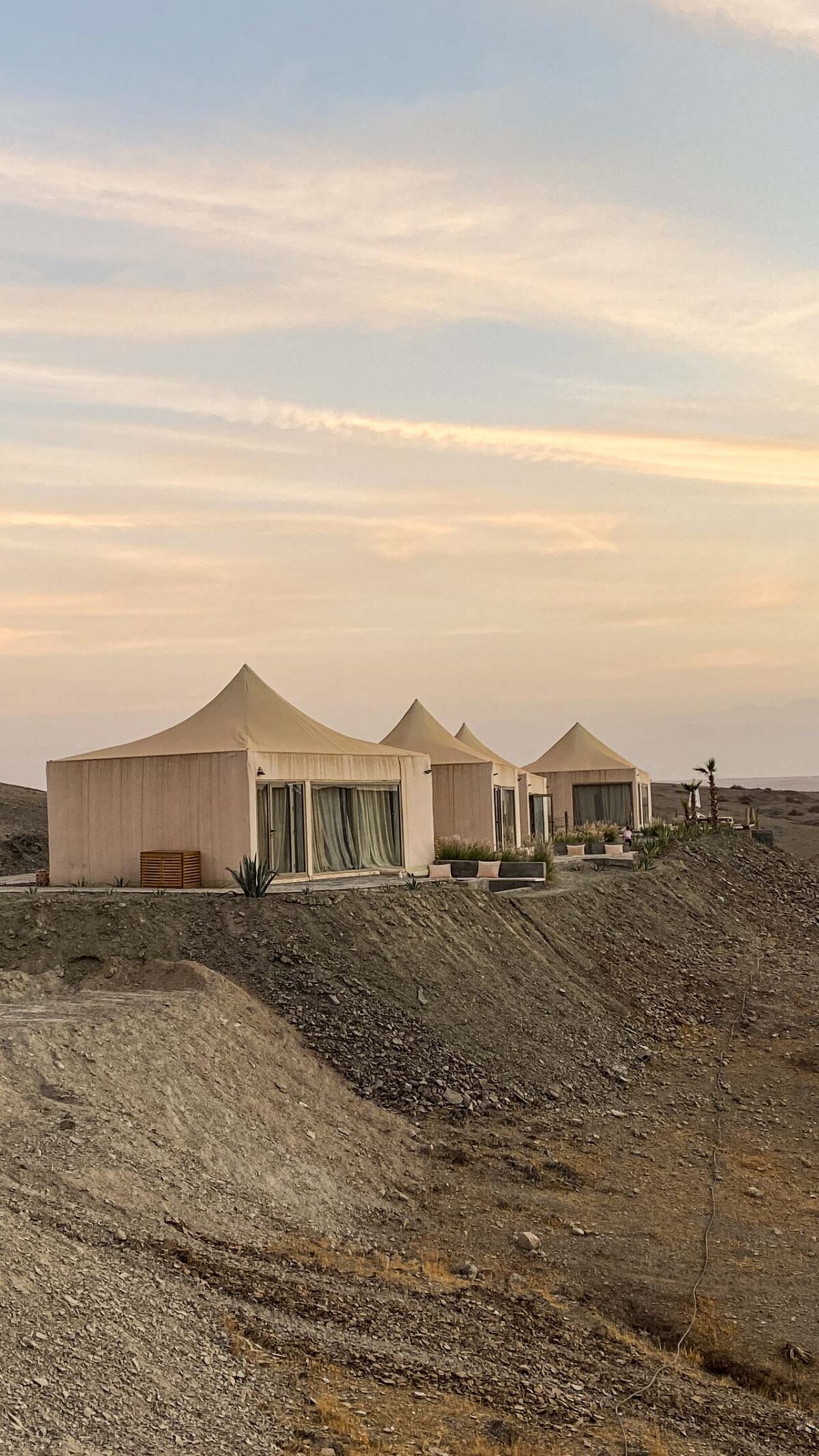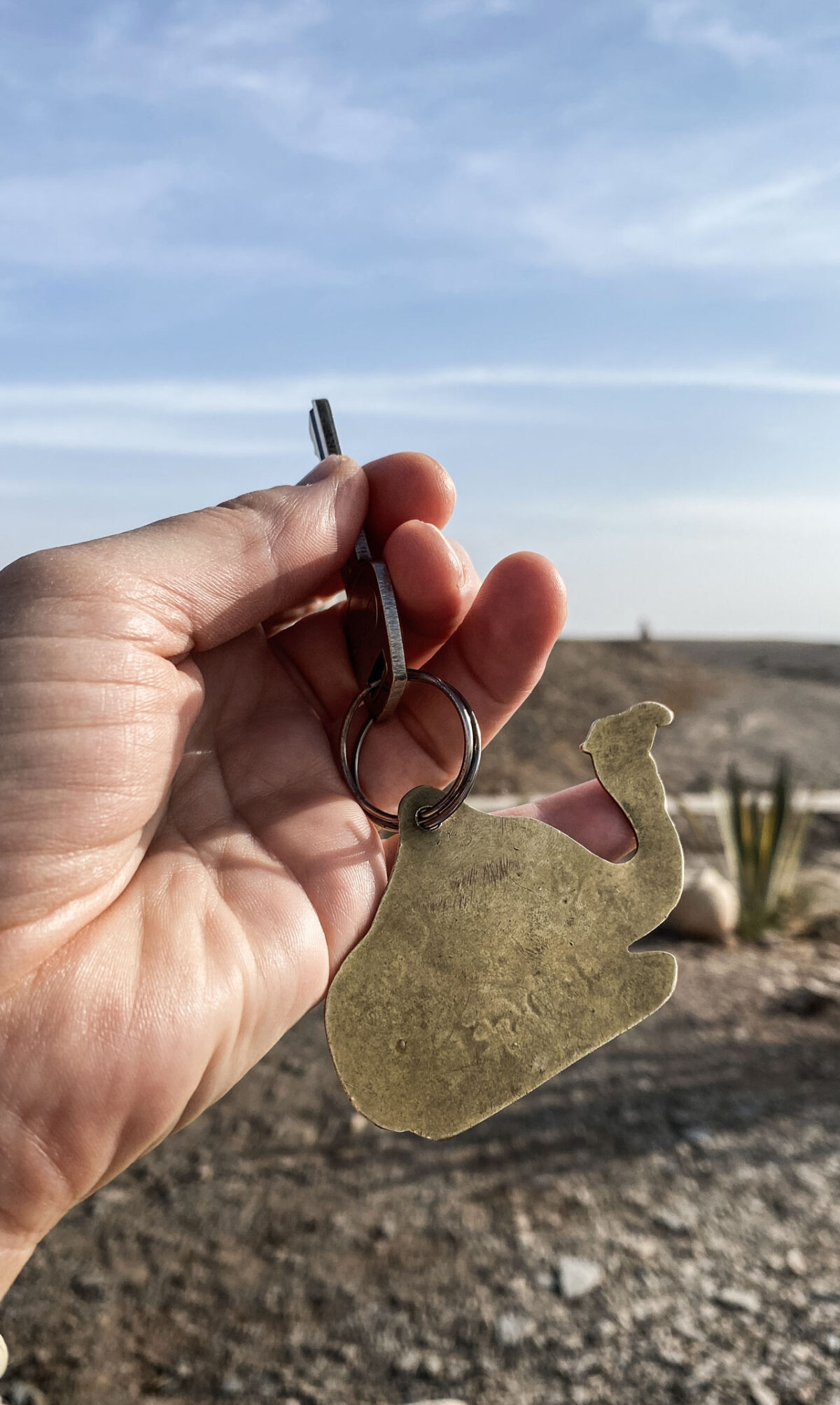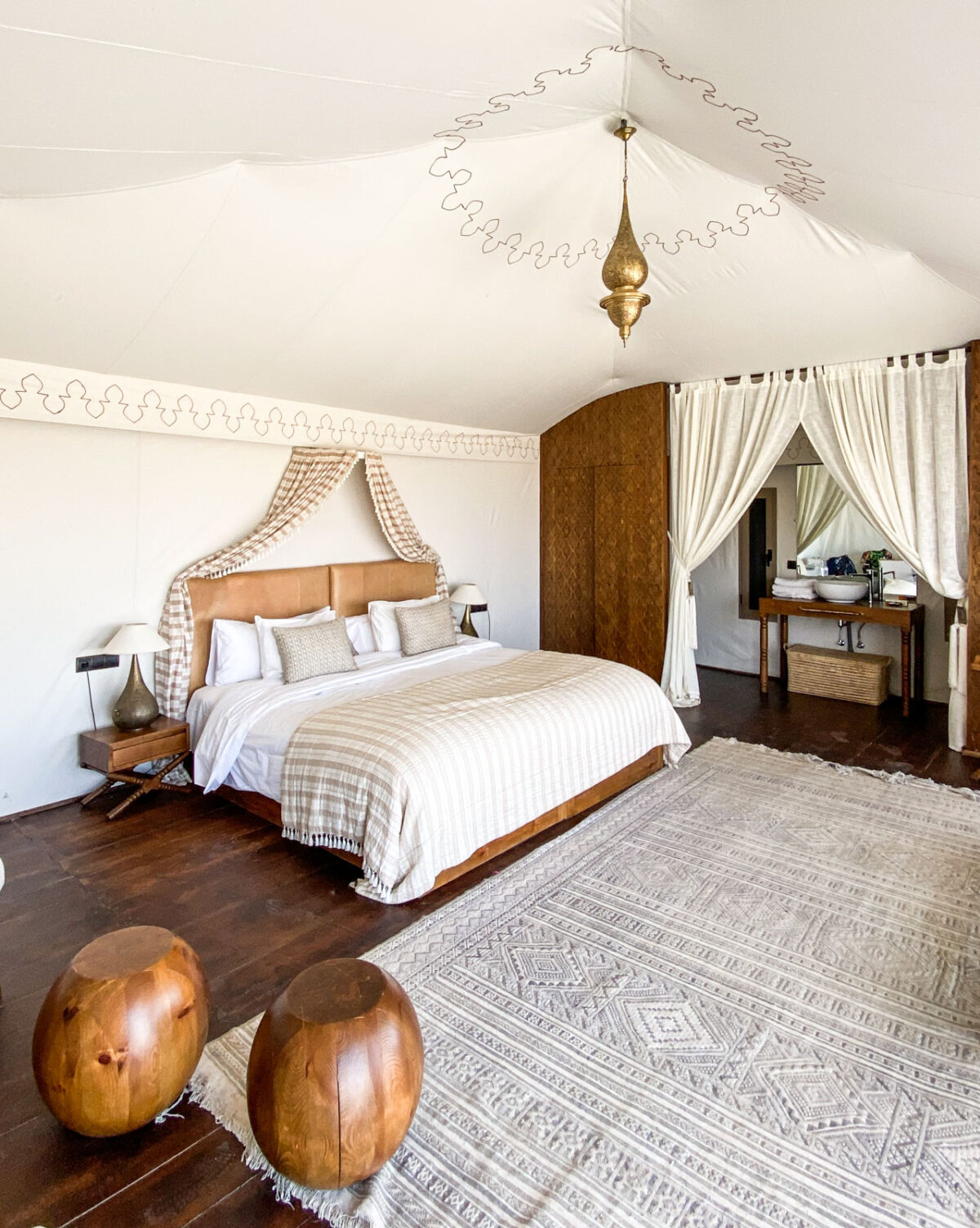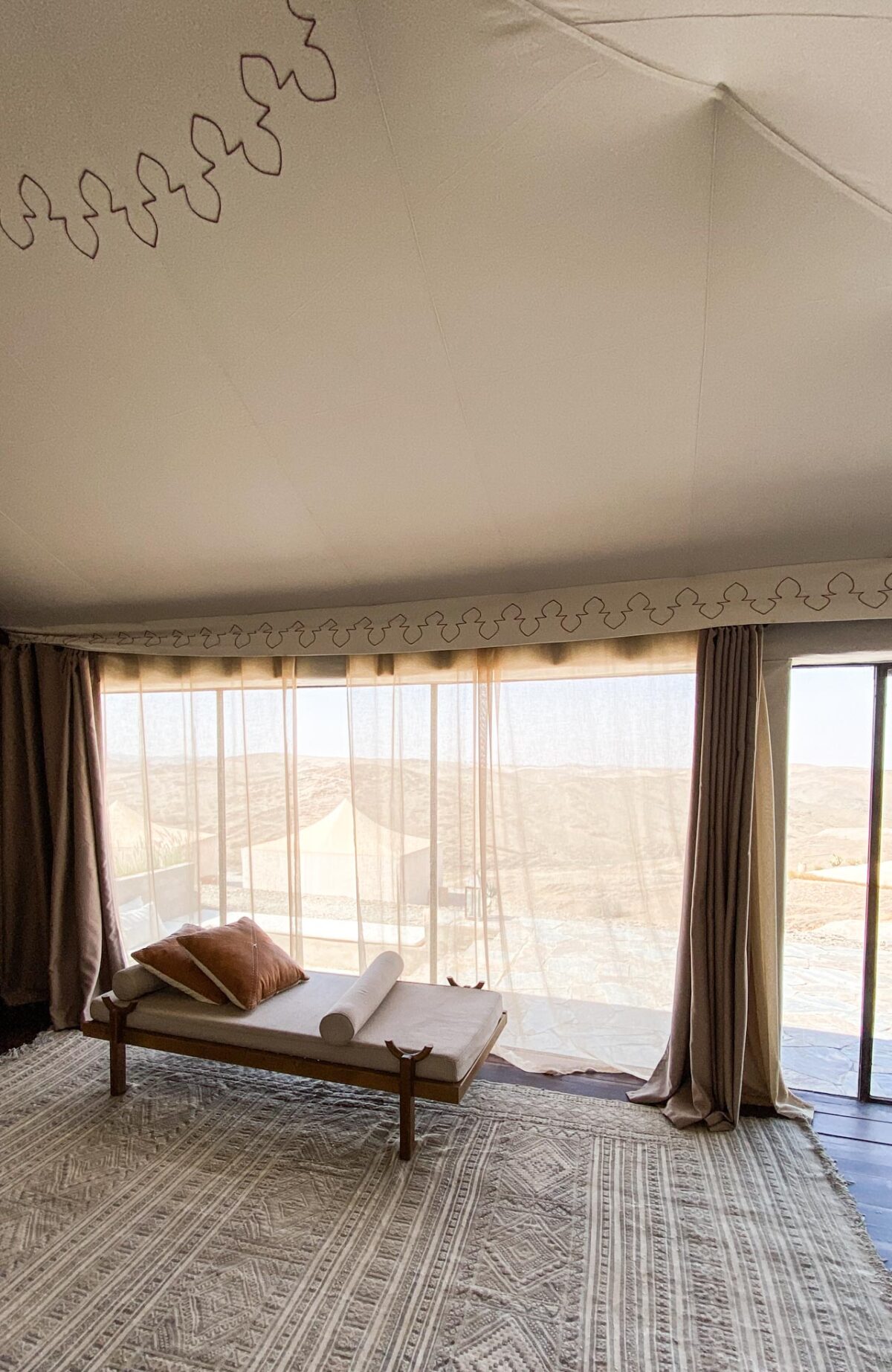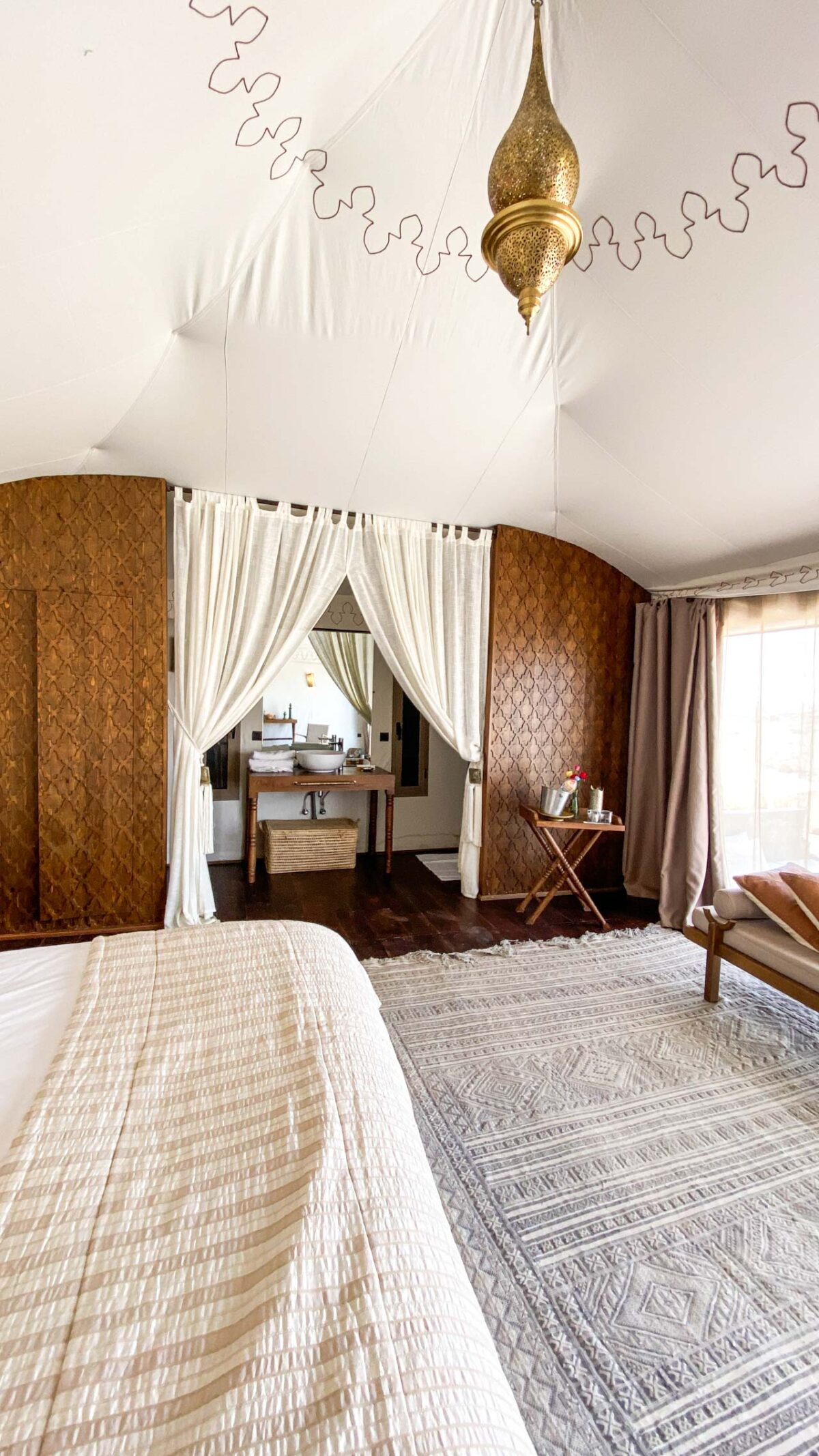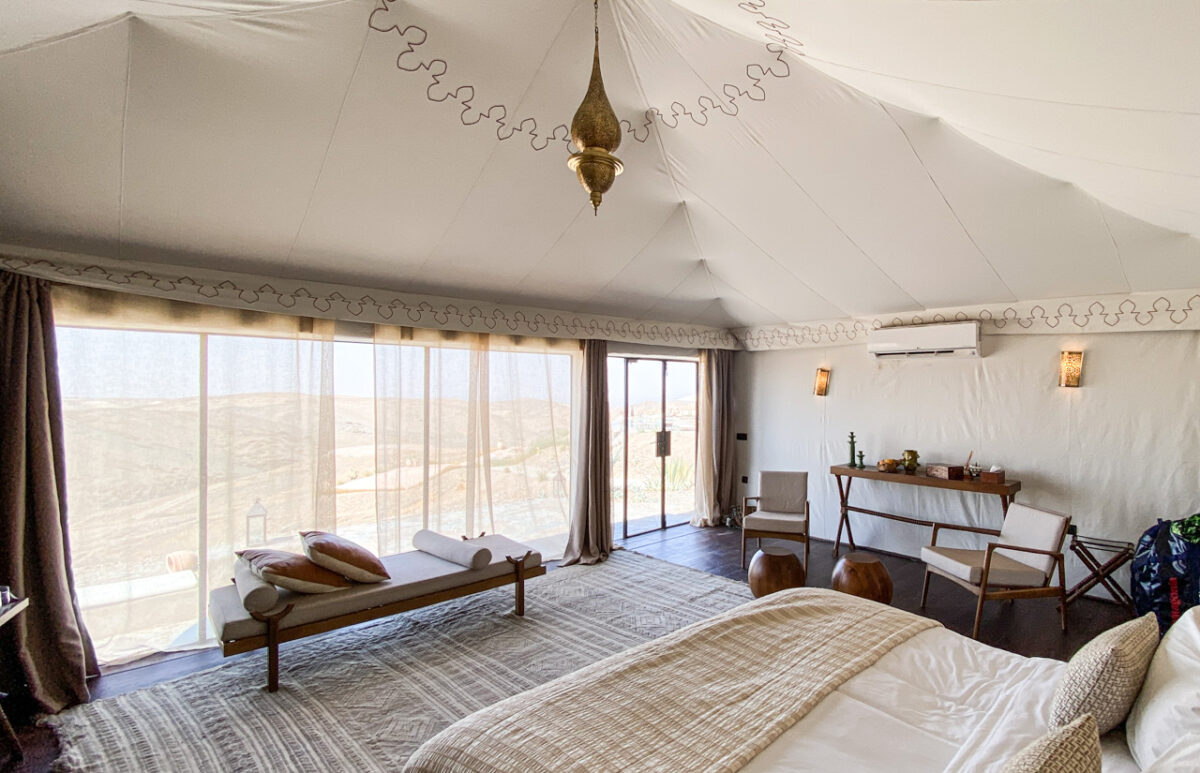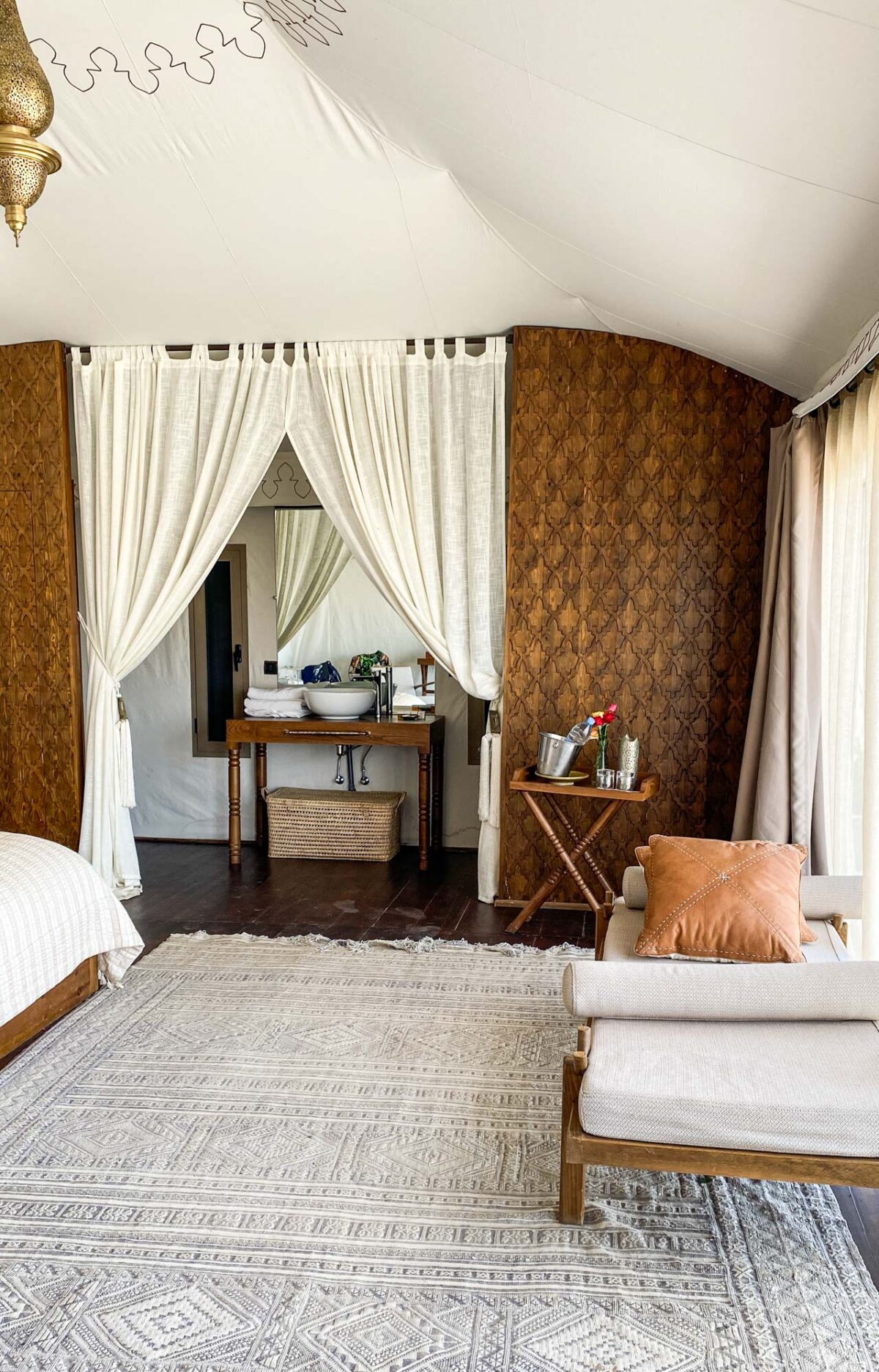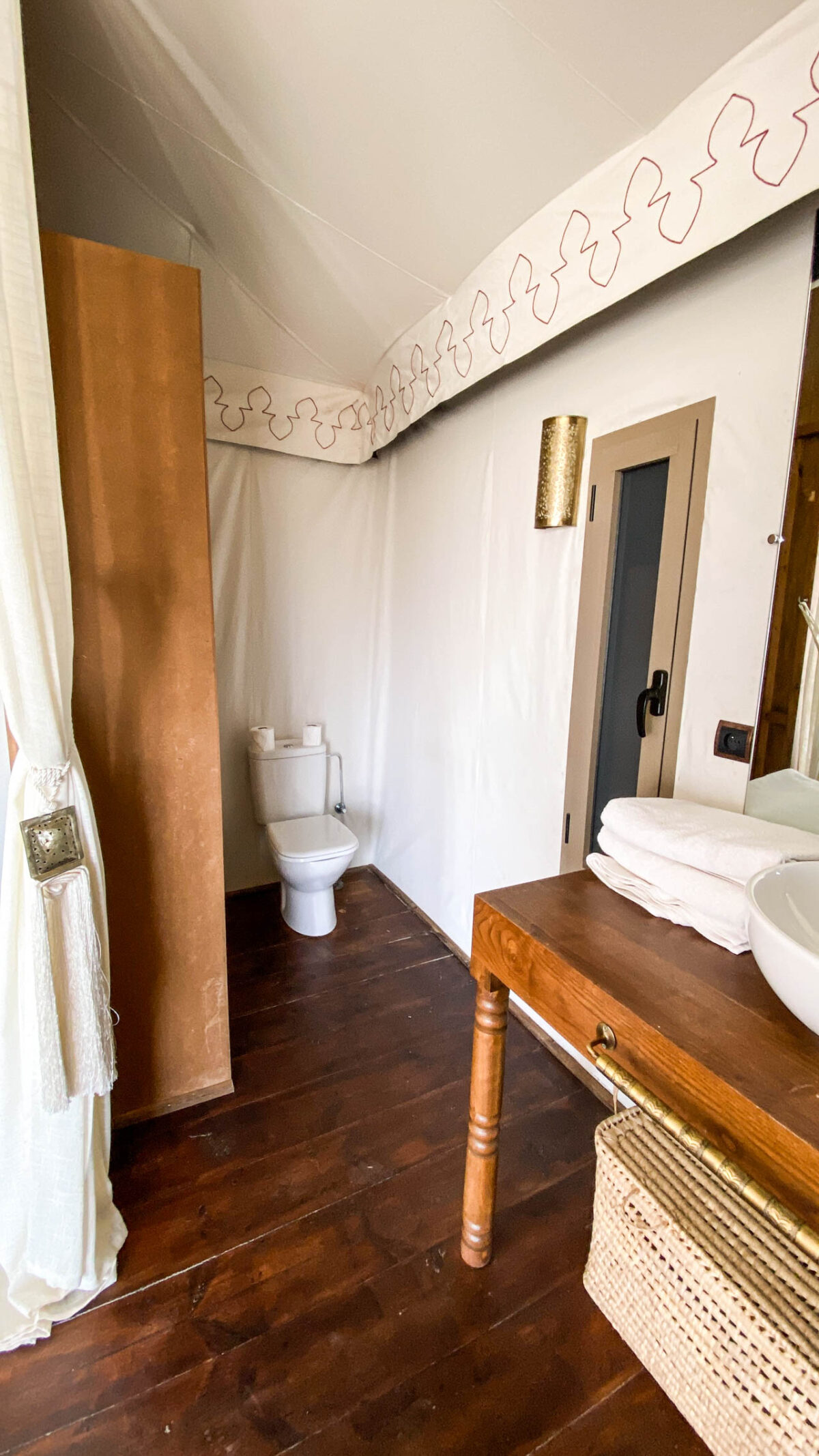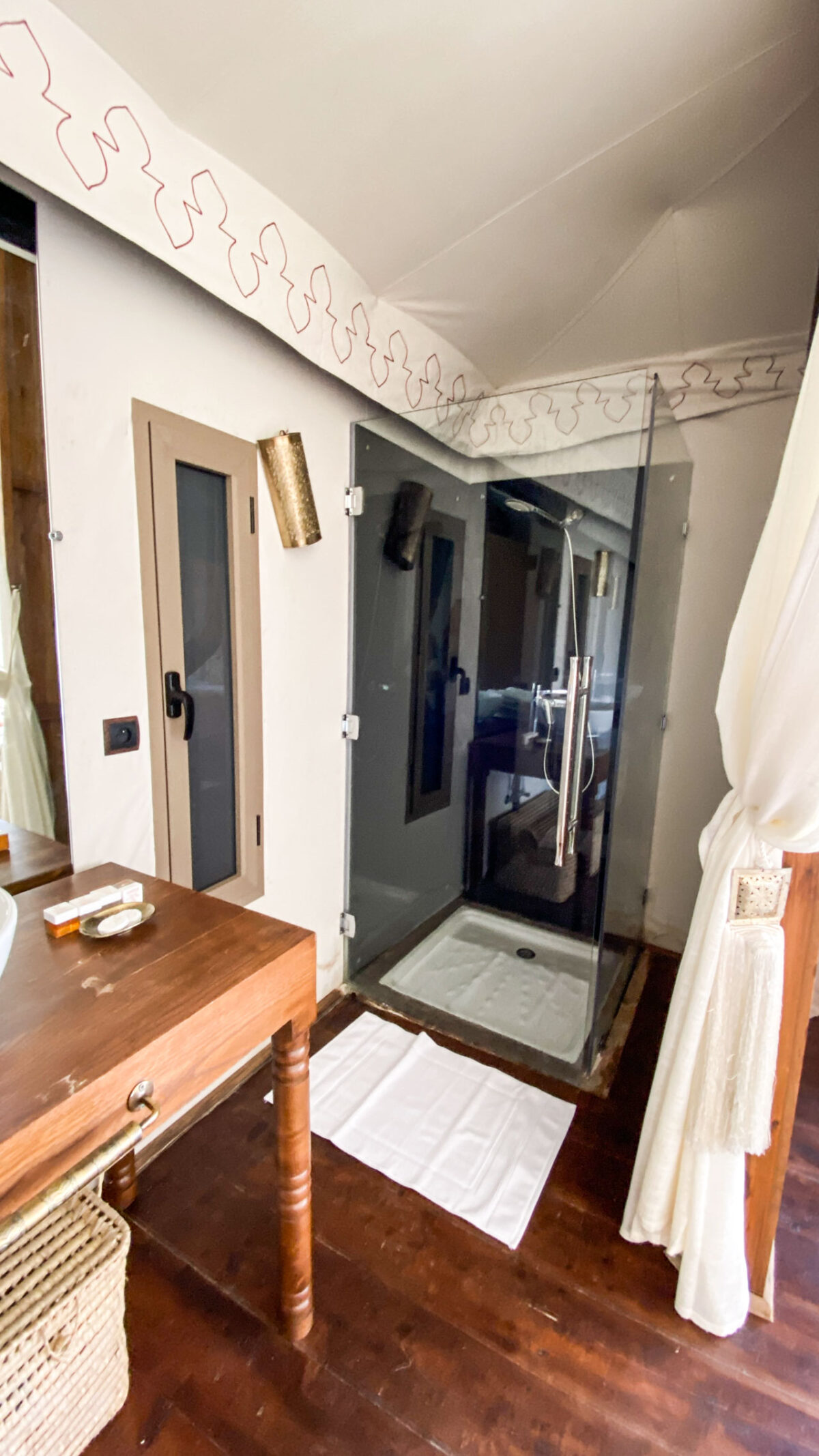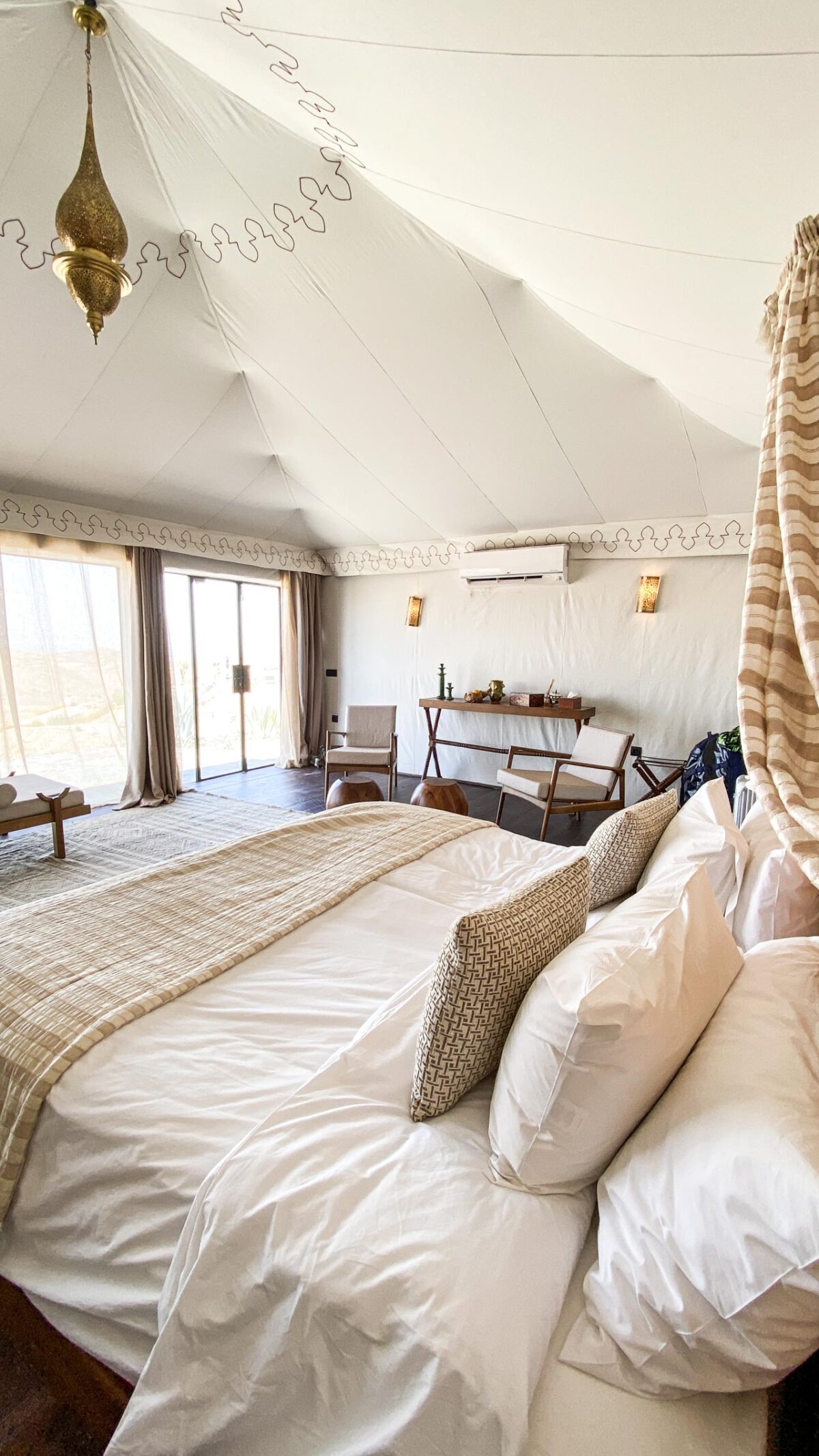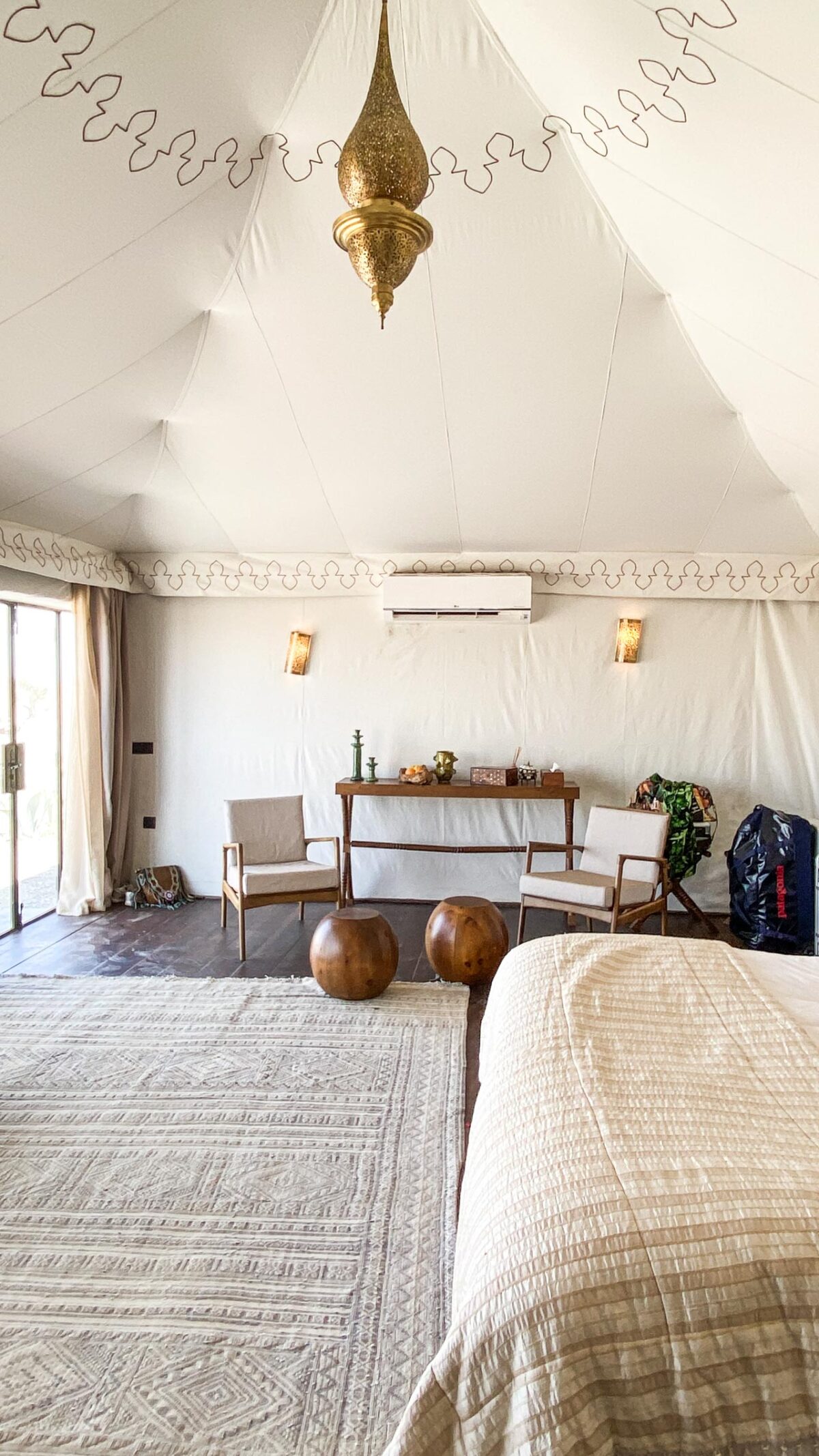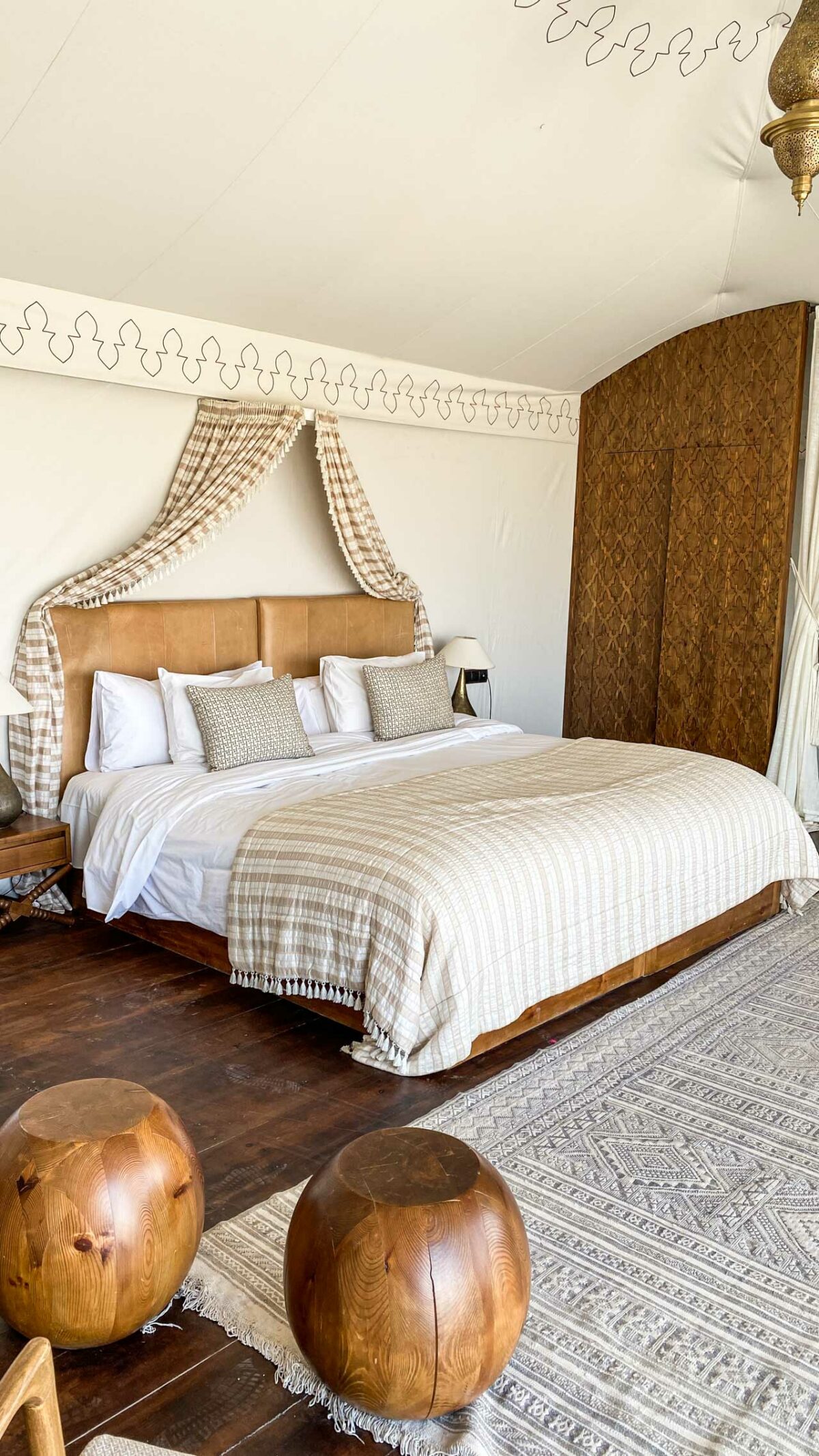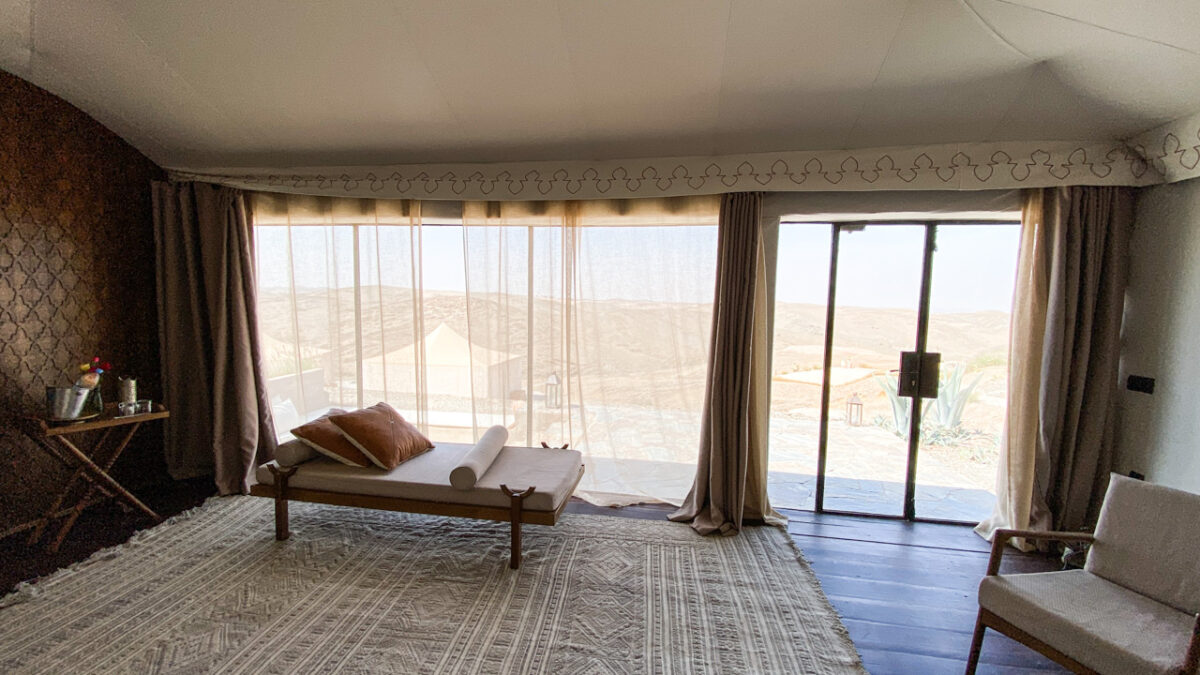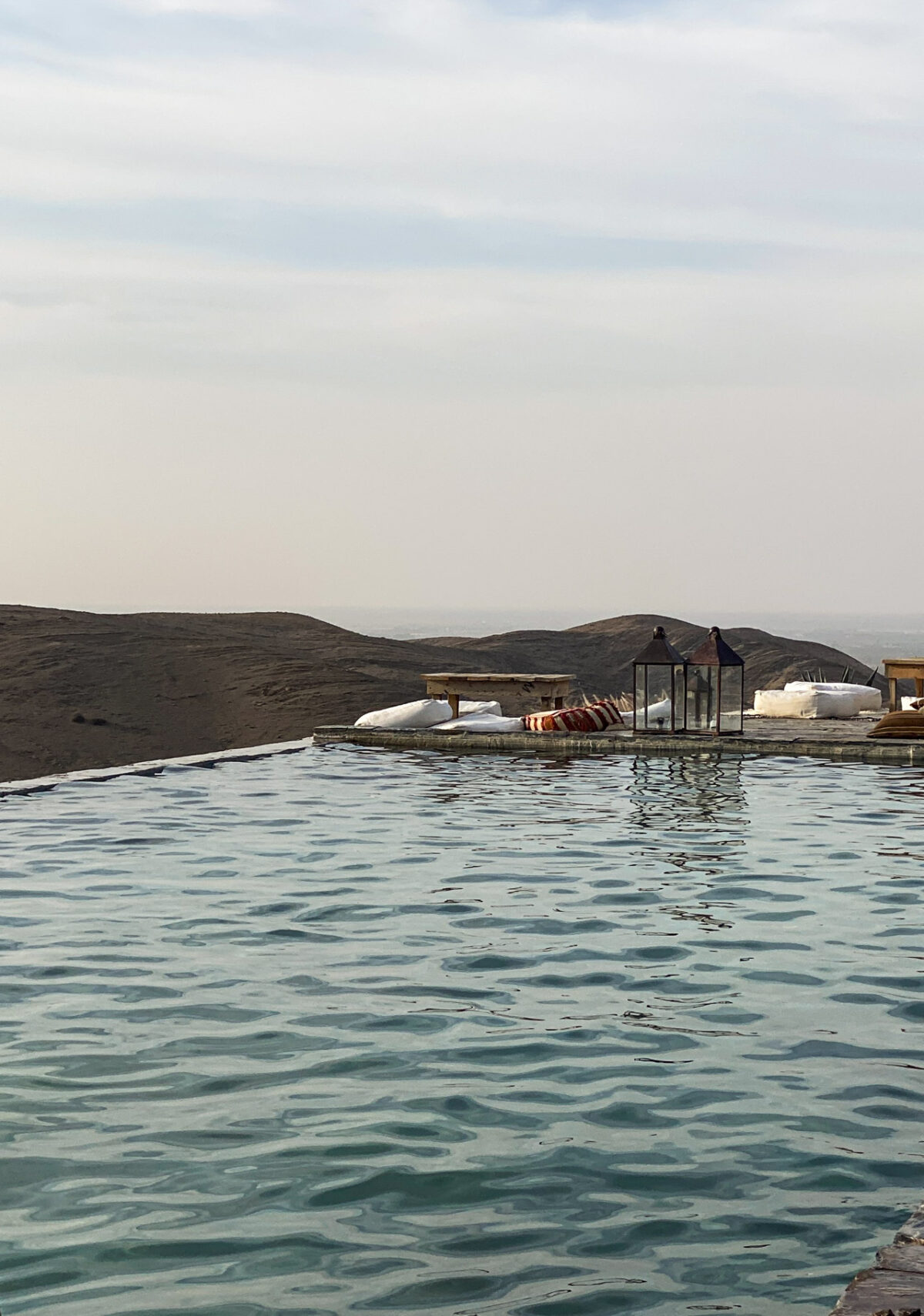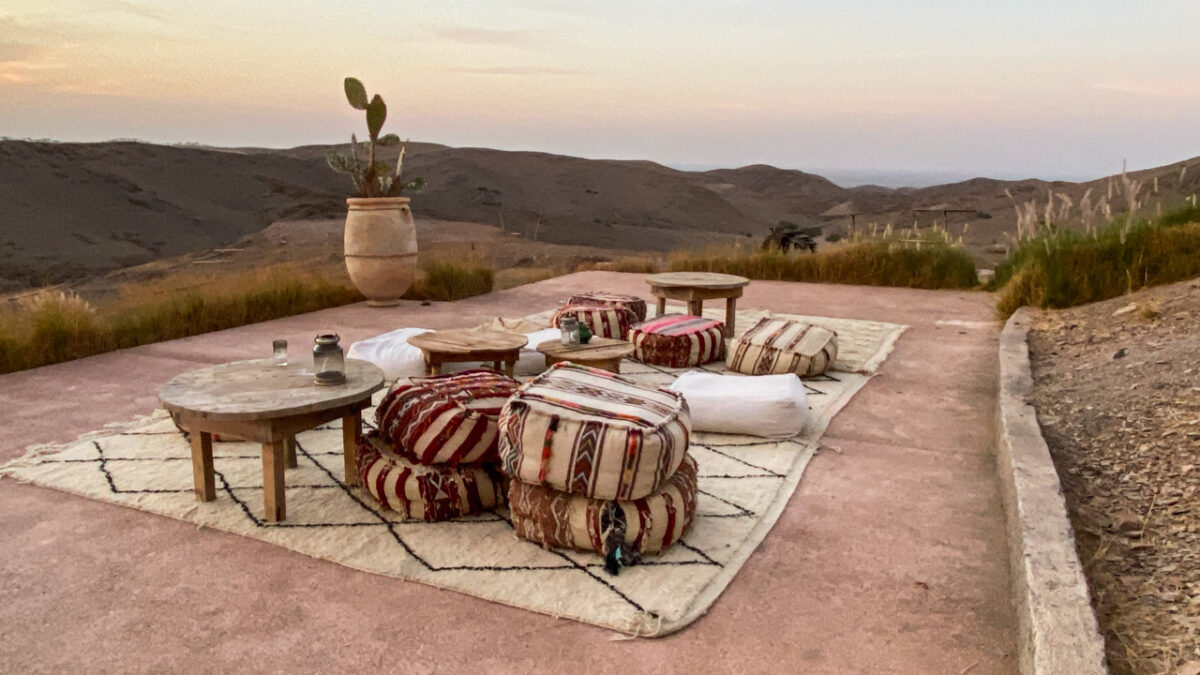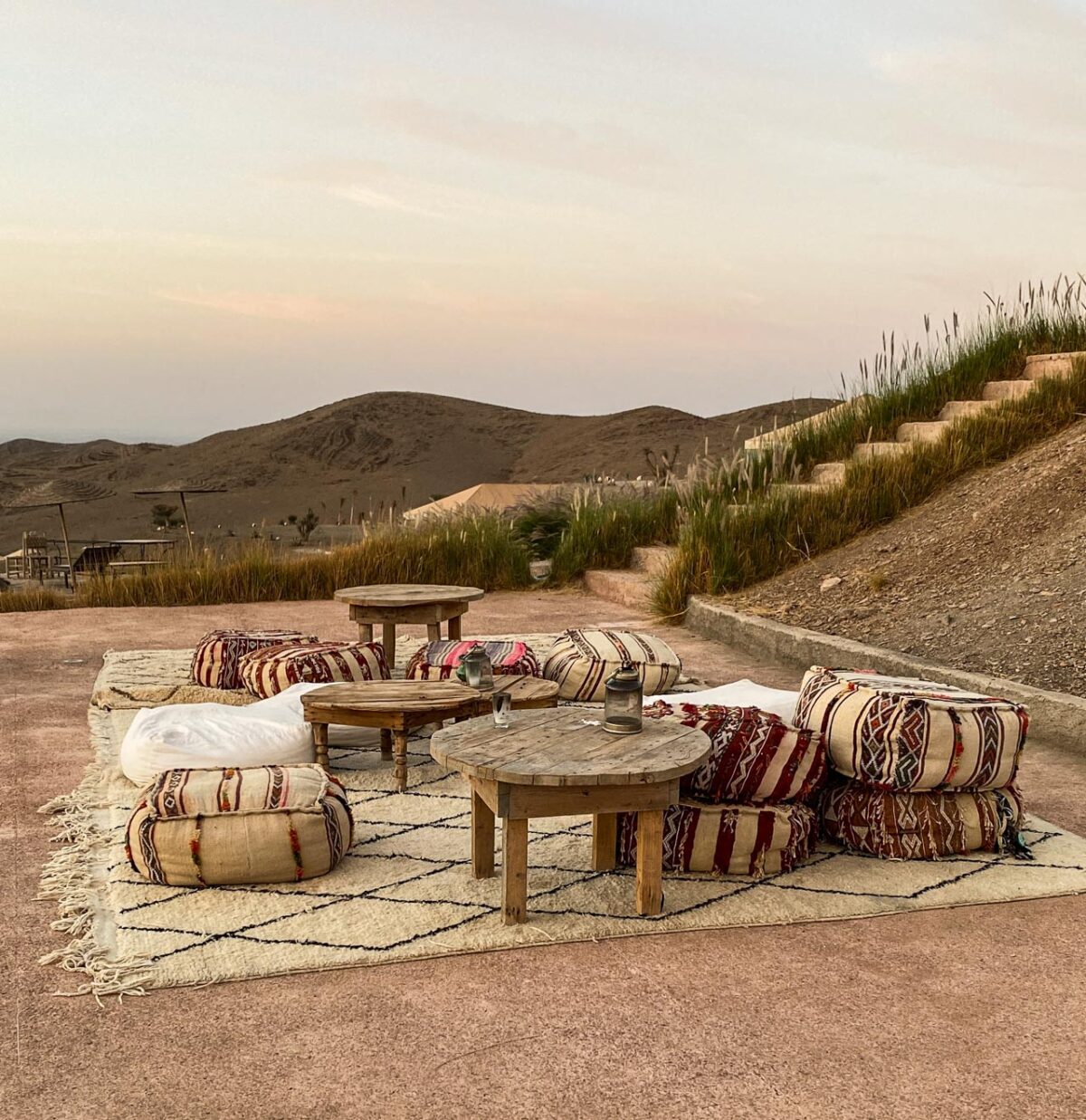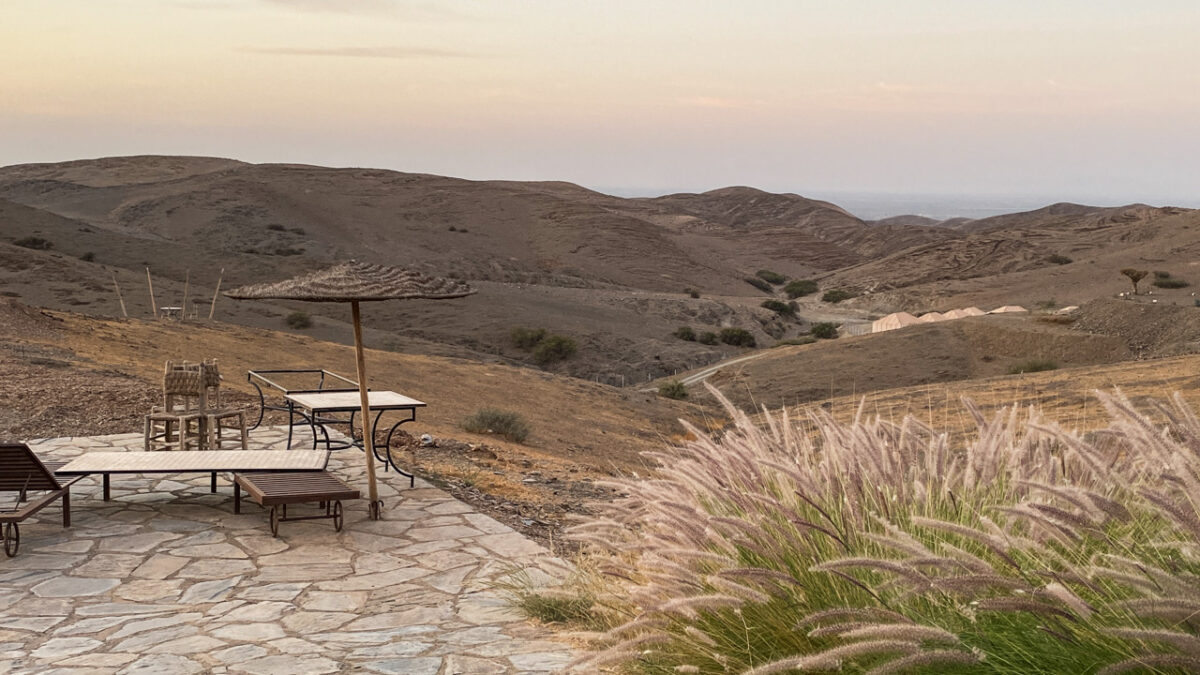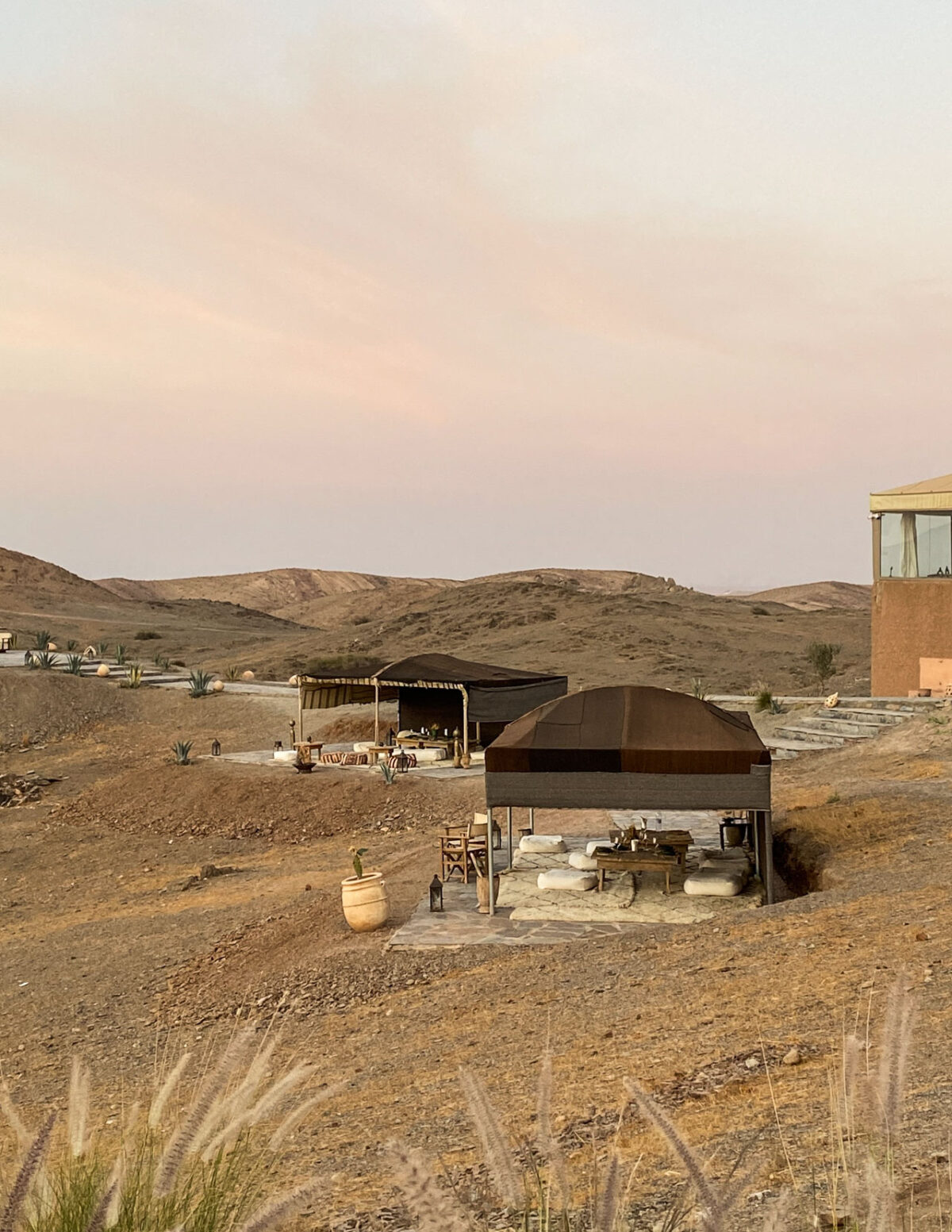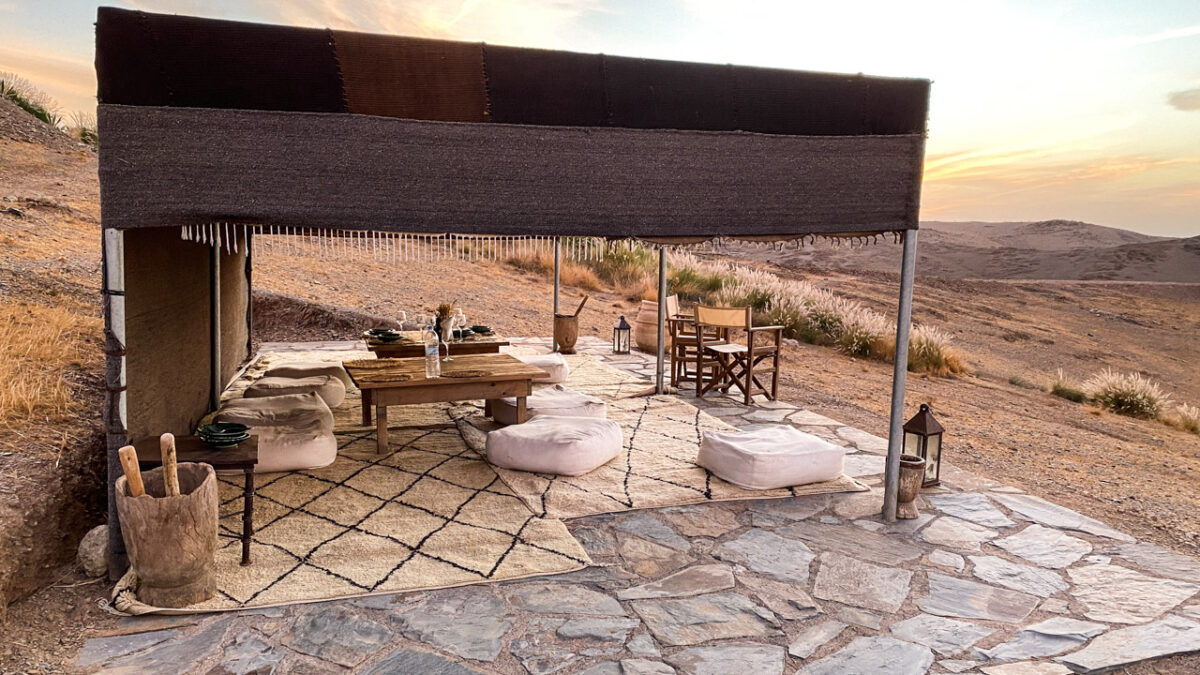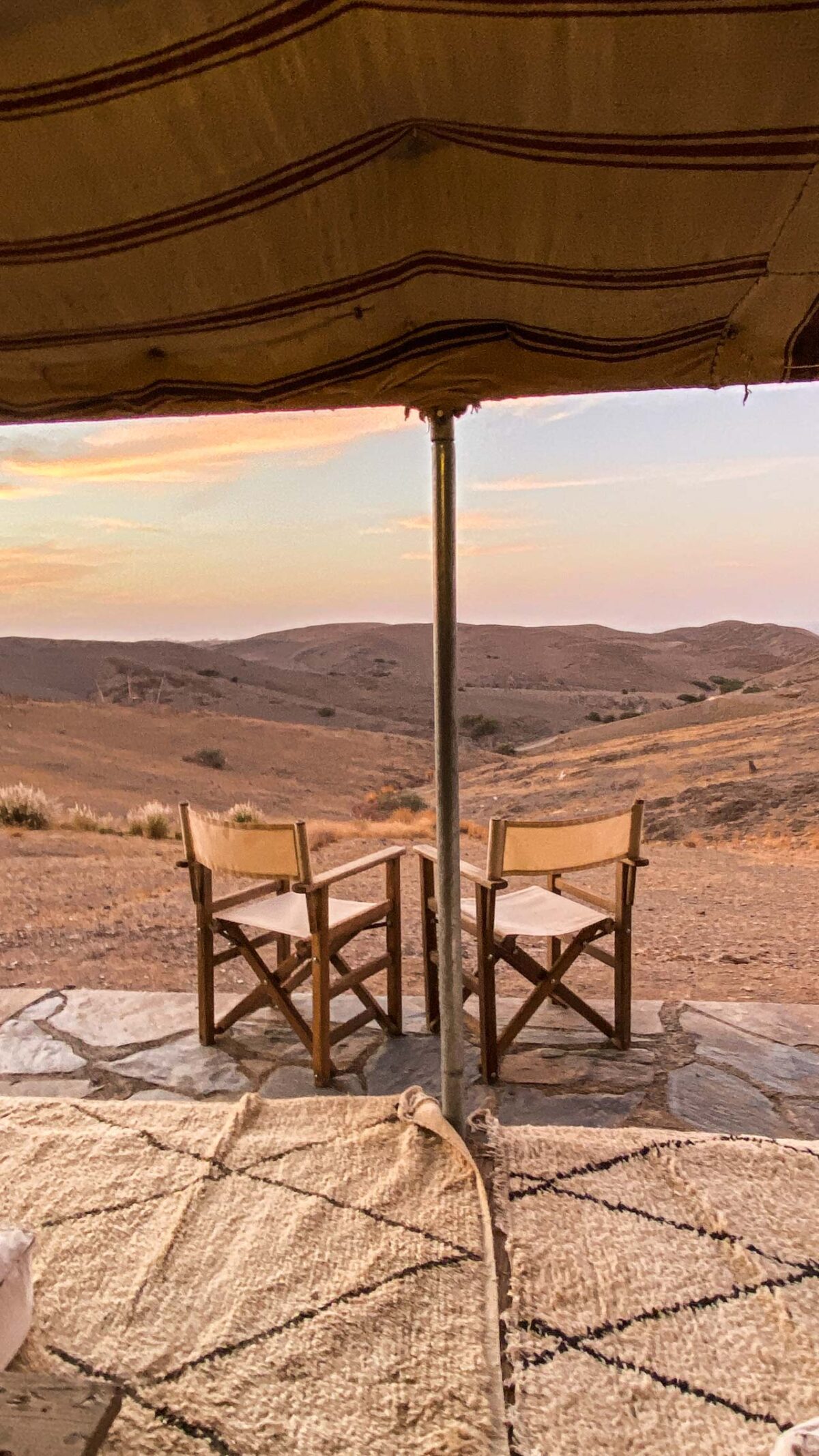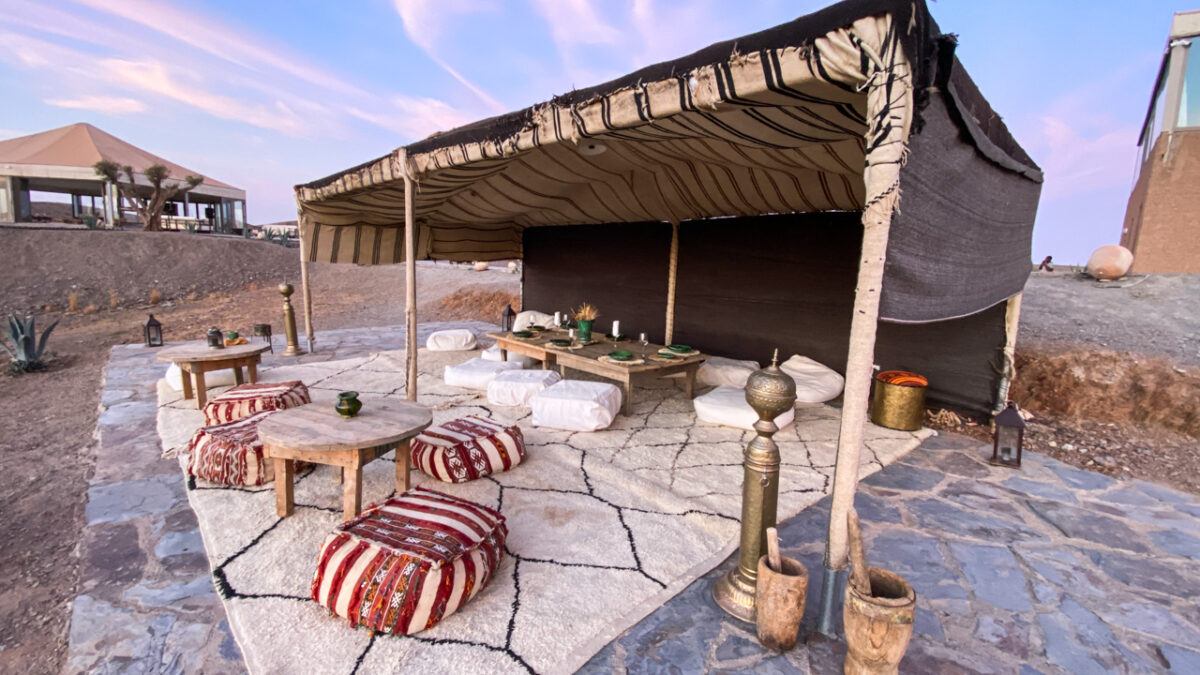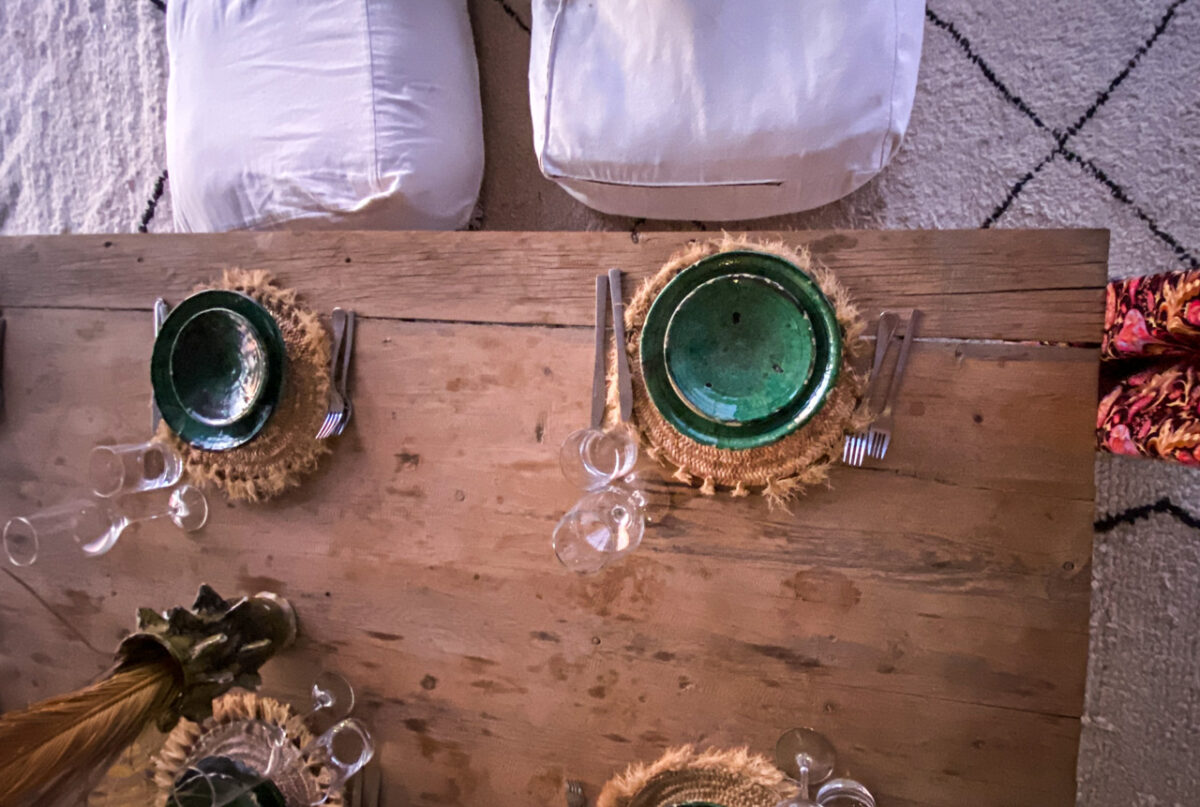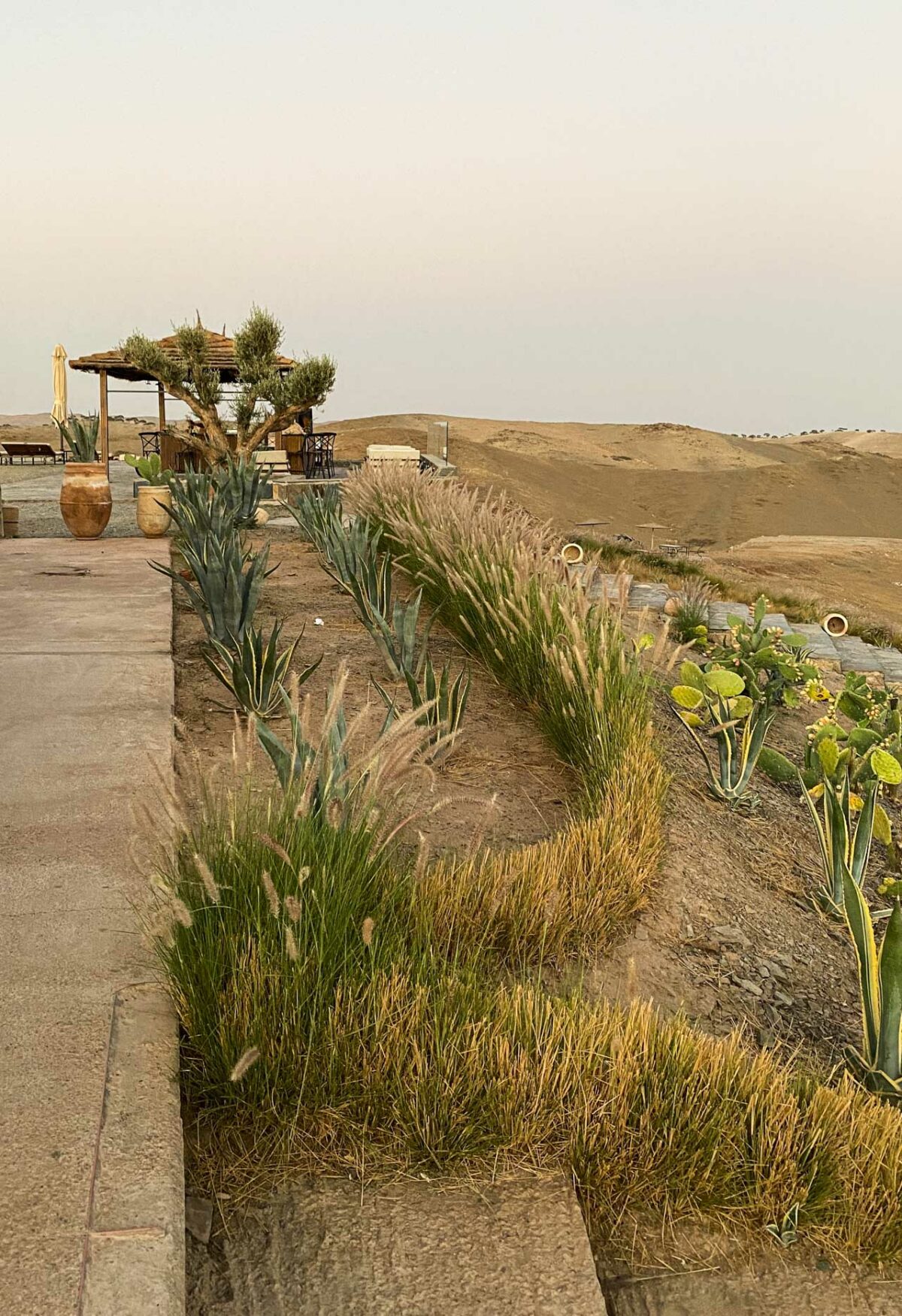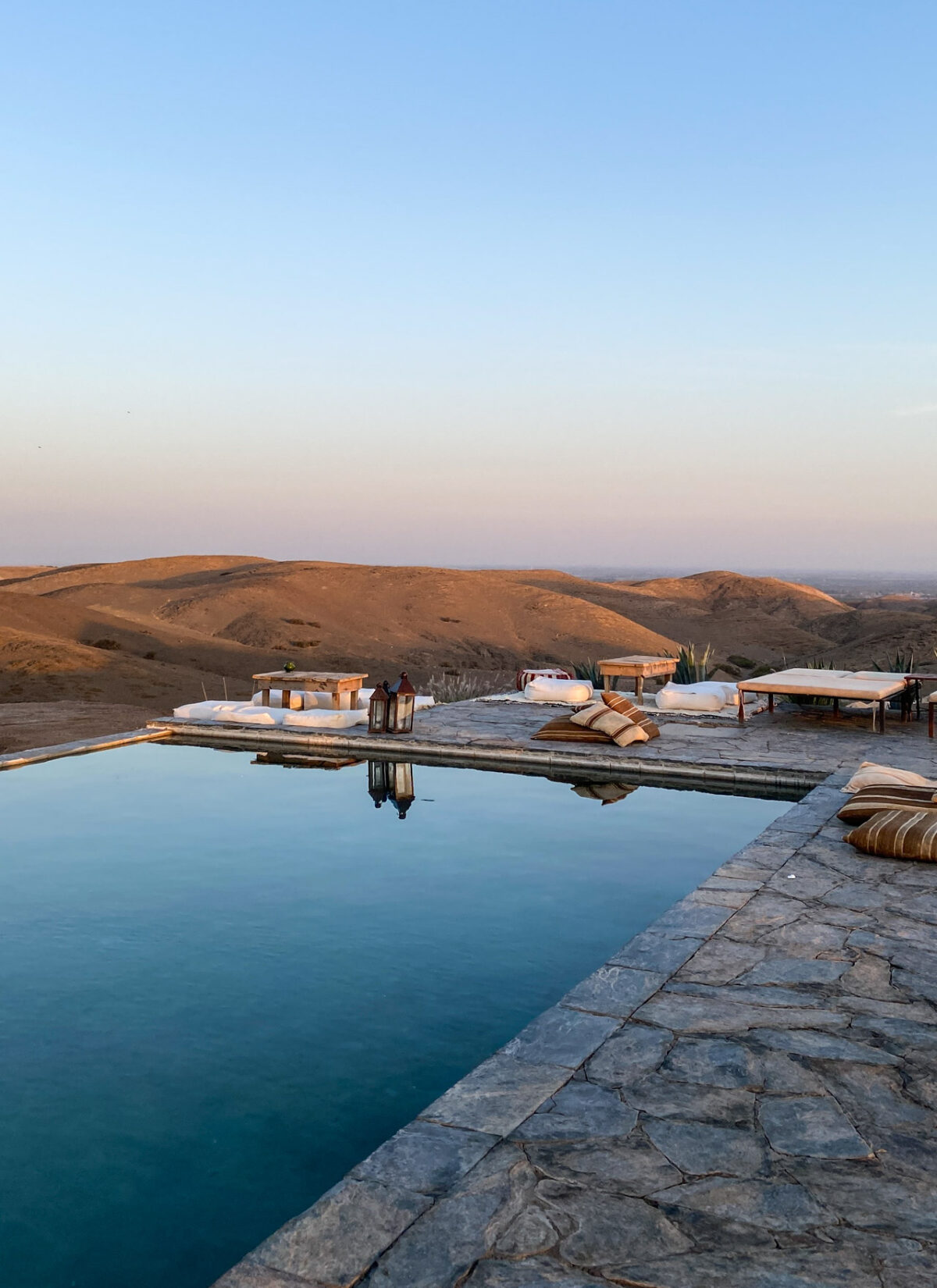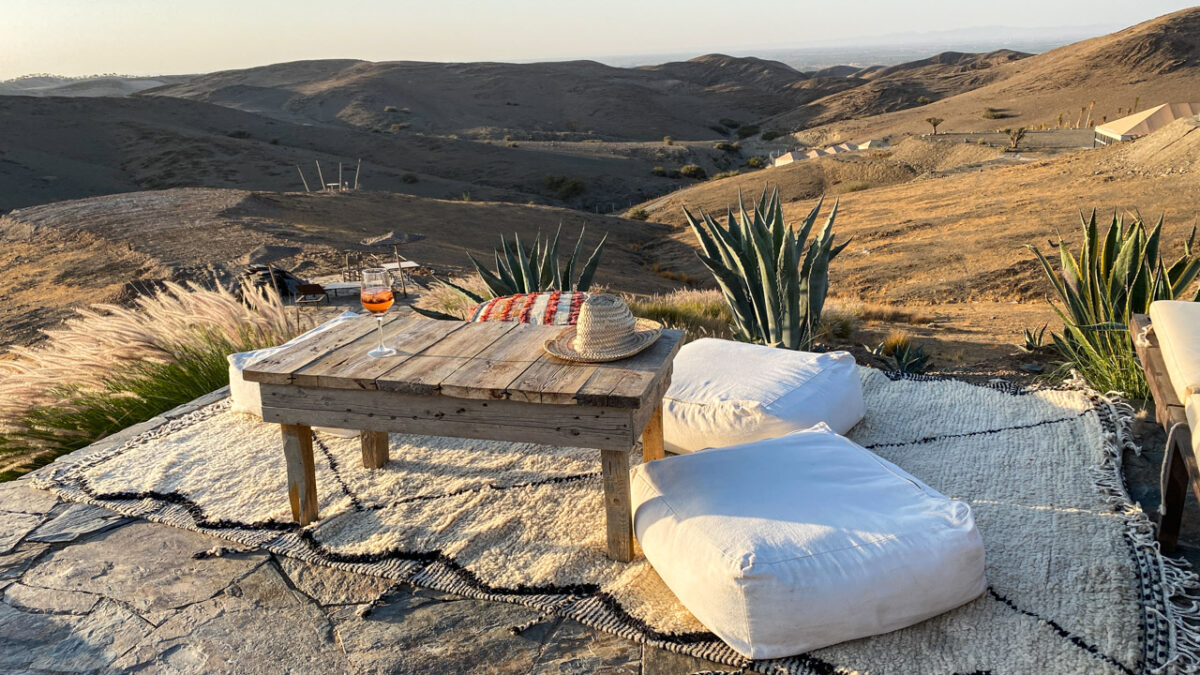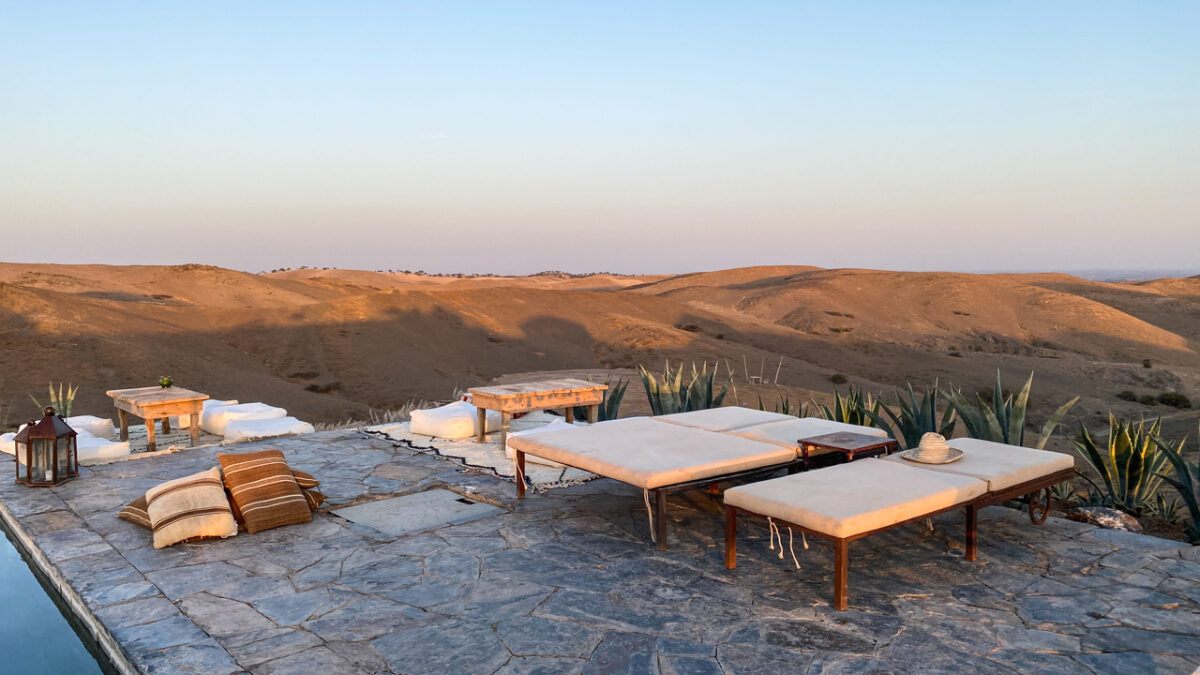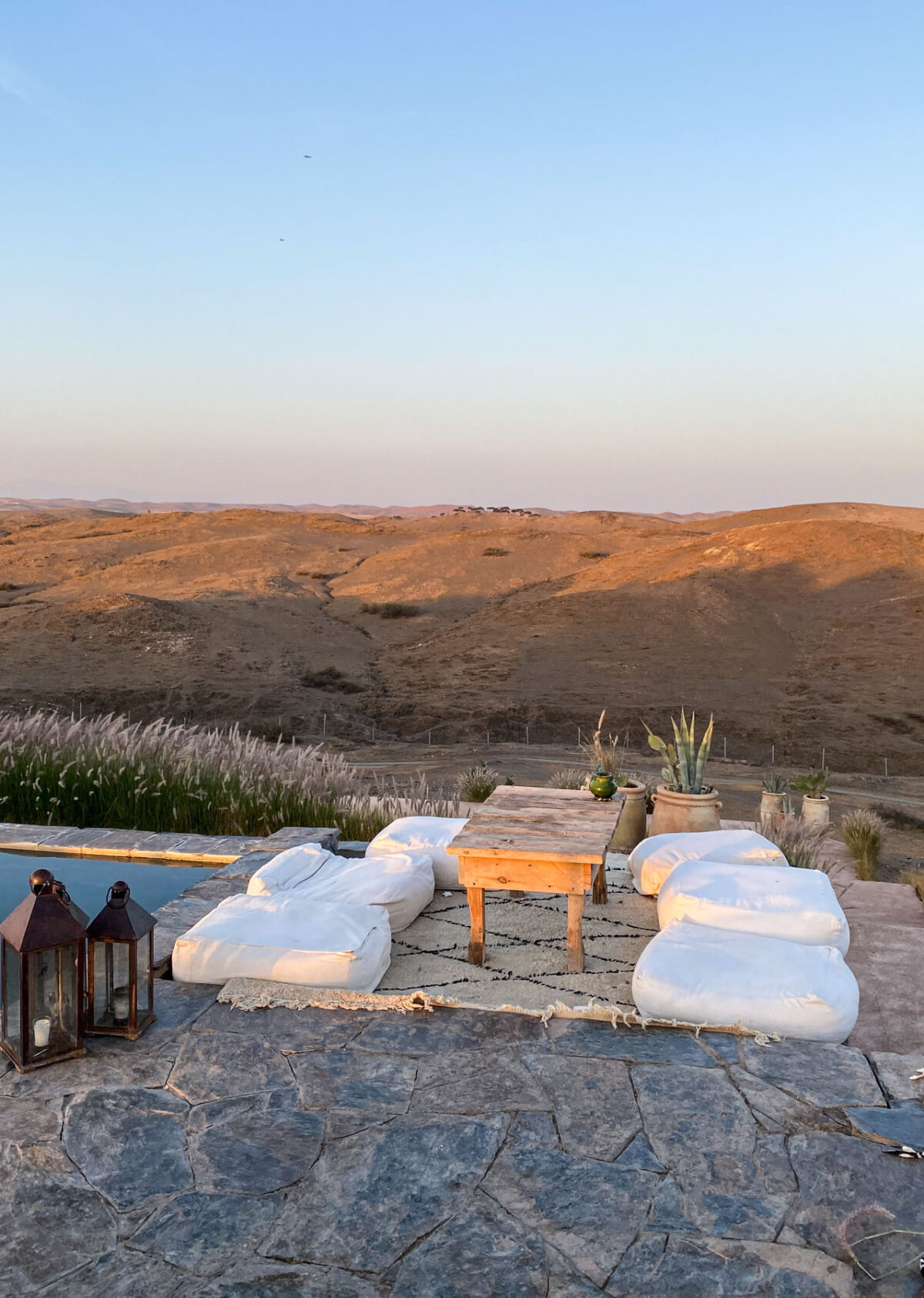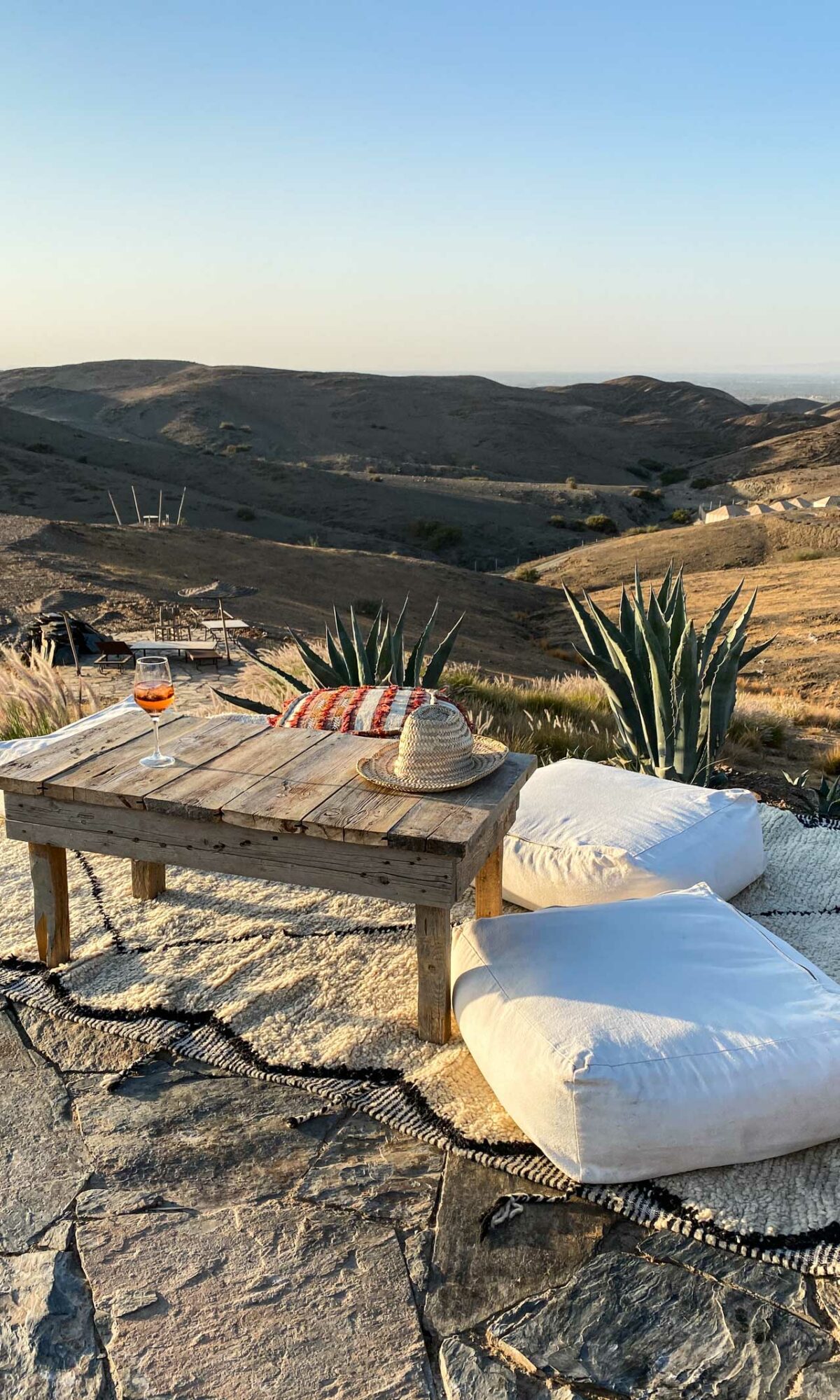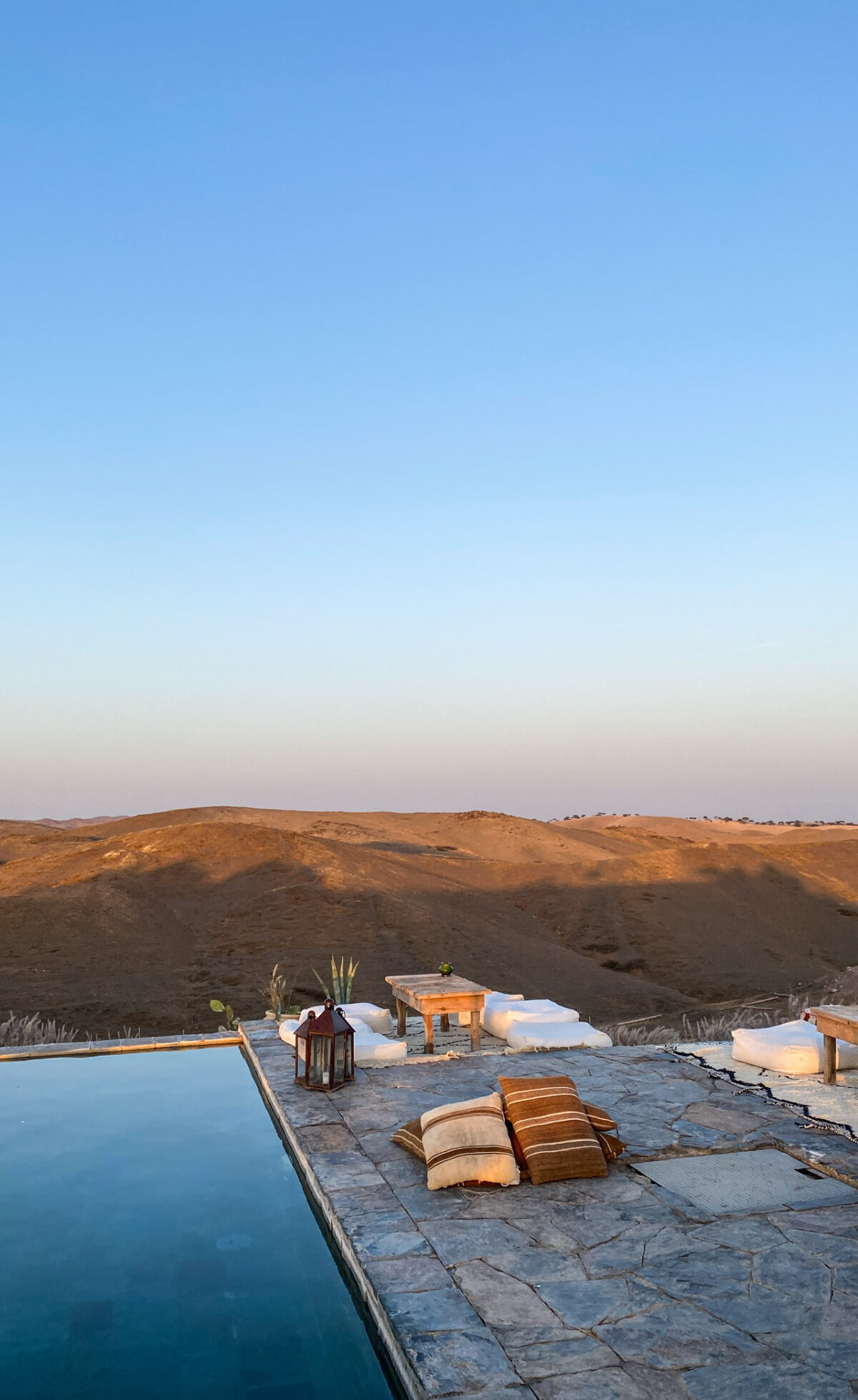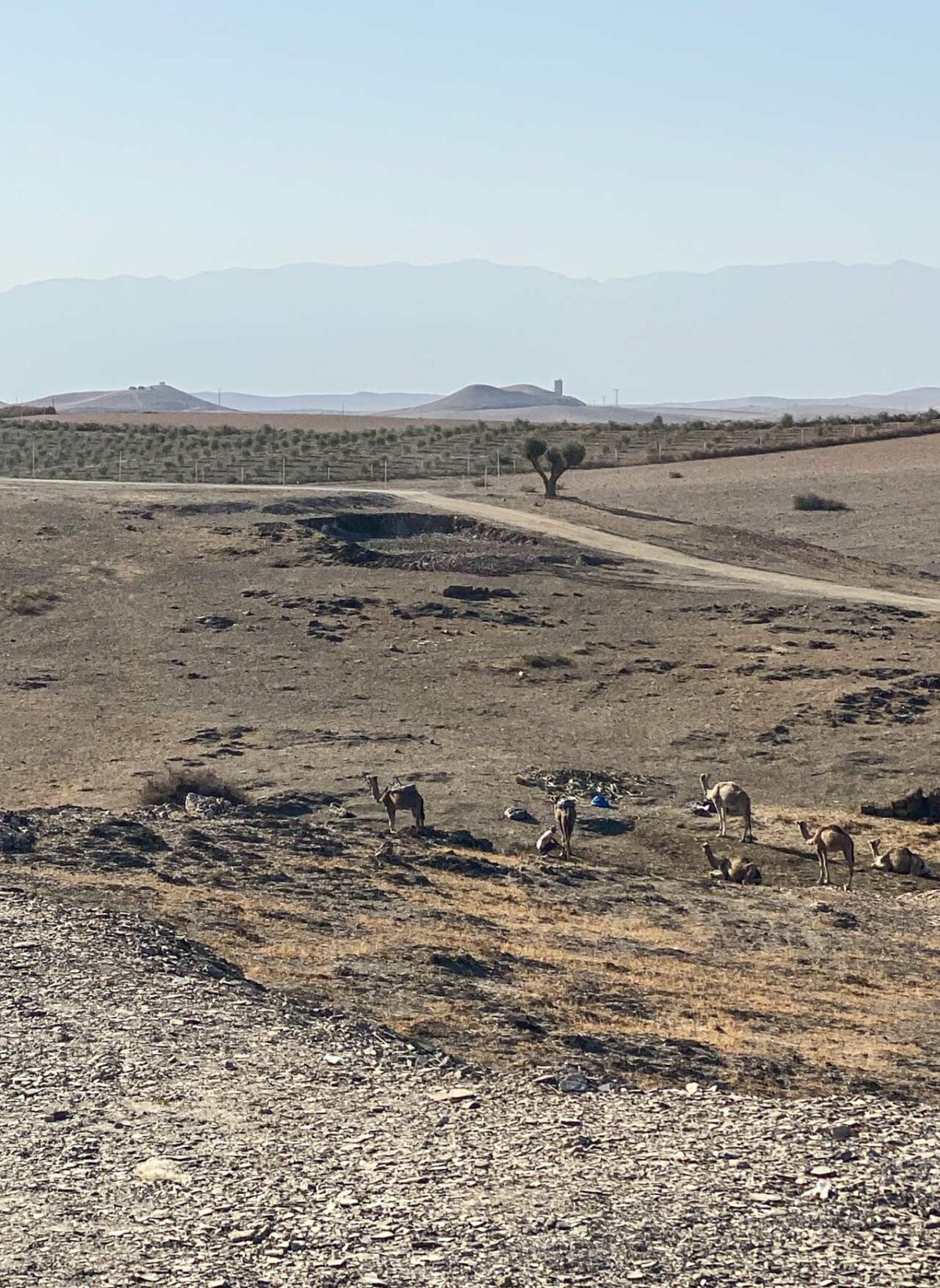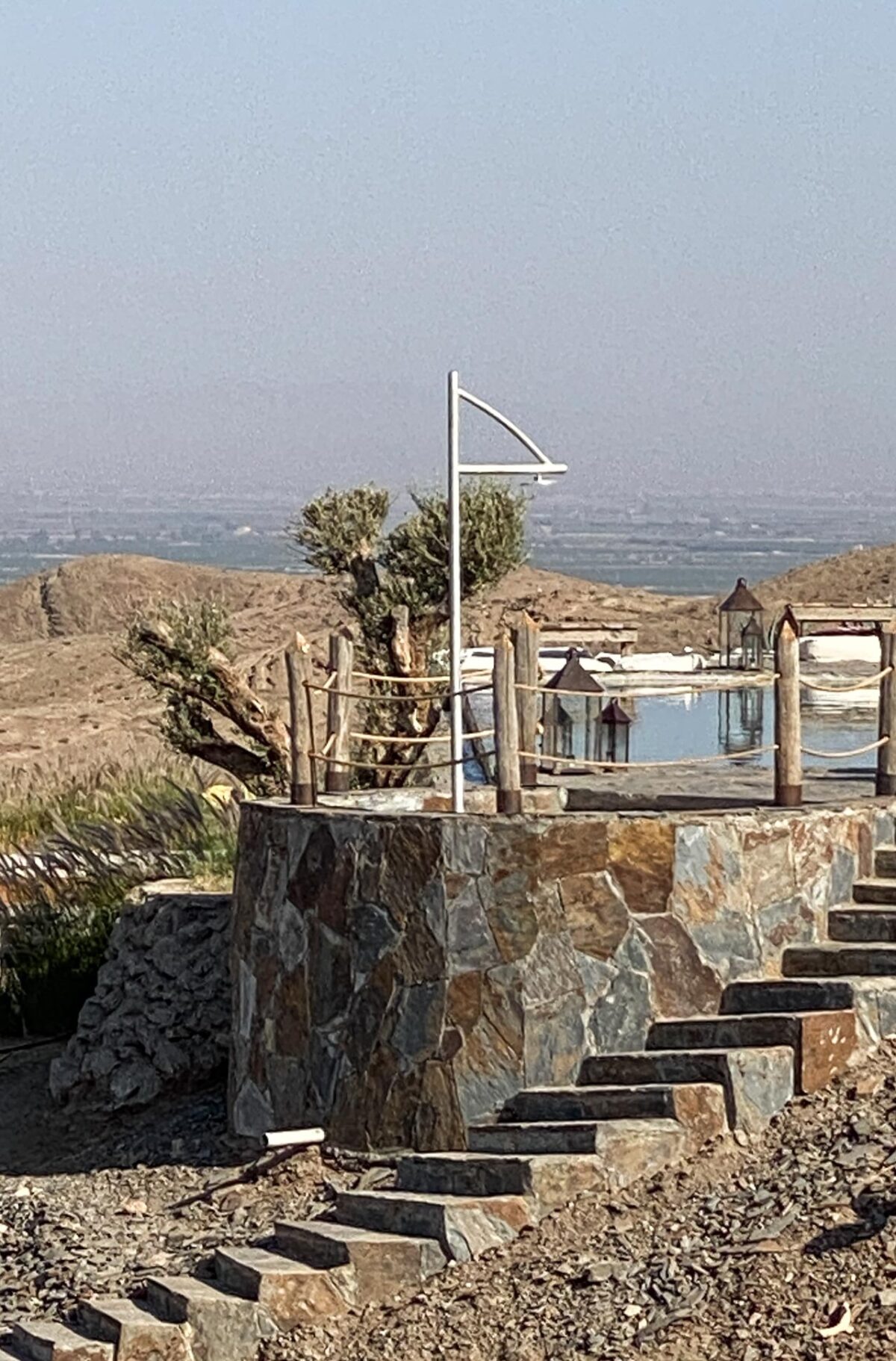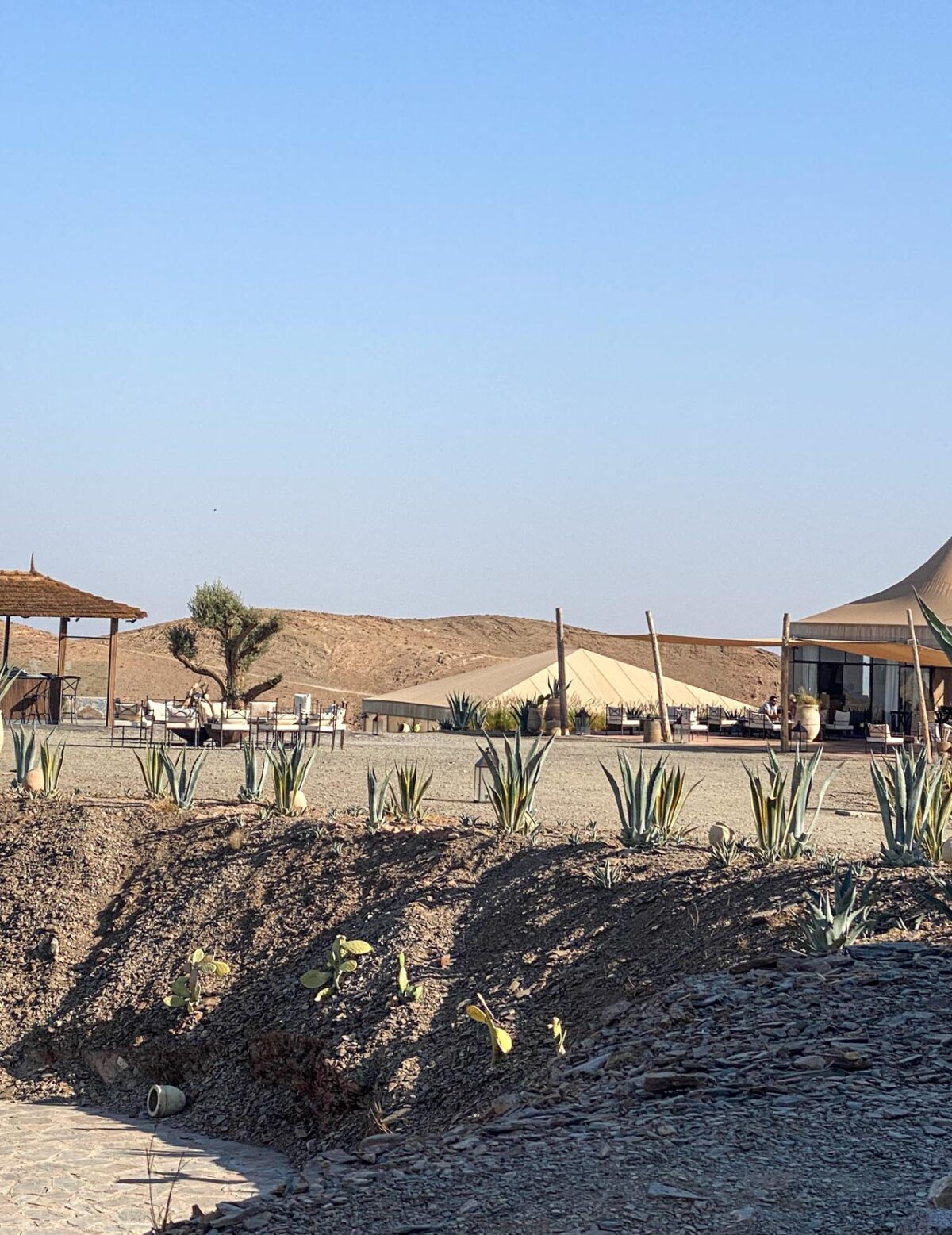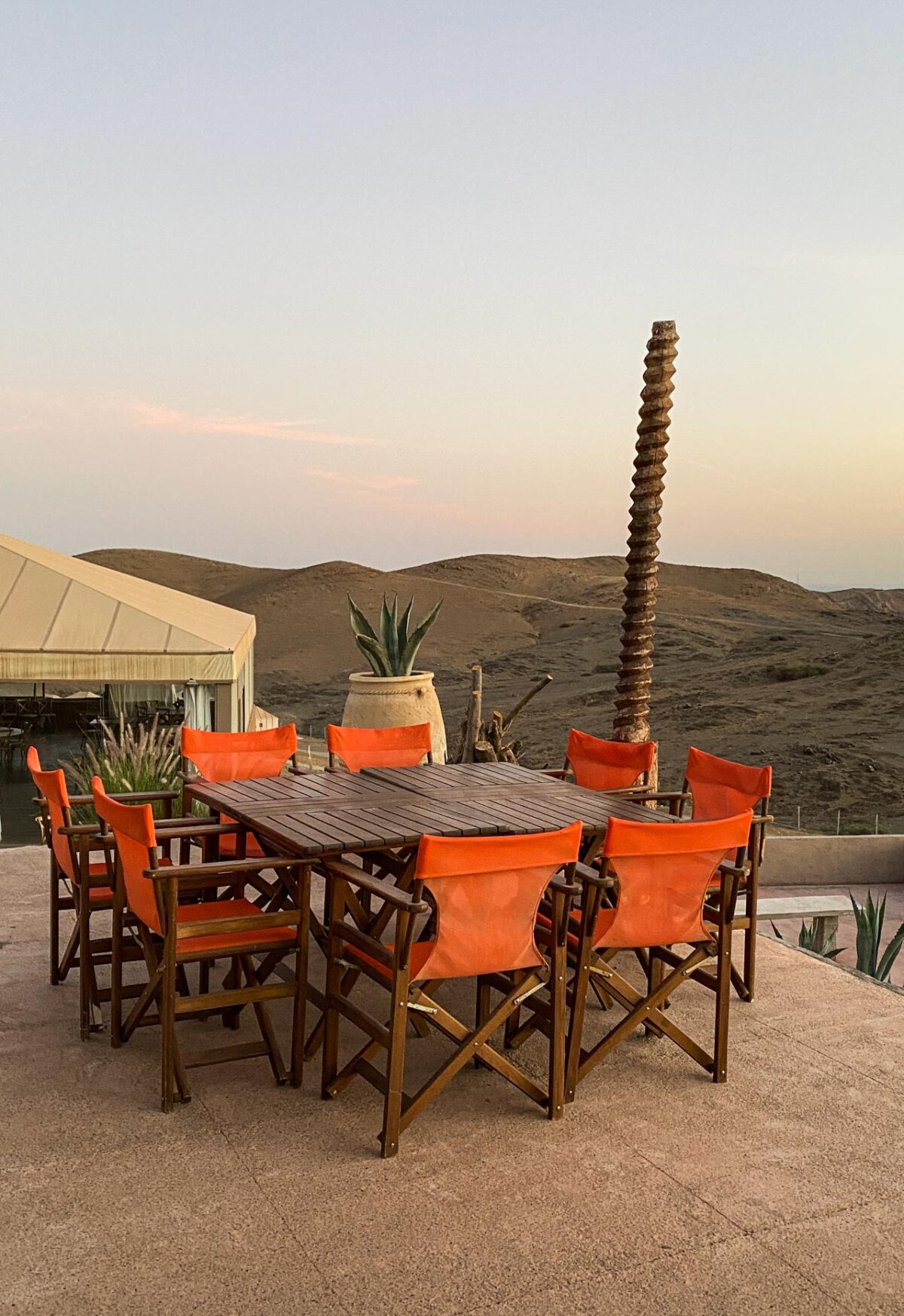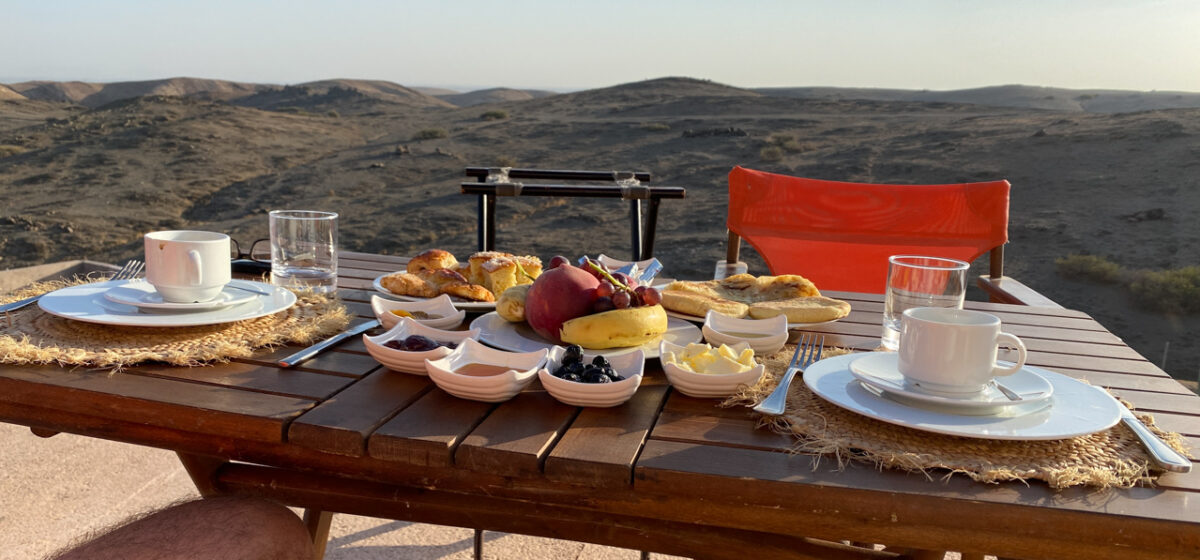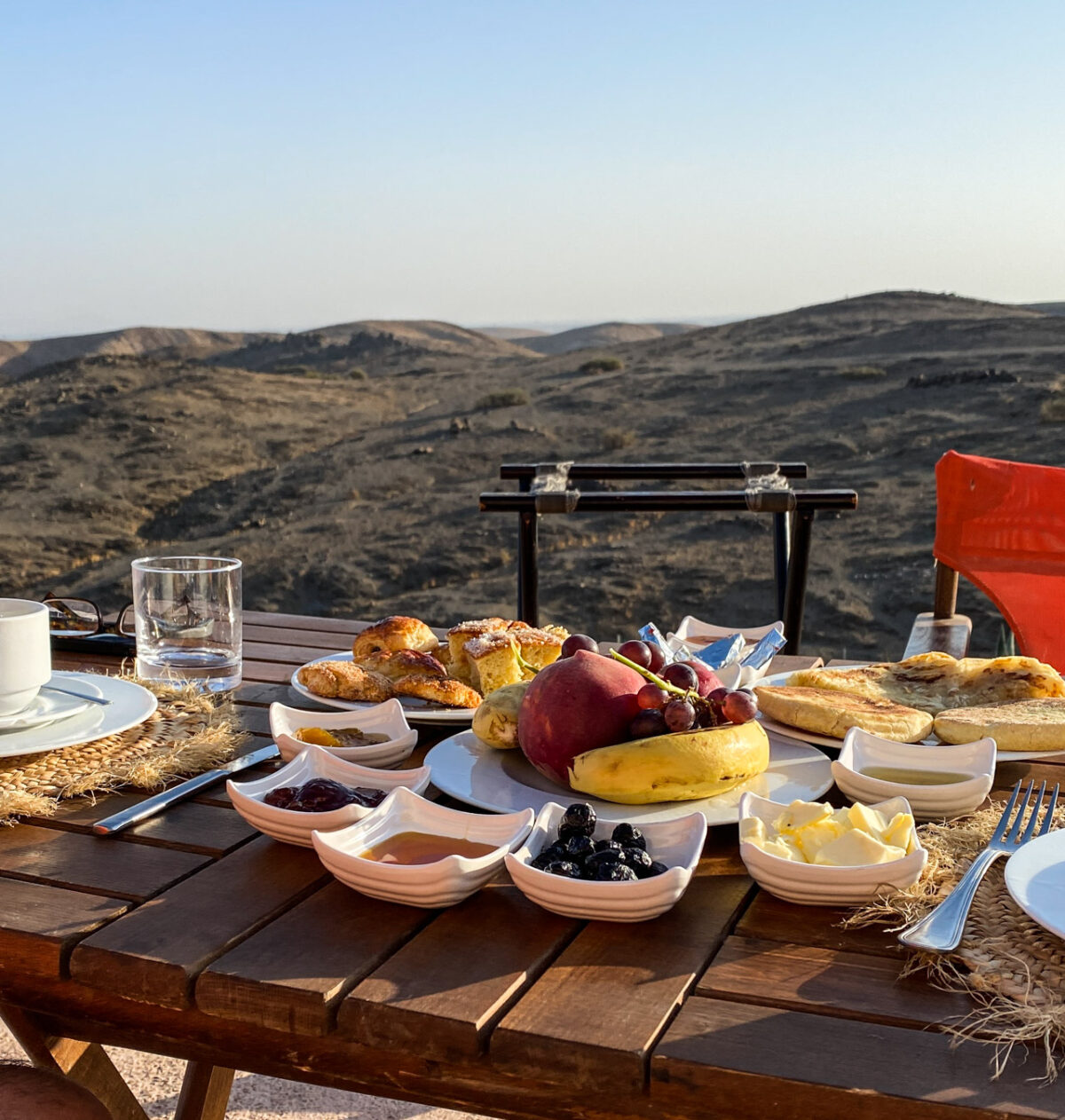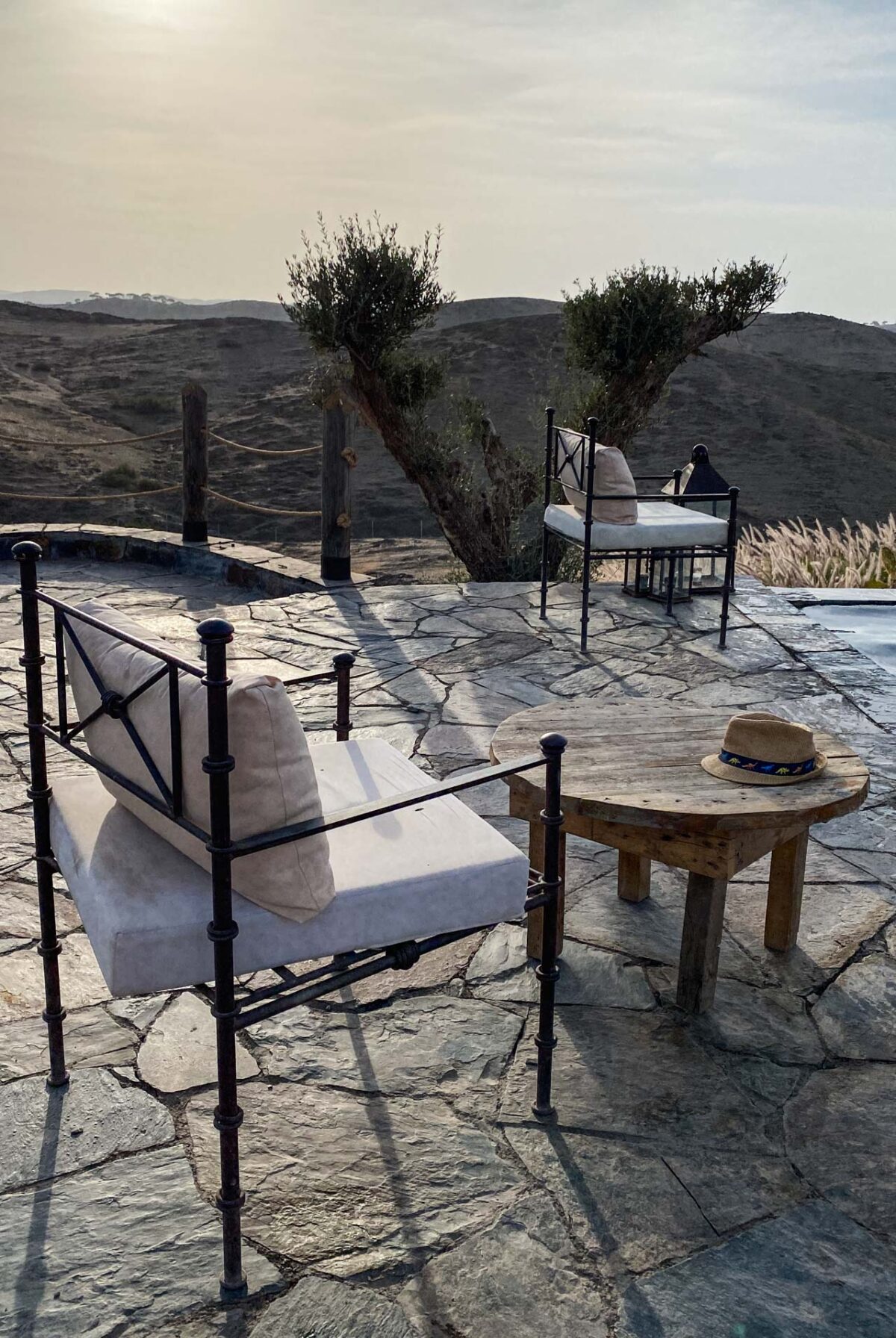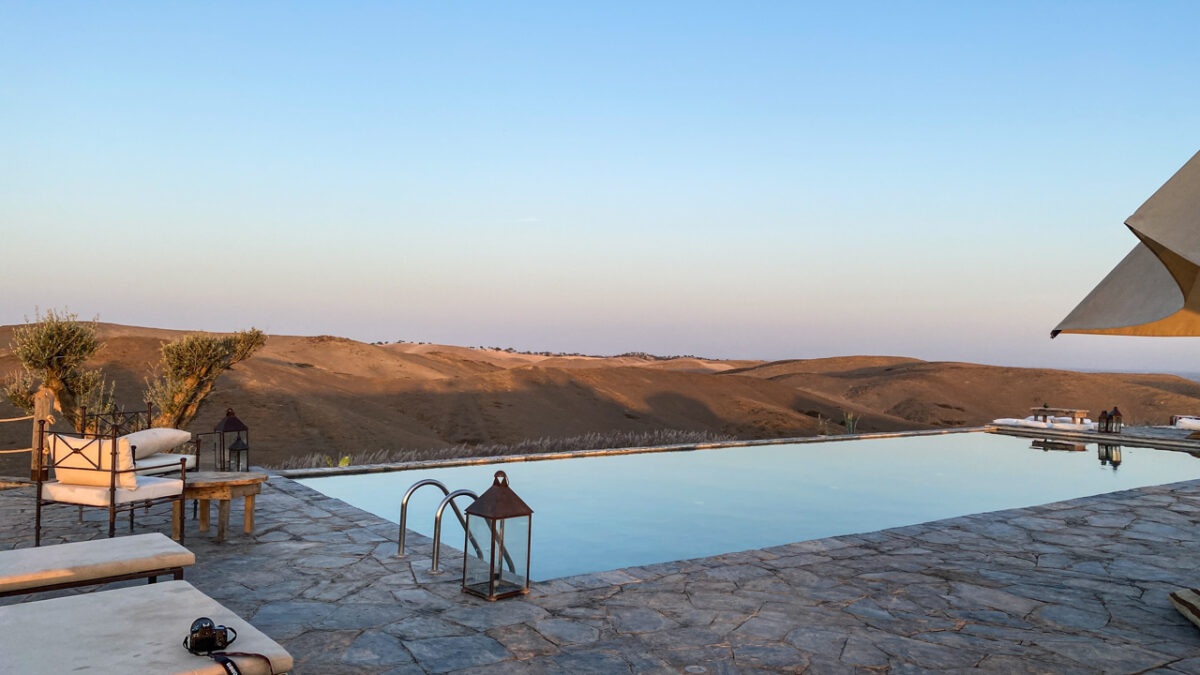 Bisous Tonja