(Werbung aus Leidenschaft)
Verona ist einfach eine wundervolle Stadt und immer eine Reise wert. Hier kommt jeder auf seine Kosten. Es gibt zahlreiche Sehenswürdigkeiten und Ausgrabungsfunde zu besichtigen, den "Romeo & Julia" Balkon, gutes Essen und natürlich gibt es die Arena und ihre berühmten Konzerte. Außerdem ist Verona auch bei Shopping-Freunden sehr beliebt. Hier findet man die großen Designer ebenso wie tolle, kleine inhabergeführte Geschäfte.
Übernachten:
Ich wurde nach Tipps zum Übernachten in Verona gefragt. Da wir ja Konzertkarten für "Kiss" hatten und uns erst sehr spät um ein Hotelzimmer gekümmert hatten, war natürlich auch schon fast alles ausgebucht. Letztendlich hatten wir uns dann für ein B&B entschieden und wollten das Zimmer dann auch nicht stornieren, obwohl wir sicher auch ein schickes Hotelzimmer bekommen hätten. Und das war eine gute Entscheidung, denn uns hat der Aufenthalt im "La Bella Verona Ugolini sehr gut gefallen.
"La Bella Verona Ugolini"
Das "La Bella Verona Ugolini" liegt so zentral, dass man in 2 Minuten an der Arena ist. Wir hatten ein riesiges Zimmer, in dem alles vorhanden war, was der Reisende sich wünscht und ein Parkhaus gibt es 4 Minuten zu Fuß über die Brücke entfernt.
Aber zu Corona-Zeiten von vorn, denn ich weiß, das ist für viele absolut wichtig:
Am Eingang des B&B steht ein Gel, das immer zu benutzen ist. Bei Ankunft wird das Reisegepäck desinfiziert und in Italien gilt in allen öffentlichen Räumen eine Mundschutzpflicht, also auch innerhalb der Pension, sofern man nicht auf seinem Zimmer ist.
Was mich an dem B&B "La Bella Verona Ugolini"besonders beeindruckt hat, war die Großzügigkeit. Am Eingang der B&B gibt es eine kleine Küche für alle Gäste. Dort gibt es eine Kaffeemaschine, einen Kühlschrank mit Wasser und Säften, eine Etagere mit italienischem Gebäck und ein paar Naschereien. Das alles ist im Preis enthalten. Außerdem stand in der Küche auch Wein aus dem eigenen Weingut "Ugolini", der laut Bewertungen lecker sein soll. Ich habe ihn allerdings nicht gekostet und auch keinen mitgenommen, da ich mich in der Provence gerade mit Wein eingedeckt hatte und es mir auch einfach zu heiß für Rotwein war. Der Gast wird im Allgemeinen mit einem Gläschen Prosecco und einem liebevoll angerichteten Tablett mit Knabbereien begrüßt, dass ich aber bei der Hitze auch nicht trinken konnte. Ich glaube ich wäre sonst umgekippt, mir hat dann ein Kaffee wieder auf die Beine geholfen. Unser Zimmer wurde sogar täglich gereinigt. Und dann noch die Frühstücksfrage, in allen Hotelbewertungen liest man komischerweise an erster Stelle immer wie das Frühstück ist. In diesem Fall wird das Frühstück in einem Café direkt gegenüber serviert, was mir sehr gut gefallen hat. Achtung an den deutschen Großfrühstücker, das gibts in Italien so gut wie nicht. Frühstück ist süß und klebrig, aber das vom allerfeinsten.
Ich kann "La Bella Verona Ugolini" uneingeschränkt empfehlen. Wir haben uns dort rundum wohl gefühlt.
"Hotel Milano & Spa"
Ein Hotel, dass ich von einem anderen Besuch in Verona kenne, ist das "Hotel Milano & Spa", das mir auch gut gefallen hat. Ich fand das Zimmer, dass wir damals hatten, ein bisschen winzig, aber mehr gab es an dem Hotel auch nicht zu nörgeln. Das Hotel hat wegen des Blicks auf die Arena eine gut besuchte Terrasse, wo sich auch ein kleiner Whirlpool befindet.
Essen
Wir haben in Verona so gut gegessen. Mir hat das Herz geblutet, die Unmengen Restaurants mehr oder weniger fast leer zu sehen. In Restaurants, in denen es normalerweise aussichtslos ist kurzfristig einen Tisch zu ergattern, bekamen wir ohne Reservierung einen Platz. Und die Restaurants sind ihrer Qualität absolut treu geblieben.
Den Apéro haben wir uns gegenüber der Arena nicht entgehen lassen, nirgendwo in Verona kann man besser schauen … Was das Essen betrifft, so bin an solchen Plätzen ich immer sehr skeptisch, aber ich muss sagen, dass das Essen ganz gut aussah. Entgegen vieler Bewertungen im Internet waren auch alle Kellner superfreundlich. Vermutlich hat die Corona-Krise dem einen oder anderen Kellner die Arroganz gegenüber den Gästen ausgetrieben oder für diese Kellner gibt es zurzeit keinen Platz mehr in den Restaurants.
---
(advertising with passion)
Verona is simply a wonderful city and always worth a visit. Here everybody gets his money's worth. There are numerous sights and archaeological finds to visit, the "Romeo & Juliet" balcony, good food and of course there is the Arena and its famous concerts. Verona is also very popular with shopping lovers. Here you can find the great designers as well as great, small owner-managed shops.
I was asked for some tips for spending the night in Verona. As we had concert tickets for "Kiss" and we looked for a hotel room very late, of course, almost everything was booked up. In the end, we decided to stay at a B&B and didn't want to cancel the room, although we would surely have also got a nice hotel room. And that was a good decision, because we really enjoyed our stay at "La Bella Verona Ugolini.
Stay overnight:
"La Bella Verona Ugolini"
The "La Bella Verona Ugolini" is so centrally located that you can reach the arena in 2 minutes. We had a huge room with everything that the traveller could wish for and there is a parking garage 4 minutes walk over the bridge.
But at Corona times from the front, as I know that is absolutely important for many people.
At the entrance of the B&B there is a gel that is always to be used. On arrival, the luggage is disinfected and in Italy, a mouthguard is compulsory in all public rooms, thus also within the B&B, if one is not in his room.
What particularly impressed me about the B&B "La Bella Verona Ugolini" was its generosity. At the entrance of the B&B there is a small kitchen for all guests. There is a coffee machine, a fridge with water and juices, a shelf with Italian pastries and some sweets. All this is included in the price. In the kitchen there was also wine from the own vineyard "Ugolini", which is said to be delicious according to the reviews. But I didn't taste it and didn't take any with me, because I had just stocked up on wine in Provence and it was simply too hot for red wine. The guest is generally greeted with a glass of Prosecco and a lovingly arranged tray with nibbles, but I couldn't drink in the heat. I think I would have passed out otherwise, but then a coffee helped me back on my feet. Our room was even cleaned daily. And then there is the breakfast question, in all hotel evaluations one reads strangely enough in the first place how breakfast is. In this case, the breakfast is served in a café right in front of the hotel, a thing that I really liked. Attention to the German big breakfast, this is practically not available in Italy. Breakfast is sweet and sticky, but this is the very best.
I can recommend "La Bella Verona Ugolini" without any reservation. We felt completely comfortable there.
"Hotel Milano & Spa"
One hotel that I know from another visit to Verona is the "Hotel Milano & Spa", which I also liked very much. I found the room we had at that time a little tiny, but there was nothing more to nag about the hotel. The hotel has a well-attended terrace because of the view to the arena, where there is also a small whirlpool.
Food
We ate so well in Verona. My heart was bleeding to see all those restaurants more or less almost empty. In restaurants where it is normally hopeless to get a table at short notice, we got a seat without reservation. And the restaurants remained absolutely true to their quality.
We didn't miss the aperitif opposite the arena, nowhere else in Verona you can look better … Concerning the food, I am always very sceptical at such places, but I have to say that the food looked quite good and also all waiters were super friendly. Probably the Corona crisis has driven out the arrogance of some waiters towards the guests or there is no more room for these waiters in the restaurants at the moment.
---
My Food Highlights in Verona:
L'Evangelista (Dinner, 2 times)
Ristorante & Enoteca L'Evangelista
---
Trattoria Tre-Marchetti (Dinner)
Trattoria Tre-Marchetti
---
Zoo'e (Kleinigkeit zum Lunch)
Bar-Ristorante Zoo'e
---
Ristorante Rubiani (Dinner)
Ristorante Rubiani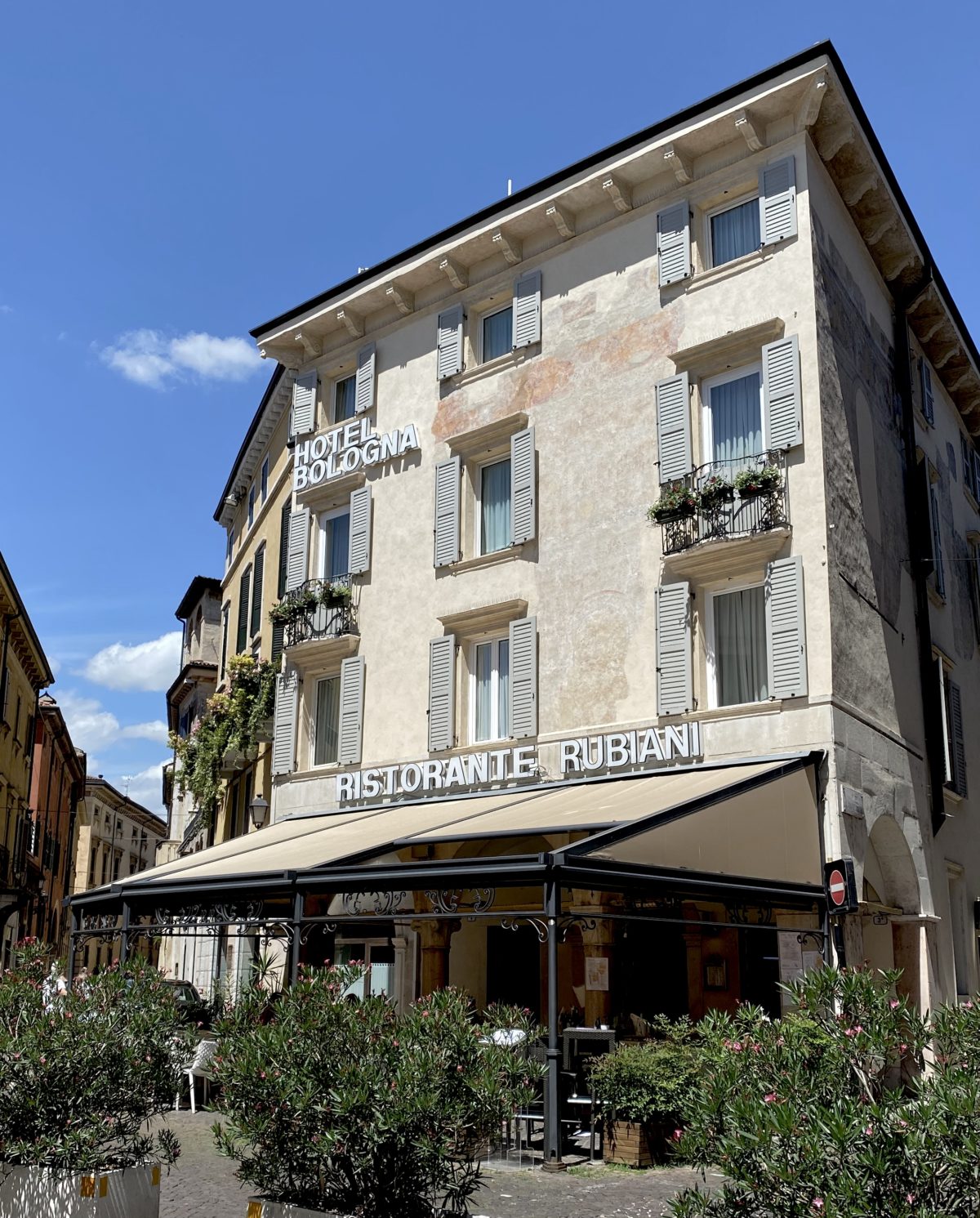 ---
Ristorante Demos (Coffee-break with great Croissants – Vegan)
Ristorante Demos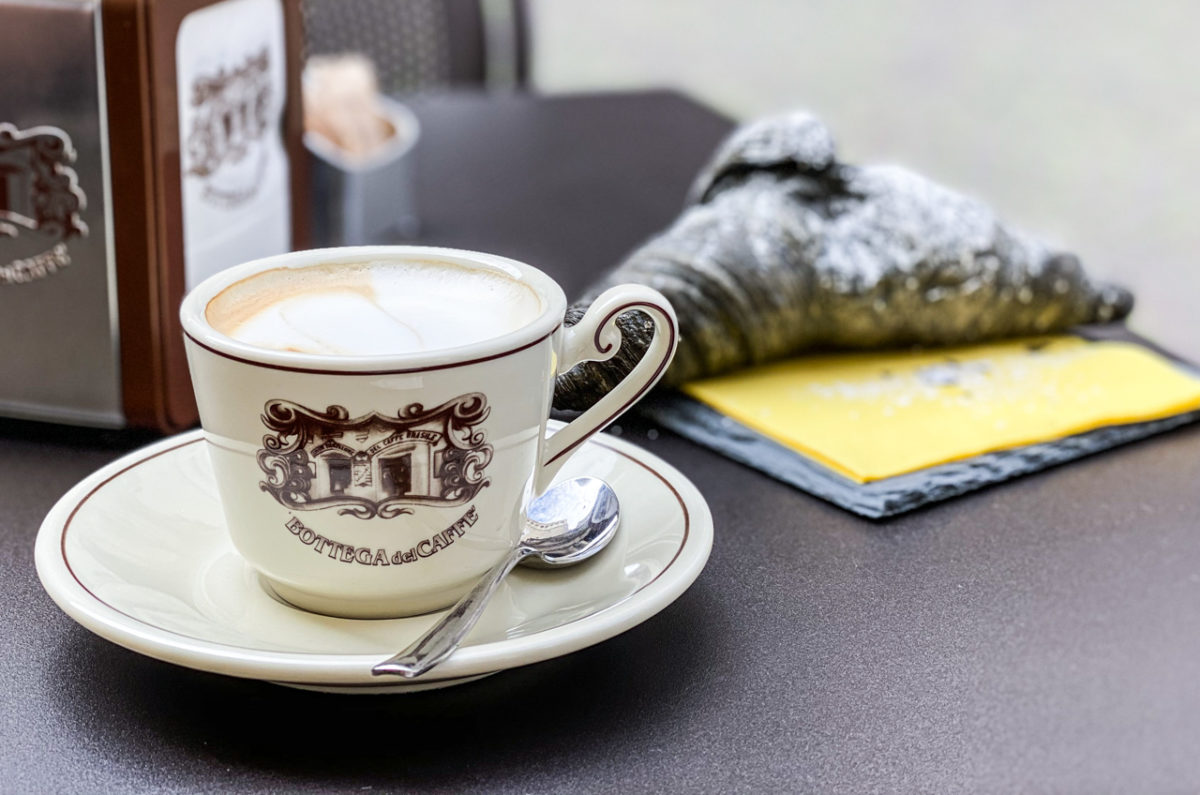 Bisous Tonja
---